Former USC star Reggie Bush is planning to file a defamation lawsuit against the NCAA, alleging that the organization falsely accused him of being involved in a "pay-for-play" arrangement.
Bush's attorneys, Levi McCathern, and Ty Sheaks, said in a statement that the lawsuit is based on remarks the NCAA made in July 2021, in which the organization said it would not consider resurrecting Bush's collegiate records that were vacated in 2010.
The NCAA's statement said that Bush was ineligible for reinstatement because he had been involved in a "pay-for-play arrangement."
Bush's attorneys say that the NCAA's statement was erroneous and that it has caused "substantial and irreparable damage" to Bush's reputation. They are seeking unspecified damages.
The allegations that Bush received improper benefits from a sports marketing agency first emerged in 2006 after he had left the University of Southern California for the NFL. Bush has never responded to media questions regarding what his family or he did or did not receive from the agency the NCAA accused of giving him prohibited gifts.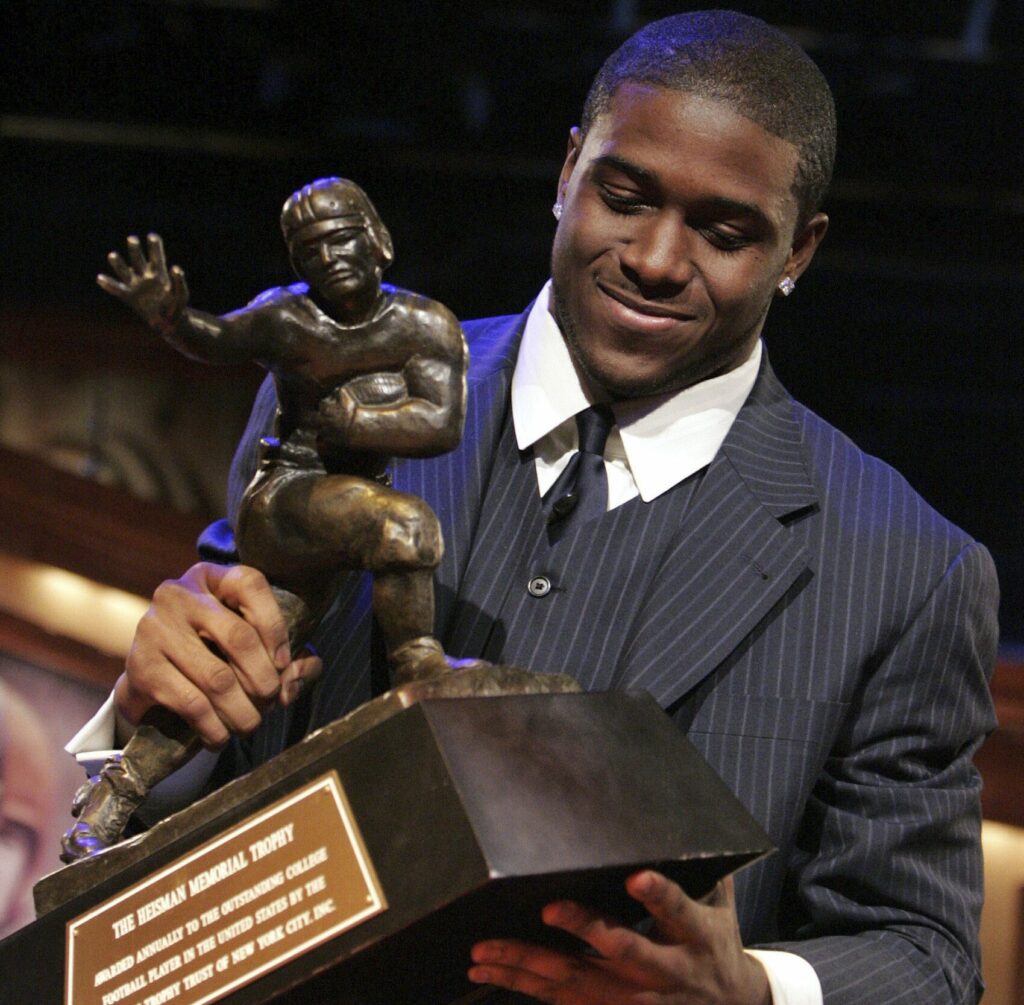 The phrase "pay-for-play" commonly refers to athletes who would not play for a school unless they were compensated, indicating that the gifts were a factor in the recruiting procedure. This differs from an agent supplying gifts or payment in exchange for a potential share of future professional earnings.
Bush's attorneys say that the NCAA knew he was never accused of, involved in or sanctioned for any "pay-for-play" deal.
The NCAA has yet to respond to Bush's lawsuit.
The case is the latest development in a long-running saga involving Bush and the NCAA. In 2010, the NCAA vacated Bush's 2005 Heisman Trophy and all of his records during his duration at USC. Bush was also forced to reimburse the money he had obtained from the unnamed sports marketing agent.
Bush has been trying to clear his name and have his records restored for quite some time. He filed a lawsuit against the NCAA in 2014; ultimately, the court dismissed the case.
The NCAA's stance on Bush's accolades has been complicated by contemporary shifts to the rules governing name, image and likeness (NIL) for college athletes. In July 2021, the NCAA began allowing college athletes to profit from their NIL endorsements.
Some people have argued that the NCAA should now reinstate Bush's records since the superstar running back is now allowed to profit from his name and likeness. Despite this, the NCAA has said that it will not change its position on Bush's records.
Bush's lawsuit is likely to test the NCAA's authority to regulate the behavior of college athletes. It is also likely to focus attention on the NCAA's handling of the Bush case.
Bush is likely to file the lawsuit in Los Angeles County Superior Court.
---
Contact multi-media staff writer Noral Parham III at 317-762-7846 or via email at noralp@indyrecorder.com. Follow him on Twitter @NoralParham.