For most of his life, Quincy Jones had plans to become a doctor. He studied molecular biology in college and got a master's degree in biomedical and health sciences. He applied to medical schools.
But around that time, Jones struggled. The amount of pressure he felt made it difficult to focus on his future as a doctor. He felt like he didn't belong there because it looked like he didn't belong there.
"I was one of a few Black students in that program," Jones said. "I always felt that everybody around me was extremely smart. And I wasn't."
His grades slipped and his mental health suffered.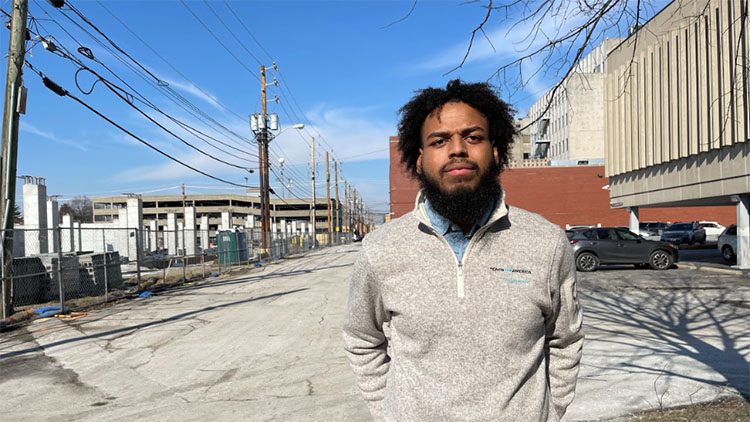 "I kind of felt like I somehow weaseled my way through the cracks and landed in a system that I'm like, no comparison for," he said.
Jones said a lot of the impostor syndrome he felt was due to lack of mentorship and guidance. So he switched career paths and got a degree in education.
Jones is now a leadership director with Teach For America, a nonprofit that works toward equitable education.
He said he needed more support to get through this period of self-doubt — which is a pretty common feeling for Black and Hispanic students.
And a study from Business Equity for Indy's Education Learning and Talent Opportunities Taskforce shows it's one of the reasons few Black college graduates go into science, math or technology fields. Of all Black graduates at Indianapolis public colleges, only 12% earn STEM degrees.
According to the study, which analyzes racial gaps in Indianapolis' education-to-workforce pipeline, there are several reasons behind the shortage of Black professionals in STEM.
Achievement gaps start in early K-12 education, with Black and Hispanic students performing poorly in core subjects, such as math and English.
There's also a lack of Black teachers compared to students. Studies show that when Black students have even one Black teacher in elementary school, they are more likely to graduate high school and consider college. Only 12% of Indianapolis teachers are Black, compared to 34% of students.
All of these factors impact the likelihood of a student considering college and completing their degree.
College completion rates are especially low for Black students, which piles on debt without the higher wages promised from a college degree.
Jason Kloth is the president of Ascend Indiana, an organization that connects people to economic opportunity and stable careers. He was also an author on Business Equity for Indy's report.
"A lot of it has to do with prior educational attainment," Kloth said, "where they are prepared to take the level of math or the level of science that would be required to be successful in an engineering or computer science program."
Disproportionately fewer Black Hoosiers have access to middle class jobs in math or science professions.
Data show that STEM degrees are strongly linked to high wages. That means this opportunity gap — the likelihood of having a high-paying career — leads to different financial outcomes as adults.
Kloth said he believes that addressing this opportunity gap is an imperative part of closing racial wealth gaps that already exist.
"If we want to address income inequality in society, then we have to be really thinking about how do we ensure equality of opportunity as it relates to higher education," Kloth said. "And how do we encourage the concentration in degree fields that lead to wage growth?"
One example of a company trying to close this gap in Indianapolis: Multinational technology company IBM has partnered with Ivy Tech Community College to offer more students from low-income backgrounds training to go into STEM fields — and land middle class jobs with health insurance.
Joe Perry is the lead chair of the IT department at Ivy Tech. He says the partnership will make career readiness more equitable.
"This is workforce preparation," Perry said. "A student can go to an interview and say, 'I've actually been in a security operations center. I know the job that you're giving me.'"
The company will offer work-based learning, certificate programs, and millions of dollars' worth of software over the next three years.
Career development opportunities are just one remedy for a complex problem. The report on the education-to-workforce pipeline suggests employers also need to improve diversity and equity initiatives in the workplace.
One person working on that is Davyd Hall, director of Martin University's National Center for Racial Equity and Inclusion. He also consults for other companies and institutions.
"Being a Black male in higher education, I feel that a lot of places may have a meaning towards diversity, equity, inclusion, and you know, recognizing and celebrating it," Hall said. "But a lot of people don't really know what that means to the institution, for example."
So Hall focuses on tracking measurable results of DEI work, like sense of belonging, systemic access and effective communication.
He urges companies to focus diversity and inclusivity efforts both inside the company and externally.
"What about your product?" Hall says. "What about who it's actually impacting? What about the visibility? What about the access? You know, what about the network that you're actually promoting to where you're making these things possible?"
Hall and others working on this problem in Indianapolis say equitable answers to those questions will build a cycle of reinvestment in Black and Brown students — showing them they belong in opportunities like medical school and in other STEM careers.
This story was reported as part of a partnership between WFYI and the Indianapolis Recorder. Contact Sydney Dauphinais at sdauphinais@wfyi.org or 503-730-6559. Follow her on Twitter @syddauphinais.