Indianapolis could add more than 100 low-barrier shelter beds in a new building, along with a services navigation center, to help close the gap between the number of homeless people and the number of available beds on any given night at current shelters.
Adding beds and a center to help people get into permanent housing are the anchor recommendations in a report released by the Office of Public Health and Safety. The city-county council ordered a study in February on the feasibility of creating a permanent homeless encampment site in response to the impact of COVID-19 on the homeless population.
Here are all four recommendations:
• Ensure the current shelter system is fully utilized and increase the number of low-barrier shelter beds. That will require a new physical space because the current system doesn't have enough beds. Low-barrier means removing as many preconditions to entry as possible.
• Fund and train staff to support the new low-barrier shelter, with a goal of keeping the shelter open 24/7, as well as provide services such as case management, counseling and health care.
• Create a "navigation center" that provides temporary living facilities while case managers connect people to basic needs, income, shelter and housing.
• Increase availability and access to safe, supportive and permanent housing.
The 59-page report makes it clear Indianapolis' shelter network — consisting mostly of religious-affiliated shelters and those serving specific populations, such as victims of domestic violence — doesn't have enough low-barrier beds.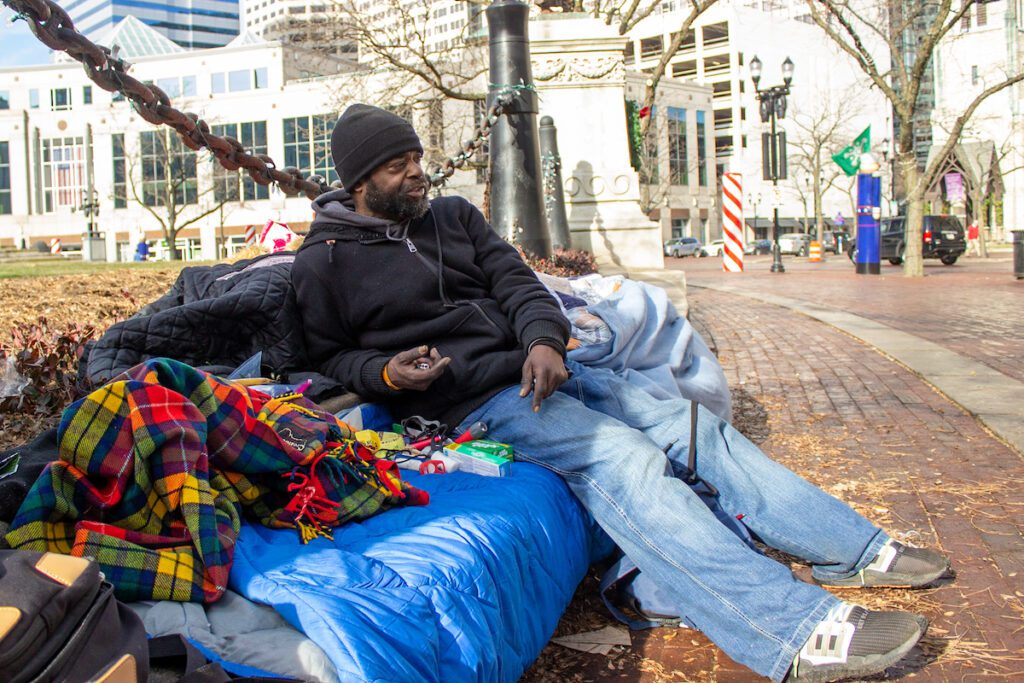 The report says shelters have improved in general, but some shelters, for example, require an ID for each family member or make people turn in their cell phone for the night. Feedback from people who have experienced homelessness, which is also part of the report, indicates feeling unsafe and policies against serving people with a criminal history are among the most common shelter barriers.
The report includes shelter profiles that list unique rules for entry.
There aren't many details about the recommended new shelter, including who would pay for and manage it. City officials presented the report to the city-county council's Public Safety and Criminal Justice Committee on Nov. 10, and the next steps will likely begin at the start of 2022 by looking at potential sites, getting cost estimates and finding potential project partners.
"If we were ever going to move the needle on a low-barrier concept that is municipally led, there's no better time than now," Jeff Bennett, deputy mayor of community development, said in an interview.
OPHS already has $12 million for the project that the city-county council approved as part of a larger package of federal pandemic relief funds.
For as much attention as the shelter will get, city officials think the navigation hub could be more important than the added beds. The idea is modeled in part after LTHC Homeless Services (formerly Lafayette Transitional Housing Center) in Lafayette, which started in 1989. It now includes a one-stop-shop for people who need shelter and basic needs, as well as case management and financial assistance.
The pandemic also offered a chance for a case study locally. The city provided non-congregate housing for homeless people at a hotel on the southwest side. It was open 24/7 from May 2020 to September 2021. Services such as case management and housing assistance were available on the spot.
The city has a goal to effectively end homelessness by 2023. That doesn't mean no one ever becomes homeless — an impossible feat when shelter is a commodity — but instead it means homelessness is rare and brief.
"There are always, unfortunately, going to be individuals and families experiencing crises related to housing," Bennett said.
"The key is the response."
Contact staff writer Tyler Fenwick at 317-762-7853. Follow him on Twitter @Ty_Fenwick.