Everyone knows that Indiana is basketball country. Every year, the Hoosier State produces a flock of basketball prodigies, similar to Texas and California. From professional to organized youth sports, there are countless hoopers engrained and up-and-coming in Indiana. One such basketball phenom is Riley Schellhammer.
A seventh-grader hailing from Fishers, Schellhammer has been making headlines with her impactful and stylish form of play. Moreover, she competes against basketball players three levels above her own.
The young basketball prospect took an interest in basketball at age five. By six, Schellhammer was a full participant in organized league sports. After all, the sport is embedded in her family tree.
Many members of Schellhammer's family played college sports and on the professional level in the NBA. Her family members have ties with Western Kentucky, the Chicago Bulls and the Boston Celtics. Schellhammer's mother, Jaime, is a Western Kentucky alum who earned a spot on the school's All-Century Team.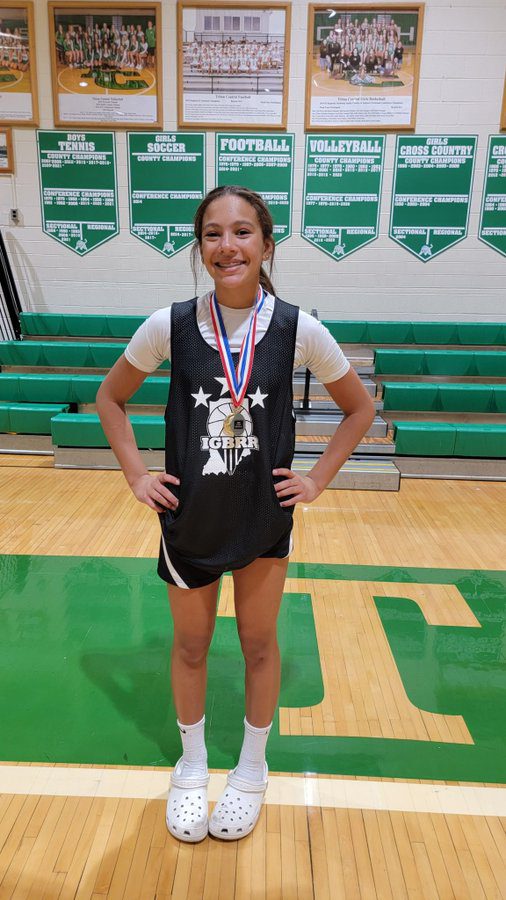 A 2-way, 3-level scorer, Riley Schellhammer is unlike any prospect fans or scouts have ever seen. Praised for her outside shooting and vision, the basketball prodigy often finds the open shooter or creates a shot herself. Her basketball IQ allows her to comfortably play against players three times her senior.
Currently balling with the Indiana Elite Prime, Schellhammer has learned a lot quickly. With the ability to get to the basket and drain midrange shots, Schellhammer is an offensive savant.
The basketball prodigy is also a nightmare on defense. Standing 5'9 out of the point guard position, Schellhammer's lockdown style allows for multiple blocks and steals per game.
"Defense gets you points," Schellhammer said.
Schellhammer is not only great on the hardwood but also in the classroom. Schellhammer has participated in multiple leagues and basketball camps while maintaining a 3.8 grade point average.
"The sooner I get the work done, the sooner I can play basketball," Schellhammer said.
She displays her energy and hustle on defense for multiple adjustments and schemes from opposing coaches. The young baller is also praised for her coachability. Her attitude, hustle and high energy level during practices and games are second to none.
Schellhammer also spoke to her inspirations and aspirations.
"I really enjoy watching Rhyne Howard play," Schellhammer said.
Many scouts and analysts believe that Schellhammer is a Division-I Athlete in the making.
Currently, Schellhammer is overseas in Europe playing in the United World Games, representing the U.S. The Class of 2028 is in for a treat once Schellhammer makes her collegiate debut.
Contact multi-media staff writer Noral Parham III at (317)-762-7846 or e-mail at noralp@indyrecorder.com. Follow him on Twitter @NoralParham.