You can't see it yet, but Rachelle Jackson-Wells can. Open-face freezers stocked with milk and meat, more shelves to hold cans and boxes of food, the middle wall removed to create more space.
Jackson-Wells is a detail-oriented person, as evidenced by the neatly packed cans of ravioli and bags of ramen noodles on the lone shelf at her little grocery store, Snack Shak, on the corner of 34th Street and Forest Manor Avenue.
It's not just the physical space Jackson-Wells dreams of. It's what Snack Shak could mean for a community where the most convenient option for milk and bread is the gas station. She talks about it like someone trying to speak things into existence, walking around and pointing to where this or that will eventually be.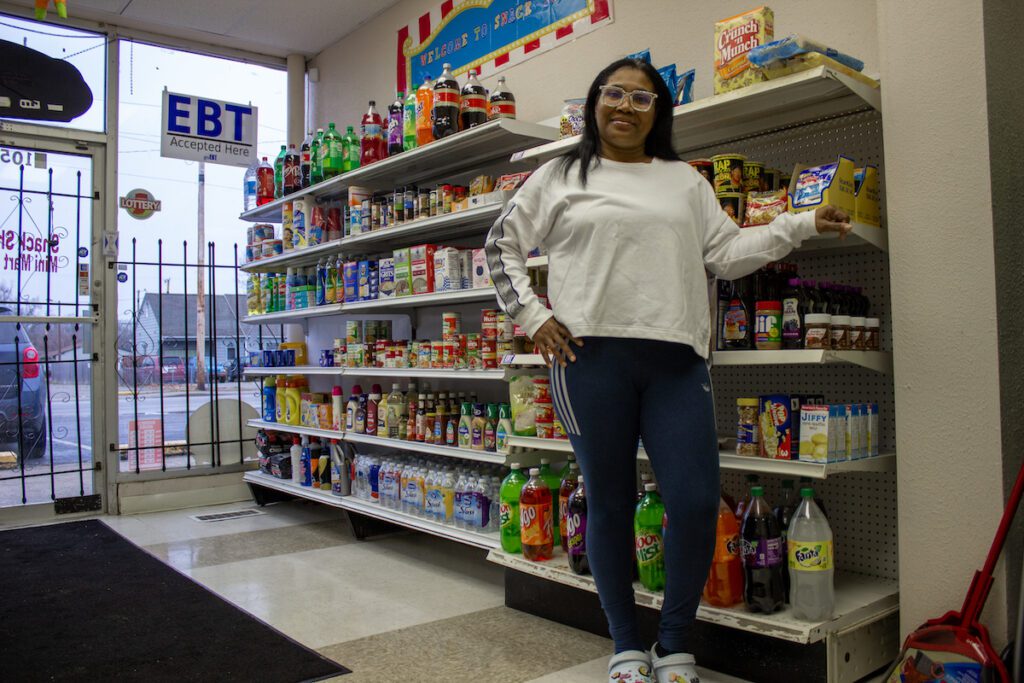 A freezer here, that desk gone, a Western Union machine back there behind the counter.
The community Jackson-Wells serves is a food desert, meaning there isn't convenient, affordable access to fresh foods such as fruits, vegetables and meat. She has trouble keeping up with demand for milk and cereal.
"That lets me know they don't have enough resources to get food around here," said Jackson-Wells, who has also worked as a nurse at Riley Hospital for Children and in Fishers.
There's a Save-A-Lot on East 38th Street (about a 30-minute walk or 20-minute transit trip from Snack Shak) and a Safeway on North Sherman Drive that's about the same distance.
Jackson-Wells opened the store in August 2020. She sees about 30 people a day.
Iley Baxter, 81, walked into the store a few days after Christmas to play the lottery. He's one of the regulars who said he visits Snack Shak almost every day. He's lived in the area for 60 years.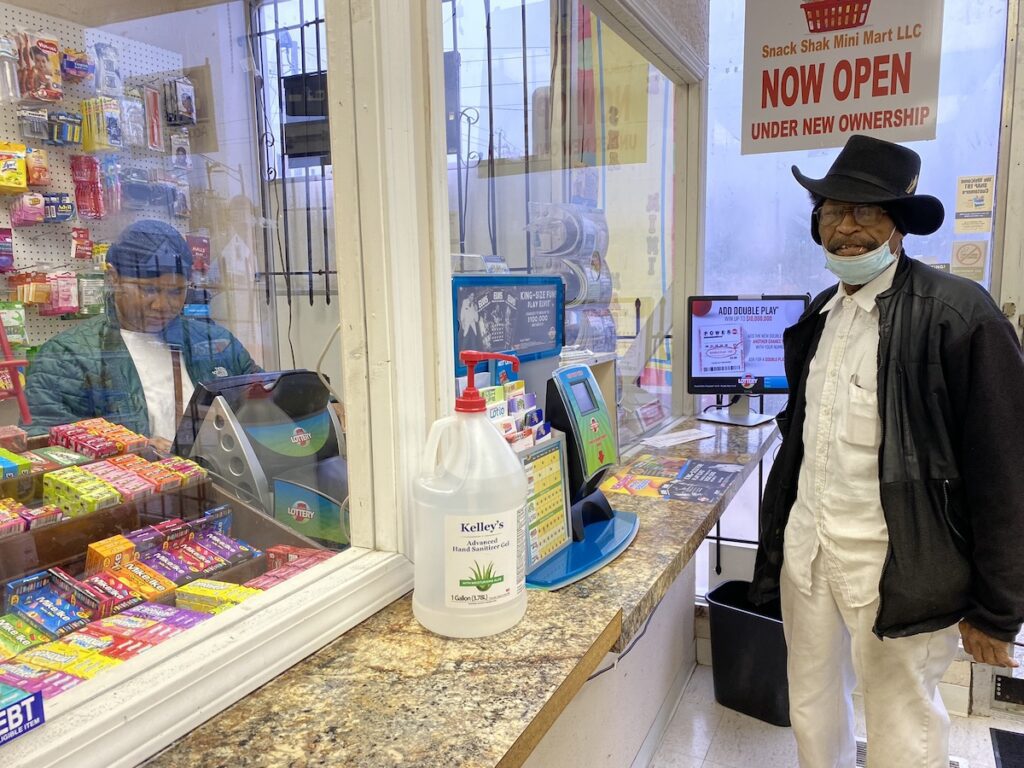 "Brung joy here," Baxter said as he and Jackson-Wells laughed through their conversation.
Jackson-Wells' story at 34th Street and Forest Manor Avenue didn't start in August. She grew up down the street and remembers when the space that's now hers was Mike's Convenience Mart.
Veronica Flournoy was one of the kids who used to walk with Jackson-Wells to the store to get candy. She still lives close by on Forest Manor.
"She has a heart for people," Flourney said of her longtime friend. "She loves people. She knows the neighborhood. She knows the community. She's a product of it."
Frances Samuels used to live in the area and has known Jackson-Wells for about 20 years.
"Of course, you have gas stations that have those types of items," Samuels said, "but it's different when you have someone from the neighborhood who's there to give back."
Starting in April, Snack Shak will be part of the Indy Local Grocers Coalition, a group that helps local grocers maintain food access in neighborhoods where there is food insecurity. The city provides technical assistance on things such as how to become certified through the Supplemental Nutrition Assistance Program (SNAP) and the Indiana Women, Infants and Children Program (WIC).
"I'm really excited about her energy," Sara Niccum, the city's community nutrition and food policy coordinator, said of Jackson-Wells.
The goal for the coalition, Niccum said, is to create "food sovereignty" within communities. For many people, it's a habit at this point to go to the dollar store or gas station to get food (and pay more in the process), but if the coalition can help Snack Shak and others like it gain notoriety, even smaller stores could go a long way in helping neighborhoods.
"One store impacting that many lives consistently could make a big difference," Niccum said.
Contact staff writer Tyler Fenwick at 317-762-7853. Follow him on Twitter @Ty_Fenwick.