When Neline Wooley came out of high school in the early 1970s, she was surrounded by Black love and Black power, and she knew she would want to instill that sense of pride into her children.
Wooley focused on reading. Her son, Forrest Wooley III, grew up reading Sesame Street books and learned how to spell Lafayette — they lived by Lafayette Square Mall — when he was 3. Her daughter, Natalie Pipkin, went on to start a mobile bookstore in 2020.
"I wanted to be sure that my children had an excellent start," Wooley said. "Because if you have an excellent start, there's a great chance that you're going to have an excellent ending."
Wooley never lost that passion for literacy. She applied earlier this year for the Go Farther Literacy Fund from The Mind Trust, an Indianapolis-based education nonprofit, and received $3,800 to start Indy ECHO Lending Library. It operates out Pentecostal Temple Church of God in Jesus Christ, where Forrest will soon be the pastor, and Pipkin is the library's curator.
ECHO stands for Eastside Community Holistic Outreach.
INDY ECHO LENDING LIBRARY
Indy Echo Lending Library operates like a traditional library, but all books are focused on Black and brown children and written by African American authors.
• When: Noon-3 p.m. every other Saturday
• Where: Pentecostal Temple Church of God in Christ, 3009 Forest Manor Ave.
It's a modest setup for now; Wooley said she wants to keep growing and applied for the second round of funding, which closes Nov. 15. Learn more at themindtrust.org/gofarther.
For Wooley, it's like being a mother to little children again.
"I don't want to see them fail," she said.
The library operates like any other library. Wooley uses an app that creates member accounts, so families can check out books and have return dates. There are also some educational games and workbooks.
The library is open noon-3 p.m. every other Saturday outside of the church.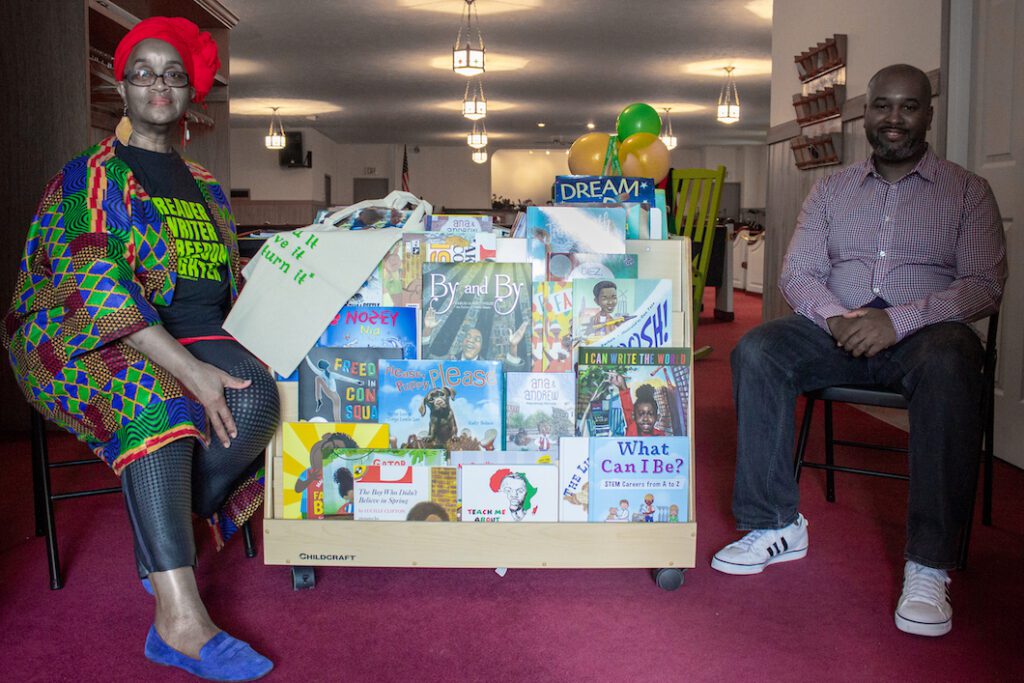 From Forrest's perspective, a literacy program at his church could go a long way in ministry, too. If children can't read a "simple book," he said, how can they read and understand the Bible?
What makes Indy ECHO Lending Library a little different from traditional libraries is all of the books are written by African American authors and show Black and brown children on the covers. Children may get an overwhelmingly negative perception of people who look like them based on the media they consume, Wooley said, so she wants to highlight the successes, too: people like Marcus Garvey and Charles Tindley.
GO FARTHER LITERACY FUND
The Mind Trust, an Indianapolis-based education nonprofit, opened a second round of funding for the Go Farther Literacy Fund, with awards ranging from $150 to $5,000. Learn more and apply here. Applications close Nov. 15.
Wooley, who used to volunteer with a reading program at United Way, also knows literacy rates and reading proficiency are disproportionately low for Black students. The latest state ILEARN results show only 17% of Black students in grades 3-8 tested at a proficient level in English language arts.
"We no longer want to keep asking every year why Johnny can't read," she said. "We want to give him the tools that can help him read."
Contact staff writer Tyler Fenwick at 317-762-7853. Follow him on Twitter @Ty_Fenwick.