A group of community members learned about the ongoing opioid epidemic in Indiana and received training on how to administer medicine to reverse an overdose during an event hosted by the state health department Sept. 16.
The Indiana State Health Department partnered with Gov. Eric Holcomb's office and PACE (Public Advocates in Community re-Entry) for the training as part of National Recovery Month in September.
Trainers told the participants naloxone is part of a harm reduction strategy when it comes to opioid use disorder.
"We can't get people into recovery if we can't get them into treatment because they've died from an overdose," said Douglas Huntsinger, Indiana's executive director for drug prevention, treatment and enforcement.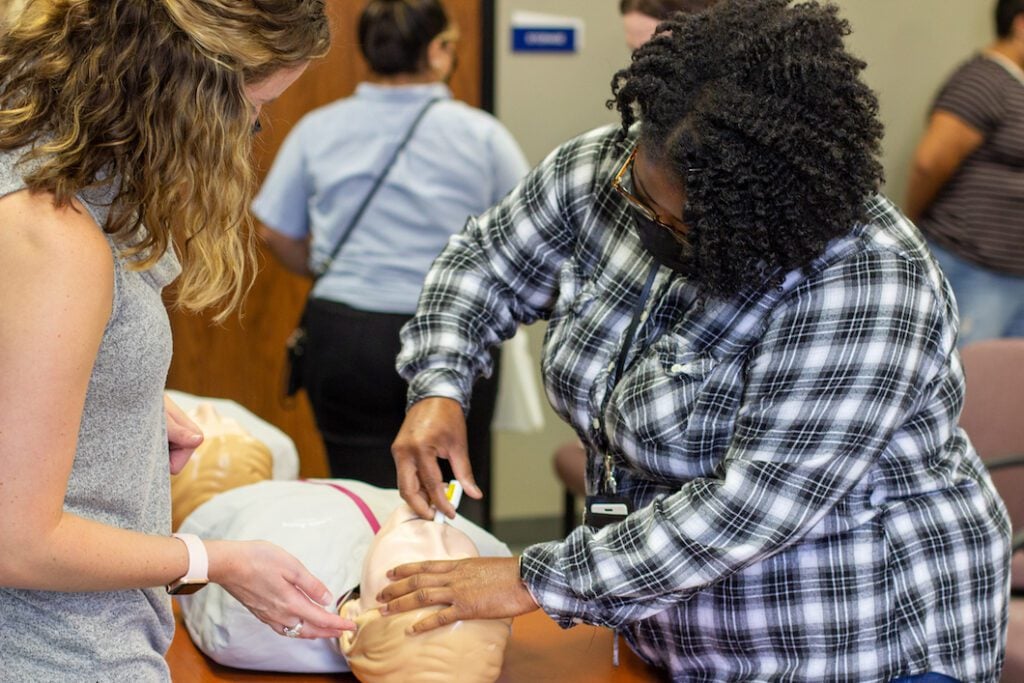 Naloxone works by knocking opioids off of receptors in the brain. It only works for opioids and doesn't have the potential for misuse, so you can use it even if you're not sure the person is experiencing an opioid overdose. Naloxone is safe for children and women who are pregnant.
There are nine naloxone products on the market. The most common is Narcan, a nasal spray, because it's the easiest to use. If you believe someone has overdosed, tilt the person's head back, put the nozzle into one of their nostrils, and press on the plunger. Other products also come in the form of a nasal spray, and some are injected.
WHAT TO DO IF YOU SEE SOMEONE WHO HAS OVERDOSED
These are the steps trainers with the Indiana State Department of Health recommend if you see someone who you believe overdosed.
Step 1: Try to rouse the person by saying their name. If they don't respond, shake their shoulders and rub your knuckles up and down their sternum to see if they respond.
Step 2: Call 911.
Step 3: Administer naloxone.
Step 4: Try to rescue the person's breathing by blowing air into their mouth.
Step 5: Put the person into a recovery position by rolling them on their side and bending the top leg at a 90-degree angle at the knee.
Step 6: Use naloxone again if necessary and if help hasn't arrived. Naloxone typically wears off after about 30 minutes, so the person might start showing signs of an overdose again.
Loni Calhoun, a social worker for the Marion County Public Defender Agency, said many of the clients she works with struggle with addiction, and that's on top of people she sees on the street or in their car who might have overdosed. Calhoun said she attended the training because she's never carried naloxone but knows there are times she could have used it.
"You never know when you're going to run into it," she said, "and if you can help save a life at that time, I think that's a good idea."
The state has experienced three waves of opioid epidemics dating back to the 1990s. The current wave, which started in 2017, is fueled by synthetic opioids that can be 100 times more lethal than morphine.
Indiana experienced a 33% increase in overdose deaths in 2020, according to data from the Centers for Disease Control and Prevention. About three-quarters of all overdose deaths in the state are from opioids.
Contact staff writer Tyler Fenwick at 317-762-7853. Follow him on Twitter @Ty_Fenwick.