When local poet Manon Voice recited her favorite poem — Mari Evans' "I Am A Black Woman" — for a small crowd gathered at City Market on April 12, she shared a piece of what she described as Indianapolis' "rich, vibrant, diverse literary scene."
The spoken word artist, who was downtown to celebrate the launch of BookMark Indy — a program designed to promote and celebrate local literary talent — said she owes much of her career to the city that allowed her to find her own voice.
"I started out here in the open mics and the cafes," Voice said. "That shaped me into being a better writer and … was a huge part in me becoming a spoken word artist. Our scene in the city is so diverse, and you can be your own kind of writer and still be celebrated and have a place here."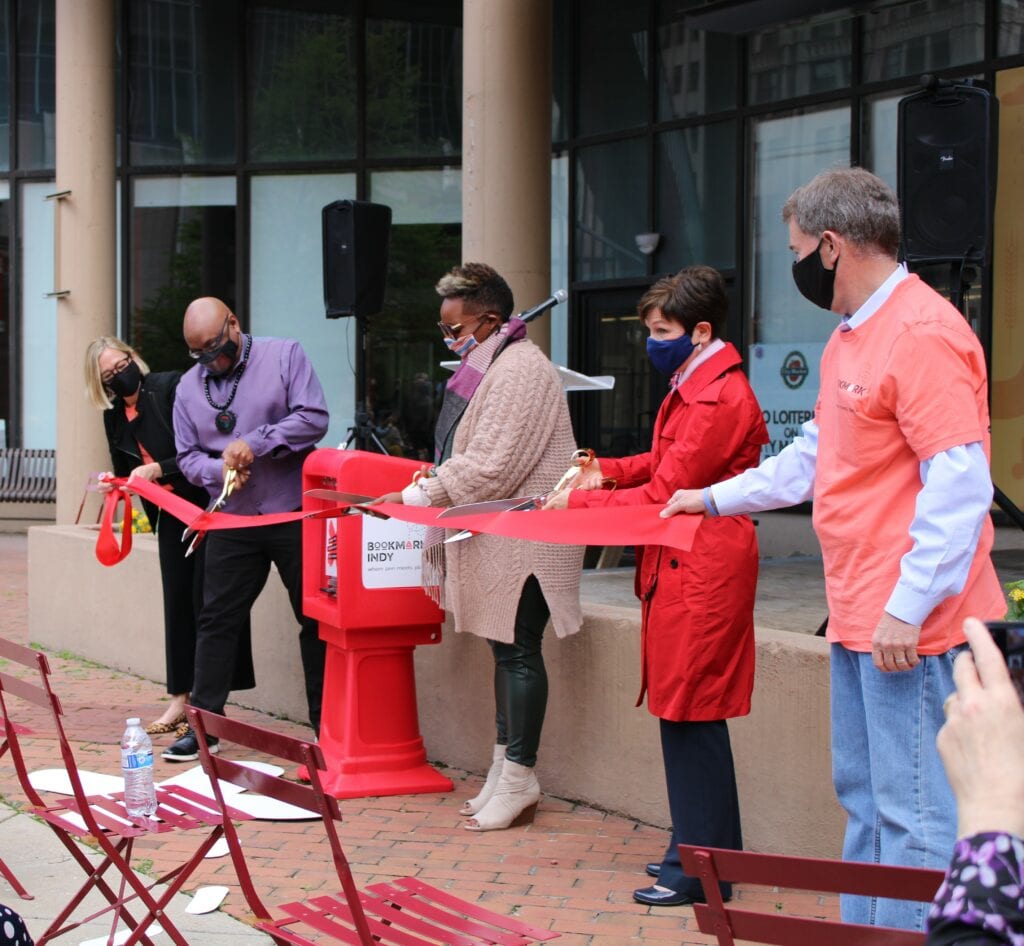 Throughout April, which is National Poetry Month, and May, BookMark Indy will host several events, including a haiku competition May 31 in honor of poet Etheridge Knight. Through programming and a website, bookmarkindy.com, Hoosiers can learn more about the poets, authors and commentators who called Indianapolis home, including Kurt Vonnegut, Mari Evans and Booth Tarkington, as well as stay connected with modern writers working in the city.
"History comes to us from our writers," Mayor Joe Hogsett said at the BookMark Indy ribbon-cutting ceremony. "You get to know a place the best by listening to those who observe it."
Getting involved with BookMark Indy isn't the only way you can get involved in National Poetry Month festivities.
At 9 p.m. April 15, Lasana Kazembe's production "The Voodoo of Hell's Half-Acre: A Blues Poetry Opera" will be broadcast from The Cabaret theater on WFYI. The opera, which Kazembe wrote in 2015, focuses on the life of poet and writer Richard Wright and his journey from the South to Chicago during the Great Migration.
Kazembe, who teaches elementary education and urban education studies at IUPUI, said art is an effective way of teaching history, particularly history that is often purposefully left out in many American classrooms.
"In my research, I look at art as an acronym, 'A Revolutionary Tool,'" Kazembe said. "The function of art is to create change and to create dialogue … and it's essential because it presents an opportunity for people to deal with contentious issues and difficult subject matter. It grabs your attention and makes people become engaged and curious."
Kazembe was inspired to write the opera after decades of reading Wright's work, including his 1940 novel "Native Son." He hopes the takeaway from the performance, which includes a nine-piece musical ensemble, is that Wright used his work to advocate for change and bring attention to issues such as imperialism and white supremacy.
"He existed not only as a creative artist, but one with deep political sensibilities," Kazembe said. "His was a personal struggle for identity and freedom."
This National Poetry Month, local poet Michaal Collins said poets are more important for the community than ever.
"The pandemic has been hard for writers," Collins said. "The more you isolate yourself, the less contact you have with the community, the less real you are. But, we survived the Donald Trump years, we survived the pandemic and we're getting back out there. Poets are still vital, and we still have a message."
Contact staff writer Breanna Cooper at 317-762-7848. Follow her on Twitter @BreannaNCooper.
Write away!
BookMark Indy will offer several events throughout April and May to celebrate Indianapolis literary icons of the past and present. These events are in person and admission is free.
What: A projection show featuring the yearbook photos of Shortridge High School alumni Kurt Vonnegut, Dan Wakefield, Madelyn Pugh and Marguerite Young.
When: 8:30-10 p.m. April 20-22: Lights on Shortridge, 3401 North Meridian St.
What: Mari Evans work will be shared by the mural depicting her, and guests can chalk the sidewalk with excerpts from Evans' poetry.
When: 3 -5 p.m. May 3, 448 Massachusetts Ave.
What: Poet Tony Brewer will recite his poem inspired by C.L. Moore
When: 4-7 p.m., May 15, Monument Circle
What: Swinging Syllables: A Head-to-Head Haiku Competition to Honor Etheridge Knight
Poet Etheridge Knight was known for tackling serious topics through haikus. Join Dr. Adam Henze for a haiku competition featuring influential haiku writers from Indiana. The winning poet will receive a cash prize of $250. To register, visit bookmarkindyhaikus.eventbrite.com. You can watch on Indiana Humanities Facebook and YouTube pages.
When: 7 p.m. May 31, virtual
For a full list of poetry workshops available throughout the month, click here.
What: "The Voodoo of Hell's Half-Acre: A Blues Poetry Opera"
Lasana Kazembe's opera based on the life of poet, writer and activist Richard Wright.
When: 9 p.m. April 15 on WFYI