"When we invest in each other, we invest in ourselves," the quote frames the multifaceted Kheprw Institute (KI)—a beacon of hope and transformation nestled in the heart of Indianapolis.
It is Sunday morning, and I am double-checking a text from one of the Co-founders of The Kheprw Institute, Paulette Fair. In it, she says, "Let's meet at Octavia's Visionary Campus (OVC)," and I am floored. Octavia, as in Octavia Butler?, I thought. (When Octavia Butler tips the tongue of anyone, my curiosity is piqued, and my thoughts carry me to faraway lands that nurture community, build through innovation, and make space for social change). Kheprw and its founders, Imhotep Adisa, Pambana Uishi, and Paulette Fair, work to impact and achieve change by focusing on Education, Empowerment, Environment, and Economy—right here in Indianapolis. And like Butler, Kheprw has written and narrated its story and flourished.
Its origins are like many who begin a work; they were then and are now fulfilling a need. What started as a safe learning environment for their children to glean, find value in, and highlight the brilliance and contributions of Black people and culture is still building/expanding community through self-mastery. Founded in 2003, the Kheprw Institute has made significant strides in education, youth development, and community building.
The Kheprw Institute derives its name from the ancient Egyptian deity Khepera, symbolizing transformation and rebirth. True to its namesake, KI empowers and transforms communities. I am reminded of the Ubuntu philosophy, "I Am Because You Are," and we are our best resources. KI strictly promotes the idea of "aligned philosophies, mission, and purpose" as the connecting factors to ensure transformational change. The outcome has garnered personal growth in adults, young adults, and children, social awareness, and leadership skills. The organization's mission is to create a more just, equitable, and sustainable world by investing in the potential of young people and inspiring them to become agents of change.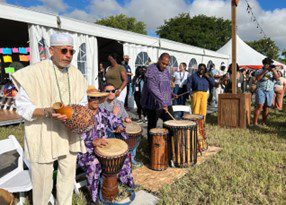 Modeling the concept, KI partnered with The Climate Justice Alliance and hosted its first-ever national member convening at Octavia's Visionary Campus. More than 90 members from nationwide organizations gathered and collaborated to develop long-term strategies for climate justice solutions.
I was so moved by all the people, programs, and resources I petitioned for an interview. The more I learned about KI from Imhotep Adisa (co-founder), Paulette Fair (co-founder), Aghilah Nadaraj (Leads Fund Development and Climate/Environmental Justice), and Alvin Sangsuwangul (Leads Affordable Housing /Tech/Marketing), the more I wanted to get involved, an wondered if writing were enough. Listen to the sound cast to hear the full interview.
Selected Programs and Initiatives
The heartbeat of KI lies in its youth development programs, which aim to provide young people with the tools and knowledge they need to navigate life successfully. These programs include mentorship, leadership development, and educational support, empowering youth to realize their full potential. One notable program is the Youth Entrepreneurship and Leadership Development (YELD) program, which teaches entrepreneurship, financial literacy, and leadership skills. Participants gain practical experience by developing and launching their own businesses, instilling a strong sense of self-efficacy and entrepreneurship within them.
Education and Community Engagement
Education is a cornerstone of the KI work. The institute offers tutoring, homework help, and educational workshops to support students academically. Additionally, they engage in community outreach by organizing events and seminars that promote critical thinking, cultural awareness, and social justice.
The commitment to education extends to adults as well. The Kheprw Institute offers classes and workshops for community members, addressing topics such as financial literacy, health and wellness, and sustainable living practices. This holistic approach to education helps bridge generational gaps and build a stronger, more knowledgeable community.
Food Justice and Urban Agriculture:
Recognizing the importance of food access and sustainability, the Kheprw Institute operates an urban agriculture initiative, Growing Good in the Hood. This project addresses food deserts in Indianapolis by promoting urban farming and community gardens. It provides fresh, locally grown produce to underserved communities and educates residents on sustainable farming practices.
The Kheprw Institute is not just an organization but is a catalyst for positive change and community transformation. It is a testament to the power of grassroots initiatives and community-driven development. Kheprw's youth development programs, educational initiatives, and commitment to food justice have created a brighter future for the city and the culture.