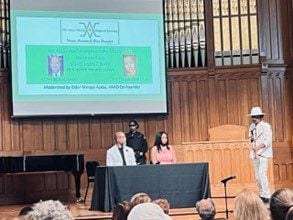 We entered hushed, our eyes spoke, and with our heads, we greeted hello. Old friends broke the silence by introducing children and grandchildren. Blacks and Whites filled Indiana Landmarks poised to view Till, a movie written and produced by Keith Beauchamp. After viewing the film, he and Priscilla Sterling (Emmett Till's cousin) were here to speak about the family, the film, and the journey to justice.
Indiana's Dan Wakefield, the only living journalist from Roy Bryant and J. W. Milam trial, was there. His article, Justice in Sumner, was Wakefield's introduction to the national scene. But one wonders, justice for whom? This is a question James Baldwin once asked my friend. Now 91, Dan's recollection of the trial is like yesterday; where the bus dropped off, the stench in the air, and the language and tone of the Mississippi officers. It is 68 years later, and America is as polarized now. States like Texas, Florida, Missouri, Utah, and South Carolina have banned books, bred with the proliferation of a concerted legislative effort to restrict teaching about topics such as race in classrooms. One wonders how Till would be unfurled in a classroom setting or if the curriculum from Beauchamp's film can be utilized in my state.
Emmett Till was the 14-year-old Black American adolescent who was abducted, tortured, and lynched in Mississippi in 1955 after being accused of offending a White woman, Carolyn Bryant, in her family's grocery store. Beauchamp's film dives deep into the brilliant life-changing decision- making of a grieving Black mother. In the movie, Mamie Till confronts Mississippi's apathy while directing and instituting a political plan with the NAACP for a better America. Her relentless commitment to showing the world what Mississippi did (and does) to Black Males told an embedded narrative. Mamie Till simultaneously exuded a mother's vulnerability and warrior strength. When she needed – she gave a reoccurring action of the Black Mother. In Beauchamp's film, we see a different side of Mamie Till that has not been previously captured; maybe it was because Beauchamp was hand-picked by Mamie Till to tell the story, and he did.
Family member Priscilla Sterling was there to share the continual battles one must fight in Mississippi for equity and justice. She shares the importance of learning your family history and being aware of the people around you. A point Eunice Trotter (Indiana Landmarks director of Black Heritage Preservation) makes with clarity during our talk; "we must teach our children not only Black history but also our family history." This is a pointed sentiment as America watches the Florida governor negate the truth, especially regarding who actually benefitted from slavery.
On what would have been Emmett Till's 82 birthday, President Biden designated a national monument to honor Emmett Till and Mamie Till-Mobley, whose advocacy was instrumental in keeping Emmett Till's lynching on the forefront of America's mind and a catalyst for the civil rights movement—the national memorial, will include sites in Illinois and Mississippi.
The Church of God in Christ in Bronzeville will be a site in Illinois. The historically Black neighborhood on Chicago's South Side is the church; Mamie Till-Mobley held an open-casket
funeral service for her son in defiance of directives from Mississippi authorities on September 3, 1955.
The other two nationally preserved sites are in Mississippi. Graball Landing, located just outside of Glendora, Mississippi, is believed to be the site where Emmett Till's body was discovered in the Tallahatchie River and "the third monument site is the Tallahatchie County Second District Courthouse in Sumner, Mississippi, where the trial of Emmett Till's murderers began on September 19, 1955, in a segregated courtroom. After just over an hour of deliberation, an all-white jury wrongfully acquitted Emmett Till's two killers. Both killers (J. W. Milam and Roy Bryant) later admitted their crimes ironically in Look Magazine in an interview for which they were paid. No one was ever held legally accountable for Emmett Till's death" (White House). I hear a poem forming; Till you do right by me…
Veterans Association of Afrikaans Descendants (VAAD) and Black Heritage Preservation ensured Keith Beauchamp and Priscilla Sterling's presence. Please see the Indiana Landmarks website for upcoming history workshops and classes.
Part One: Guest Mmoja Ajabu (VAAD) Guest Eunice Trotter (Indiana Landmarks)
Part Two: Guest Priscilla Sterling (President of Emmett Till Justice for Families (ETJFF) Guest Darryl Gibson (Board Member of ETJFF)
---
For more news from the Indianapolis Recorder, click here.