Competitive cycling lacks something that pro cyclist and social media influencer Cory Williams urges fans of the sport to take note of: Black cyclists.
"We have a certain flair about us that makes people want to laugh, you know," Williams said, "and makes people want to enjoy things."
According to a USA Cycling demographics survey, people who identified as Black or African American accounted for less than 10% of the 7,031 members who responded to the survey in 2020. In 2021, fewer than 10% of the U.S. cyclists in the Olympics were Black, according to the 2021 USA Diversity Scorecard.
Williams, who has gathered more than 130,000 followers on Instagram, will be in Indianapolis from Aug. 27-28 with his cycling team, L39ION, for IU Health Momentum Indy, a two-day outdoor festival.
Williams will be part of the Inspiring Stories Athlete Panel from 5:30-8:30 p.m. Aug. 26 at the Indiana State Museum, 650 W. Washington St., to discuss the challenges and successes he's experienced in cycling.
Williams uses his platform to push for more diversity in the sport and wants more organizations to allow Black cyclists to be themselves. That's why he and his brother Justin founded L39ION in 2019.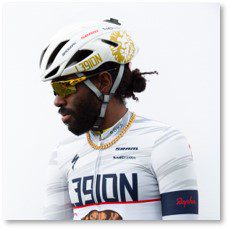 "We raced for some pro teams for many years, and it just didn't work out," Williams said. "They just want you to be a robot and I wanted to do social media and create videos and they just didn't want that."
Williams, who is from Belize and now lives in Los Angeles, said he didn't allow the lack of diversity to deter his passion for professional cycling early on.
"I didn't look at the lack of diversity thing as a challenge," said Williams, who noted cycling is the second largest sport in Belize. "… I just told myself that I'm going to do it and whatever happens just happens."
Cycling has a history of Black athletes making a name for themselves. Indianapolis native Marshall Walter "Major" Taylor was the sport's first major Black athlete in the early 1900s. Yohann Gene became the sport's first Black cyclist to compete in the Tour De France, the largest annual cycling event, in 2011. Ayesha McGowan, in 2014, became the first African American woman to compete on a professional cycling team.
More recently, Biniam Girmay became the first Black African rider to win a stage at a Grand Tour.
Williams hopes L39ION can attract more Black representation and accomplishments to the sport.
"The overall mission for us is to represent yourself," Williams said. "There's some politics in the sport, but in this space, it's a fight to be yourself. They want you to be a mold of a robot and just show up, right? I think for me and Justin, a lot of us go about trying to fit in but we just know that's not always best for your mental health."
He and his brother are committed to accomplishing their goal for more Black representation and involvement. They've garnered national attention from cycling, won major races and built a sizable following. Williams, though, says accomplishing their goal of better representation is all that matters.
"It'd be amazing," Williams said. "It's already happening and we're super proud of it because we love our people, so the next step is trying to get affordable bikes out into the community because these things are not that cheap, right?"
Contact staff writer Levi Jackson at 317-200-8134 or by email LeviJ@IndyRecorder.com. Follow him on Twitter @posterboylevi.