It's been 14 months since Newfields came under fire over a job description for a new director that said applicants would need to "maintain the museum's traditional, core, white art audience." Now, the art institution is trying to prove it's serious about making change.
That includes everything from meeting with surrounding neighborhood associations to increasing staff diversity and pay.
"I think we're proud of the progress that's been made over the last year," interim President and CEO Jerry Wise said in a recent interview to update where Newfields is on its various initiatives. Wise became interim president and CEO when the previous CEO, Charles Venable, resigned following the job posting.
In March 2021, a month after Venable resigned, Newfields released an action plan to outline the organization's commitments and to track progress. The plan is available online.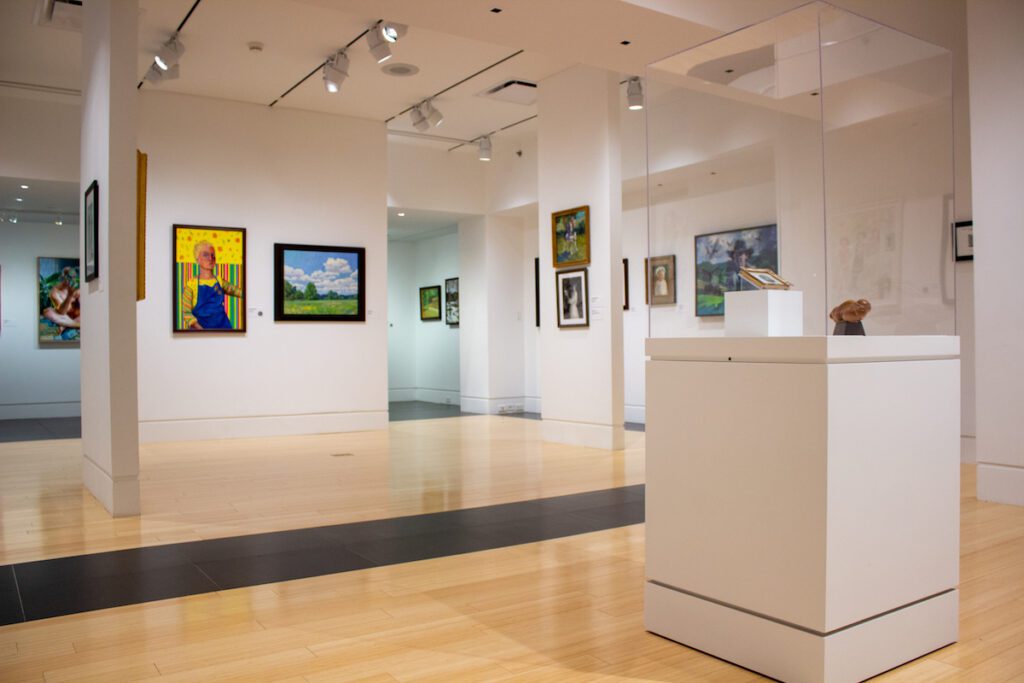 Newfields' efforts to gain the community's favor and rehabilitate its image can be placed into two broad categories: things happening on campus and off campus.
Inside Newfields
The action plan calls for the organization to spend at least $800,000 annually over five years to purchase work by "BIPOC and underrepresented artists." As of April 18, Newfields had spent about $1.8 million. Of the artists represented in that figure, nine are living African American artists, according to Newfields.
A community gallery inside the museum hasn't been utilized to its potential, Wise said, but Newfields is working with local organizations to highlight more community-based artists. The institution has been working with artists and organizations but isn't ready to make official announcements yet.
Nearly a quarter of the organization's 30-member board comes from "communities of color and other marginalized identities," up from 8% previously. Five members identify as African American, according to Newfields, including board chair Darrianne Christian.
The board ordered a review of the institution, which was led by outside experts. The review included interviews and surveys of staff and others connected to Newfields, but Wise said the organization won't share it publicly to protect employees' confidentiality.
One thing that came from the review was a position for vice president of human resources and chief people officer. Newfields hired Ernest Gause to the role in February.
Gause is responsible for implementing human resources initiatives, including bringing diversity, equity, inclusion and accessibility into employee hiring and retention strategies.
Another position, chief diversity officer, will be filled after Newfields hires a permanent CEO.
The action plan also includes raising the minimum wage for full-time employees to $18 an hour. Wise said the organization's base pay is currently at $16 and hopes to be up to $18 in the next 12-18 months. He said base pay for part-time staff is up to $14.
Outside Newfields
Part of the work at Newfields over the last year has been improving its relationship with the surrounding community, including through a neighborhood membership program that gives free admission to nearby residents.
The program is open to residents mostly south of 38th Street down to 18th Street between Lafayette Road and Fall Creek. That area includes three neighborhoods — Marian-Cold Springs, Riverside and Crown Hill — where a majority of residents are Black.
The goal is to distribute 50,000 tickets between neighborhood membership and other programs.
Learn more about the program and apply for membership here.
Newfields has also hosted listening sessions in partnership with some neighborhood associations.
"As we become a more inclusive campus and more inclusive organization and more community-centric organization," Wise said, "that means we're actually able to execute that mission of enriching as many lives through those exceptional experiences in art and nature."
What's next?
Christian, the board chair, said there were more than 200 candidates for the permanent CEO position. The board hopes to complete interviews soon and have the job filled by summer or fall.
In a statement, Christian said the board is looking for a "leader of leaders" who can help the organization with its diversity and equity initiatives and build connections with the community.
Contact staff writer Tyler Fenwick at 317-762-7853 or email at tylerf@indyrecorder.com. Follow him on Twitter @Ty_Fenwick.