Throughout 2020, the threat of COVID-19 kept many people away from their loved ones, children from their classrooms and stands at Lucas Oil Stadium empty. The rollout of the COVID-19 vaccine helped create some semblance of normality in 2021.  
Children returned to the classroom, with the option of learning virtually, and restaurants, bars and entertainment venues were allowed to go back to full capacity. 
Hoosiers were eligible to sign up for the first dose — or only dose if they received the Johnson & Johnson vaccine — in January. Since then, the Indiana Department of Health reports a little over half of eligible Hoosiers have been vaccinated against the virus.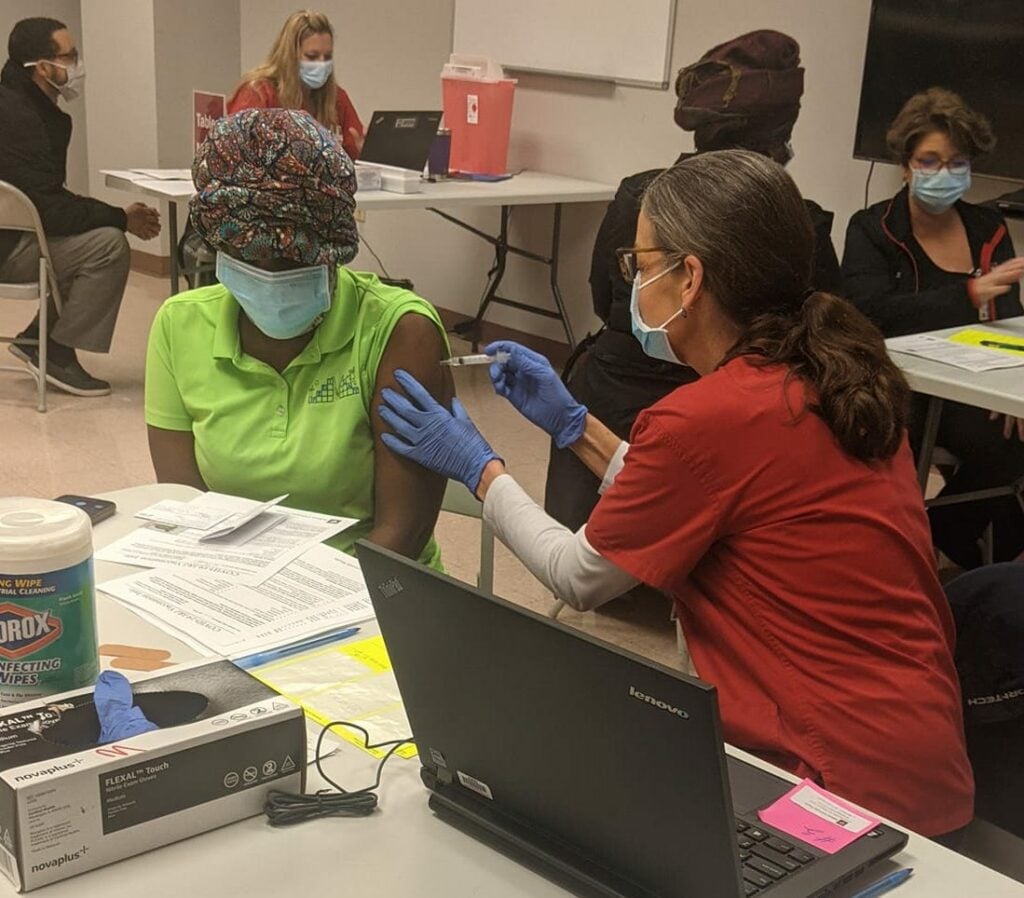 To combat skepticism from the Black community, local officials made it a point to spread awareness of the vaccine. From the time the vaccine was announced, Dr. Virginia Caine, director of the Marion County Public Health Department, dispelled myths about vaccines and told Indianapolis residents what side effects they could expect from the shot. 
"This is a battle," Caine said during a meeting of the local chapter of the NAACP on Jan. 7. She explained side effects, such as headaches and fevers, were common, but better than the long-term effects that come with COVID-19.  
Faith leaders also got involved in the effort to get people vaccinated. Jeffrey Johnson Sr., senior pastor at Eastern Star Church, got vaccinated in part to put his congregants at ease. 
"I don't believe it's my responsibility to tell people to take the vaccine," Johnson said. "I do believe that I have a responsibility as one of the leaders here to inform and educate. … If they see me get my vaccine and the second shot and I'm still around, that may be helpful." 
Eastern Star Church hosted a series of vaccine clinics, including one March 26. There, Robin Marks received the Johnson & Johnson vaccine after losing her nephew to COVID-19 in 2020.  
"It feels good," Marks said of being vaccinated. "It feels like I'm doing my part." 
Efforts from city and faith leaders may have worked. Many Hoosiers were relieved to get vaccinated, including Emerson Allen.
Allen, 67, received his second dose of the Moderna vaccine in March. For the Vietnam War-era veteran, the personal toll COVID-19 had was enough to convince him to get the shot.  
"I wasn't hesitant," Allen said. "My neighbor and one of my best friends died of the COVID, and three of my daughters caught the virus and all recovered. So it hit close to home." 
By November, children 5-11 years old were eligible for the vaccine. Siblings Bellamy and Brody Hermmann got their vaccines at a county health department clinic. Bellamy, 6, said he got the vaccine so she could "be safe." 
As more Hoosiers — young and old — were vaccinated, COVID-19 protocols started to go by the wayside. In June, the city-county council voted to loosen health restrictions, allowing fully vaccinated Indianapolis residents to ditch their masks. Marion County residents were "on the honor system," meaning people didn't have to prove their vaccination status if they weren't wearing their masks in public.
Since March 2020, 18,280 Hoosiers have died from COVID-19. 
 
Contact staff writer Breanna Cooper at 317-762-7848 or email at BreannaC@indyrecorder.com. Follow her on Twitter @BreannaNCooper.