In May of 2016, a group of more than 20 women gathered at Binkley's Kitchen and Bar. Many of these women were recent college grads who felt unsatisfied with the hands they had been dealt in their professional and personal lives. After dinner, drinks, games and get-to-know you activities, the women shared with each other some of the issues they were facing and talked about how to find their purpose. Before they departed, they wrote their biggest fears on balloons and let them float away into the sky. The women walked in as strangers, but they walked out as friends.
The difficulties these women discussed are common. Data from the National Center of Education Statistics and the U.S. Census Bureau show that, despite the total number of postsecondary degrees earned by Black women increasing at all degree levels and a higher percentage of Black women being enrolled in college than any other group by race and gender, Black graduates still earn far less than white peers. What was uncommon, however, is having an organization facilitating events to encourage the demographic of Black 20-something women in Indianapolis.
This event was hosted by The Strength of She, a local organization that aims to empower women of color in their 20s and early 30s by offering various avenues to connect, grow and share stories and struggles. The organization is still going strong here in Indy and is planning numerous events for 2017.
Aisha Herring, the founder of The Strength of She, has always been captivated by stories. While growing up in Gary, Indiana, she wanted to become a writer. After graduating from Butler University with a journalism degree, she started a personal blog about her life, but she soon noticed a large amount of her peers sharing polished versions of their stories online while secretly struggling with many aspects of their lives.
"I noticed a trend of women seeking this idea of perfection based on what they see on the internet and on social media. I wanted to create a space to help women make some improvements, but mainly be comfortable in who we are," said Herring.
Herring's desire to help women improve their personal life stories inspired her to create The Strength of She. The organization started as a health, beauty and lifestyle blog where women shared tips on everything from healthy recipes and hair care to articles on how to find your purpose and be confortable in your own skin. Today, the organization has expanded to host events around Indianapolis aimed at helping young women succeed.
"What we hope to create is a community where women can be confident, healthy and beautiful from the inside out. That's something we are trying to bring here because we've seen it in Chicago and we've seen it in Atlanta, and Indianapolis is a big city, too," said Herring.
Last year, the organization had an event series titled 25 Project that aimed to combat the emotions that arise from a quarter-life crisis, and feeling like you are not quite where you should be as an adult. The first event of 2017 will take place at Mimosa and a Masterpiece. Attendees will take part in a self-love workshop and activity, followed by a painting class.
Tyra Whitson, a creative ambassador and lifestyle blogger with The Strength of She, says it didn't hit her how big the organization could be until they started to host events around Indianapolis.
"The blog is great, but we felt like we could really expand on this more. It felt much more real when we started to do events around the city," said Whitson. "I think it's so important because women of color have issues with our race and with our gender as well. We face difficulties that people have no idea about. We need to build a strong community to keep us above ground and uplifted."
The Strengths of She's next big undertaking will be the launching of a publishing company that aims to create books by and for women of color. A study by multicultural children's book publisher Lee & Low Books shows that the publishing industry is 79 percent white. Because Black women are underrepresented in the world of publishing, Herring wanted to find a way to fill that void. Herring says that the organization has improved the lives of the facilitators as much as the public.
"My team came from different places, backgrounds and perspectives. None of the women on our team started off as writers or bloggers, and I was able to teach them. While empowering the women of our city, we are also empowering ourselves," said Herring.
Join the Strength of She for My Love is LIT: Self-Love Workshop and Painting class on Friday, Feb. 3, at 7 p.m. at Mimosa and a Masterpiece, 614 Massachusetts Ave., Indianapolis, IN 46204. The event costs $40 to attend and tickets can be purchased on Eventbrite.com. For more information, visit thestrengthofshe.com or follow the organization on Facebook.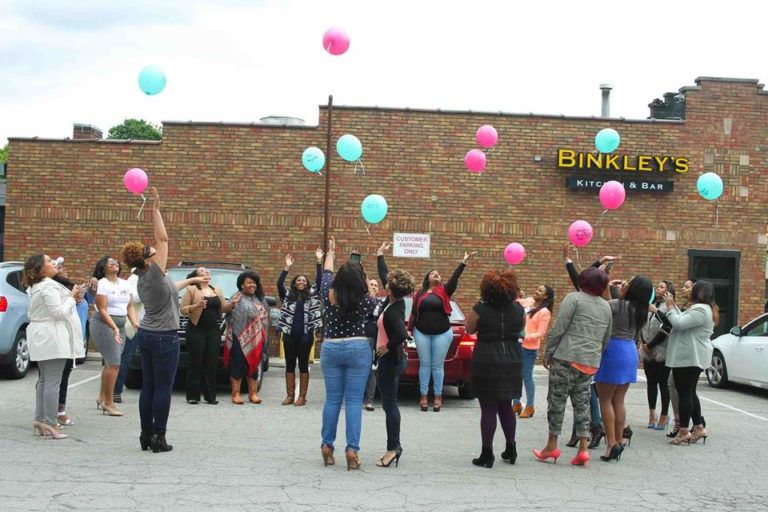 In May of 2016, a group of more than 20 women gathered at Binkley's Kitchen and Bar for The Strength of She's first event. Before they departed, they wrote their biggest fears on balloons and let them float away into the sky.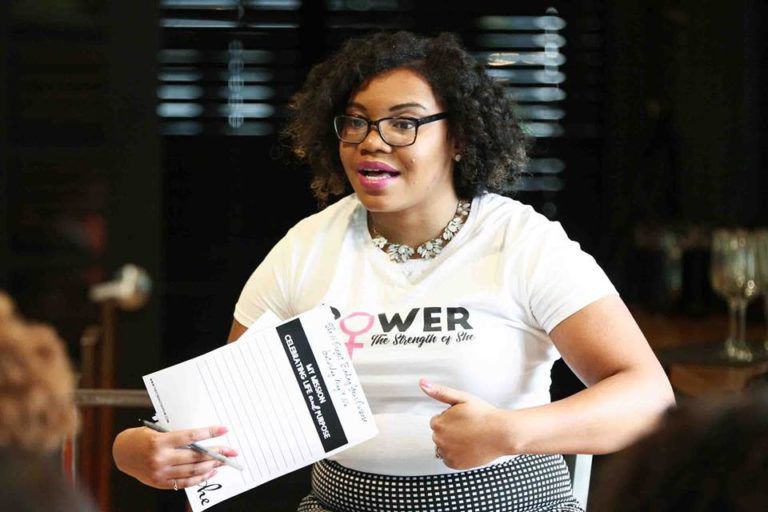 Aisha Herring is the founder of The Strength of She.