Special to the Recorder
The Downtown Kiwanis Club of Indianapolis honored 25 area high school seniors who have overcome significant obstacles in their lives and presented $41,000 in scholarships to four candidates at its 36th annual Abe Lincoln Scholarship Awards banquet recently.
The four scholarship recipients are:
n First-place recipient – Jamie Louise Pierle, Perry Meridian High School
n Second-place recipient – Daniel Dorsett, Arsenal Technical High School
n Third-place recipient – Ryan A. Gossett, Ben Davis High School
n Fourth-place recipient – Kayla Blackburn, Decatur Central High School
James D. Blythe II, senior partner of Blythe & Ost Attorneys and chair of  the Abe Lincoln Scholarship Awards committee, served as master of ceremonies of the awards program.
Circle of Valor awards were presented to the remaining 21 candidates, each representing an area high school. Candidates were nominated by their high schools for the scholarships because of their achievements in the face of daunting obstacles.
"Our scholarships are not (financial aid) scholarships," explained Blythe. "They are 'recognition' scholarships. We honored and recognized these 25 students who have proven, despite overwhelming personal difficulties, that they can and will succeed."
The Abe Lincoln Scholarship program has three goals:
• Public recognition for each nominee and his/her accomplishments.
• Special recognition for four nominees in the form of significant scholarship funds.
• Delivery of the public message to other young people struggling with difficulties that there are people within the community who care about them, recognize them and encourage them to work toward success.
Here are the remaining candidates and their schools:
Arlington High School-Alicia Turner
Beech Grove High School-Crystal Goodwin
Bishop Chatard High School-Ellen L. Collier
Broad Ripple High School-Chelsea Jamison
Cardinal Ritter High School-Rebecca Nickels
Cathedral High School-Charlie Chamness
Covenant Christian High School-Abigail Frey
Crispus Attucks High School-Masadies Nicole Yeakey
Franklin Central High School-Matthew J. Marshall
George Washington Community School–Cesar Silva
Indiana School for the Blind-Kane Sparks
Indiana School for the Deaf-Benjamin S. Polstra
Lawrence Central High School-Jazmin Crozier
Lawrence North High School-Rasheem McDowell
Northwest High School-Courtney Paige Bowling
Pike High School–Briana Meeks
Roncalli High School–Ashly Fisher
Southport High School-Ahmed Salih Mahdi
Speedway High School-Danielle N. Taylor
Thomas Carr Howe High School- Jasmine A. L. Rice
Warren Central High School-Shellise Donnerson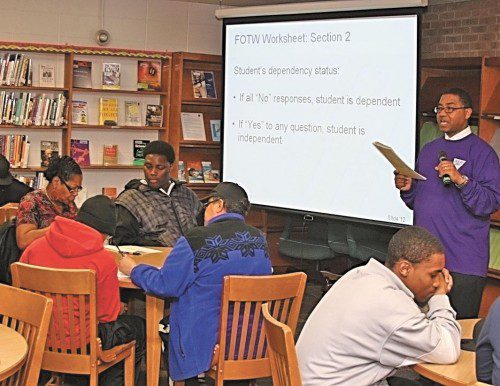 Helping students reach goals Rodney Nichols (standing) gives instructions to parents and students at Arlington High School on College Goal Sunday, a day when volunteers at various high schools help students prepare for higher education.