Last Sunday, residents from different parts of the Hoosier state gathered in the auditorium of the Central Library to witness an unprecedented forum hosted by the Indianapolis Recorder newspaper and the stations of Radio One Indianapolis. The event, billed as an opportunity to hear and share thoughts on the issues directly impacting minorities in Indiana, was attended by each of the three men competing to become the next governor of the state of Indiana — Libertarian Rex Bell, Democrat John Gregg and Republican Lt. Gov. Eric Holcomb — and moderated by Recorder President Shannon Williams.
Panelists Ebony Chappel, editor-in-chief and marketing director of the Recorder; Deon Levingston, regional vice president of Radio One; and Carlton Waterhouse, associate professor at the Robert H. McKinney School of Law at IUPUI, delivered questions, many based on submissions directly from readers and listeners, covering topics including education, economic imbalances, police brutality and environmental disparities.
On Indiana's opiate epidemic, Chappel asked each candidate about equitable treatment for minority communities versus areas whose populations are predominately white — the latter of which has received numerous resources to help prevent instances of overdose among users.
Holcomb said treatment "of course needs to be balanced" and cited programs like Scared Straight as an example for prevention.
Bell responded that government should look at "decriminalizing" the use of drugs and work at it as a health issue instead. He added that the war on drugs has disproportionately led to higher incarceration rates for certain groups of people. "What we have been doing now, I think we can say it doesn't work. It hasn't been applied fairly," he said.
On unemployment, candidates were asked what they would do to help Blacks in Indiana find jobs. Currently, the state's unemployment rate is below the national average (at 4.5 percent), but for Blacks, the number (7.7 percent) is almost twice the statewide rate.
Gregg directed attendees to visit his website to look at his "economic growth plan," which would reportedly help funnel more venture capital to Indiana startups and small businesses. Bell said, "We need to be working to bring in jobs for all of Indiana, not one community over another." Holcomb began his response by speaking about the state's economic success — mentioning Salesforce and Exact Target — and ended by piggybacking on Bell's statement about "all jobs," with no mention of the current plight of African-Americans.
The theme of race continued throughout the rest of the forum, with some candidates, John Gregg, for example, directly addressing it: "I will say unequivocally that Black lives do matter."
Holcomb emerged as the one candidate to speak the least on the topic of race, even when Williams asked candidates to incorporate it into their closing remarks. The lieutenant governor instead used the two minutes allotted to speak about sports films "Rudy" and "Hoosiers," as well as his vision for "One Indiana, one people."
"I may not agree with Hollywood on a lot of things, but I think they got it right when it comes to the Indiana story," he said.
Brishon Bond, who attended the event, said he felt the event was beneficial to him as a voter. "That was the first time that I ever heard the candidates talk substantively in person about the issues," he said. Bond added that he left with a better understanding of who would earn his vote in November. "(I was) very impressed with both the Libertarian and Democratic candidates. The Republican candidate's responses indicated a disconnect with the specific demographic the forum was created to address."
Noell Allen, who also attended the forum, said her vote for governor is still undecided. "I want to know specifically what the candidates will do to increase the economy in impoverished areas," she said. "I did not hear or see a plan that directly resolves the issue of high unemployment rate in impoverished communities typically impacting the families of Black and Brown people disproportionately."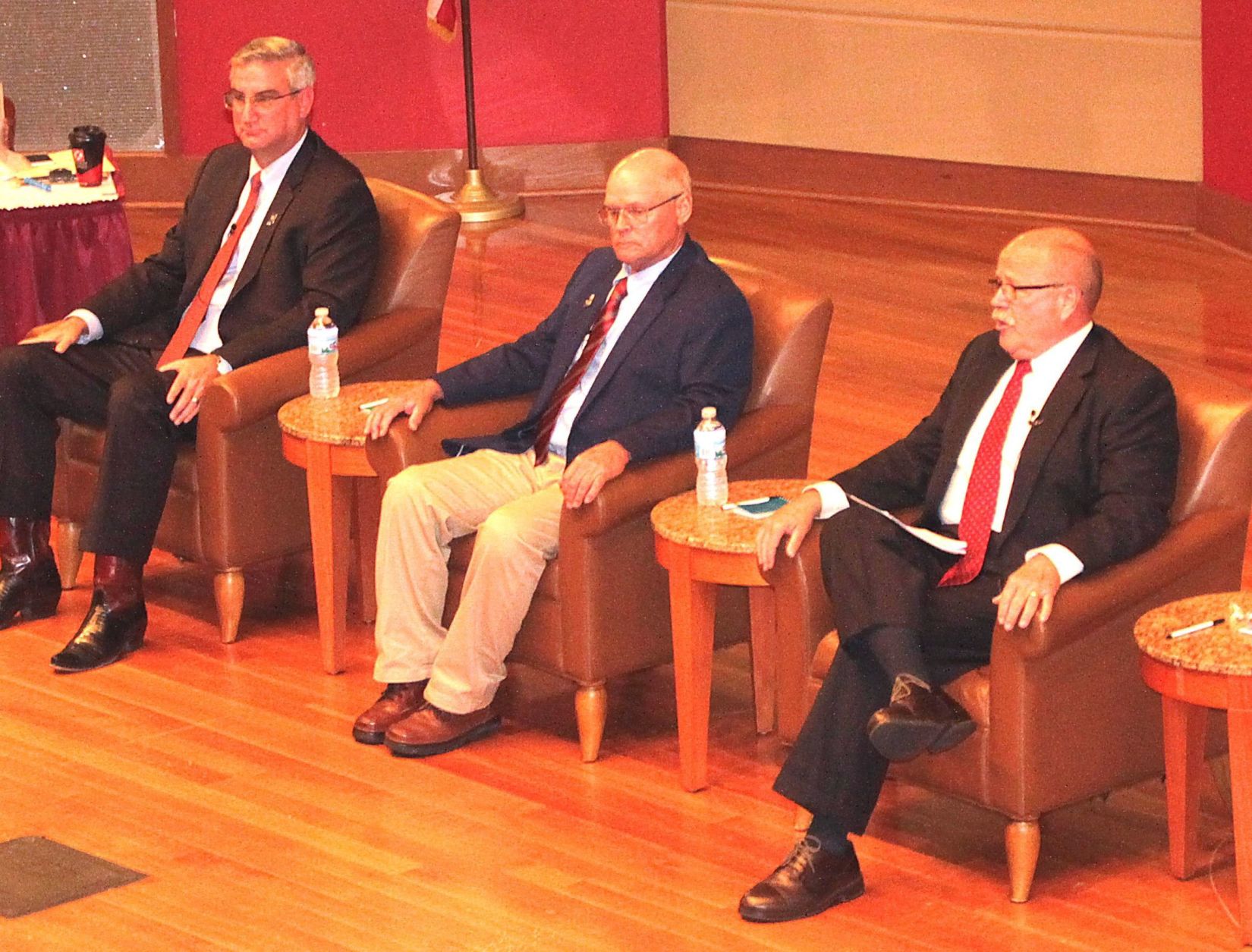 (From left to right: Lt. Gov. Eric Holcomb, Rex Bell and John Gregg)