In honor of Black History Month, the Recorder will present two free events aimed at celebrating the rich culture and legacy of our community.
On Saturday, Feb. 25 all are invited to Black History Celebration: Honoring the Threads that Connect Us… Past & Present – an occasion presented in part by the Recorder, Felege Hiywot and the Martindale Brightwood Office of Neighborhood Engagement. The event will feature a Living Museum where community elders will share stories with attendees, an inter-generational panel discussion, a documentary screening, refreshments and live musical performances.
Event details:
Saturday 2/25/17 from 11:00 AM to 2:00 PM
37 Place
2605 E. 25th St.
Indianapolis, IN 46218
Free Admission
Click here to RSVP. 
Presented By: Indianapolis Recorder Newspaper, Felege Hiywot and Martindale Brightwood Office of Neighborhood Engagement
On Tuesday, Feb. 28, the Indianapolis Symphony Orchestra (ISO) will present the 33rd Annual Celebration of Black History Concert. Since 1984, the ISO has celebrated Black musicians by recognizing them through this era-spanning, genre-blending performance. This year, the symphony will continue that tradition and as an added feature, IMPD Officer Christopher Wilburn will accompany the ISO, as a singer in his Hilbert Circle Theatre debut. This free event invites people of all ages and backgrounds to witness the excellence of Black musical artists.
Event Details:
Tuesday 2/27/17 at 7:30 PM
Hilbert Circle Theatre
45 Monument Circle
Indianapolis, IN 46204
Free Admission
Click here to RSVP.  
Presented by: Indianapolis Symphony Orchestra, Indianapolis Recorder Newspaper, Mays Chemical Company, WTLC 106.7 FM and AM 1310 The Light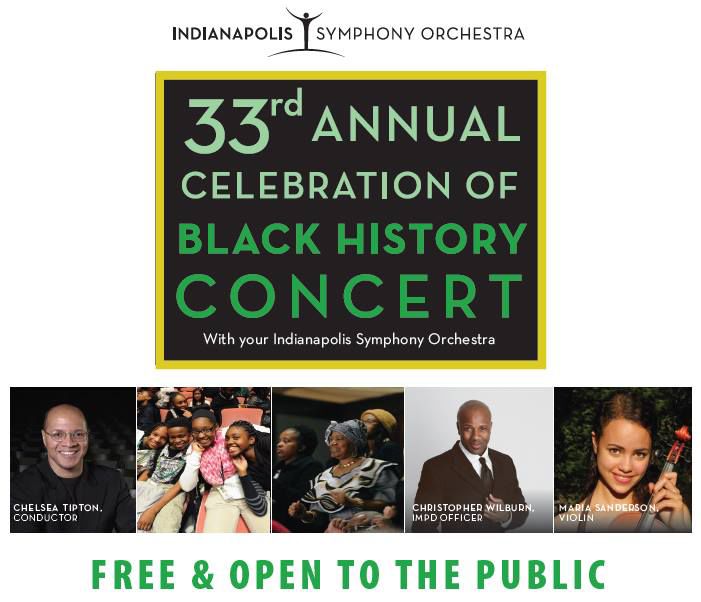 Celebration of Black History Concert