Special to the Recorder
The already vibrant Mass Ave Arts District downtown is getting a new neighbor. Trail Side on Mass Ave, a four-story multi-use facility, will anchor the east end of Massachusetts Avenue and replace a now vacant warehouse.
Project developers say the modern-style building of brick and metal will create attractive, affordable housing and destination retail, thereby providing new opportunities for Indianapolis residents and visitors.
The first level of the facility will include about 11,000 square-feet of retail space; the second, third and fourth levels of the building will include 69, one-bedroom, affordable apartments, with an underground parking garage.
The recent groundbreaking for the development had special meaning for Bill Gray, executive director of the Riley Area Development Corp. (RADC), which is constructing the site with Brian P. Murphy, president of Monument Realty.
Six years ago, Gray and Murphy had the vision for more housing and retail opportunities at the east end of Mass Ave, after seeing the success of their joint-venture development, known as the Davlan building, in the 400 block of Massachusetts Avenue. They approached the Center Township trustee with the idea of replacing an underutilized warehouse with a mixed-use development. That vision, and the trustee's cooperation, led to the groundbreaking event.
"Trail Side will provide much-needed affordable housing for residents, but also offer more retail options to complement the thriving business and culture scene that's already here," Gray said. "None of this would be possible without the cooperation of so many local and national leaders, who also shared the vision of Trail Side and the opportunities for our community."
Developed by RADC and Monument Realty, funding comes from multiple sources, including the federal Department of Housing and Urban Development, Indianapolis Housing Agency, Indiana Housing and Community Development Authority, city of Indianapolis Home funds, National Bank of Indianapolis, Indianapolis Neighborhood Housing Partnership, Local Initiatives Support Corp. and Alliant Capital.
It also has been a paradigm of cooperation and partnership, as RADC has worked with the Indianapolis Metropolitan Development Department, Indiana Historic Preservation Commission, Center Township Trustee, Mass Ave Merchants Association, and others to make it possible.
Congressman André Carson returned to Indianapolis for the groundbreaking.
"This project is about building communities and improving the quality of life for our citizens," said Carson. "Trail Side brings affordable living to a location with great accessibility and mobility right outside their front door. It's projects like this that show how we can put federal funds to work for Indianapolis."
"It's a proud day for Indianapolis, when we can work together to come up with solutions to improve neighborhoods," said Indianapolis City-County Councilor Jackie Nytes. "Trail Side helps to fill an affordable housing gap in our city as well as provide more cultural and economic opportunities."
Architect Sanford Garner, president of A2SO4, said the modern-style building has influences from its industrial and historic past. The exterior will include varying styles and colors of brick, corrugated metals, and recessed metal panels.
Monument Construction will begin work immediately on Trial Side. Construction is expected to be complete by spring 2012.
Visit www.trailsideonmass.com for more information.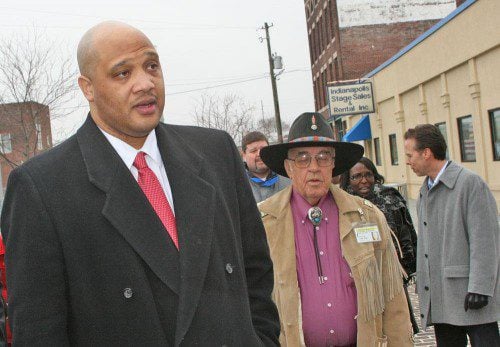 Rep. Andre Carson (D-Ind.) attends the groundbreaking of Trail Side on Mass Ave, a new multimillion-dollar housing and retail development on the east end of the Mass Ave Arts District. (Photo/L. Blaylock)