A great music scene is as important to any major city as properly planned and funded infrastructure. While we wait to see what the powers that be do for the latter portion, emerging acts like Clint Breeze and the Groove make sure Indy isn't lacking in the sounds department. Their jazzy hip-hop offerings have garnered quite a following. Carrington Clinton, the multi-versed producer and musician better known as Clint Breeze, got his start the way a lot of the greats did — in the church. Though operating via a more secular platform these days, he still ministers the good news of social consciousness over beats and rhythms that listeners can't help but vibe to.
The Indianapolis Recorder recently spoke with him about his musical foundation, inspirations and more.
Indianapolis Recorder Newspaper: Tell us about your musical foundation. How did you get started?
Clinton: I grew up in church playing drums. I've been playing since I was out of the womb almost. My family always played good music, whether that was gospel or secular, at home and in the car. At an early age I grew to love all kinds of music, in particular jazz and R&B. As I got older, I got more curious and expanded my music vocabulary. I played in school, church and had bands outside of school. As the years went by, I continued to grow musically and worked with other people.
How did your current band, Clint Breeze and the Groove, come about?
The band is a reflection of the music I produce under the name Clint Breeze. The band is just a live interpretation of that. We started a few years ago, kind of out the gate after I finished college. I was working on a project, and people started asking me to play shows. I'm sort of a perfectionist, so I didn't want to play solo unless the equipment I had and everything on stage was perfect so I could have a very smooth set. I kept doing projects, which led to more buzz, and I decided to start playing live shows in order to get to next level. I figured, why not assemble a band? Playing in a band is something I know how to do. I'm a musician, not only a producer and bandleader. I also play jazz at the Chatterbox and with other bands, so I figured why not reach out to the cats I've played with and see if they'd be interested in learning my music? The first show was at a quarterly event I host called "Clint Breeze presents: Nightly Notables." The vision was to have an all-encompassing cypher, where a few featured people would perform and then when the band went on, we'd have emcees come up and perform. We got a really good reception, and we'd only rehearsed with each other twice before that. We were like, OK, let's keep this happening.
Your latest single with poet Too Black, titled "Let's Paint the World (in Blood Splatter)," is a chilling commentary on issues like neo-colonialism, racism and other issues plaguing society. From where did this concept evolve?
I have seen Too Black do poetry at different places around town like Localmotion and Mariah Ivey's That Peace. I thought he was incredible, and I really like his subject matter. He has a socially conscious approach to current issues, and I try to bring that out in my music, as well. Every time I saw him, I wanted to collaborate. We talked for months and I invited him to the studio, and it worked out. I didn't give him too much direction. On the music end, I was feeling a spacey, jazzy sound like Miles Davis's later work and Gil Scott-Heron's work. I wanted that sort of vibe on the song. He agreed to it, and on the first take we got the song that you hear now.
This next project, "Nappy Heads," is your fourth output as Clint Breeze. What are some of the driving themes of it, and what features can we look forward to?
The idea behind the album musically and thematic wise is that I wanted to be consistent. There are different topics: violence within the Black community, the battle of skin tones (light vs. dark), white privilege, acceptance of oppression and how some people aren't aware of what's going on. There's also some stuff in there about relationships and just being a young person. I want to show what it's like to make good Black music. I hope that comes across to people.
What do you feel is the role of art in evolving our culture and social climate?
I think I'm put on this world to be a musical liaison of sorts to help people, whether that is through therapy or leisure. I want to, the best I can, be a part of people's lives in that way. It's so timely to get these records that make people think about things; if it's done right and polished enough it'll get people listening.
Get to know Clint Breeze
Instagram: @clintbreeze4prez
Twitter: @clintbreeze
Facebook: @clintbreezemusic
Website: clintbreeze.com
"Nappy Head" art
The cover art for Clint Breeze's upcoming album, "Nappy Head," was designed by Indy artist Jacob Gardner. Clinton shared that the album title holds a double meaning: a reference to kinky hair and a nickname created by Clinton for people who call Indianapolis home. The imagery, which depicts the silhouette of a Black person in the foreground atop a flag with a noose behind them, is Clinton's attempt to provoke dialogue. "I've gotten a lot of flack for this," he said. "With the art, I wanted to tackle oppression and what it meant to overcome to a point where Black people or people of color are no longer oppressed. The flag is under the person to say that we were oppressed, but we can now sit on top of that idea of treacherous pain. The noose is actually broken. The idea is to show that this person was set to be hung or killed off, but they broke the noose and are now resting in peace on top of this oppressive country."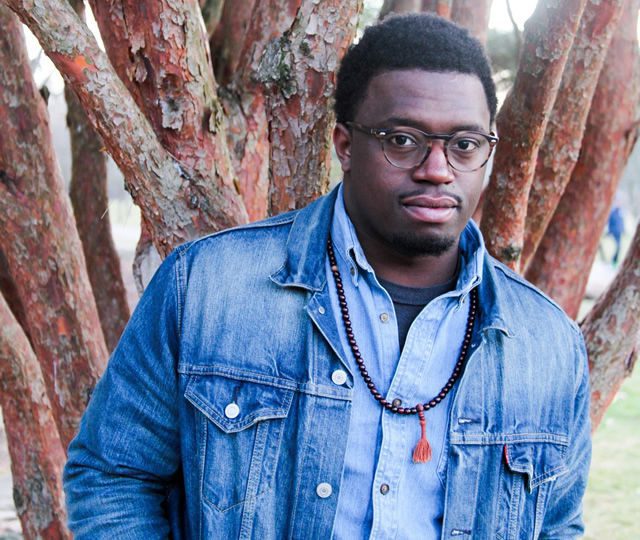 Clint Breeze