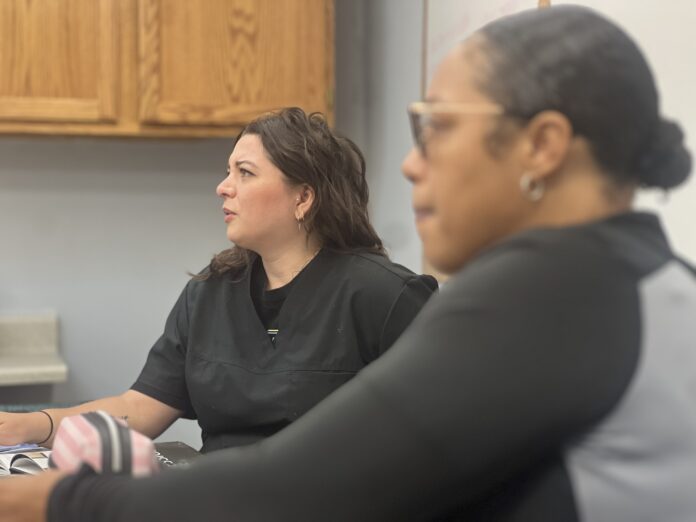 Inside the walls of The Herron Academy of Beauty & Therapeutic Wellness, a class of beauty students learns about the importance of professional image.
The instructor, Shante Flowers, is the founder and CEO of the new beauty school.
Located on the Far Eastside of Indianapolis, its location is intentional: It is where Flowers grew up.
"I hate when people say, 'Oh, the Eastside is this,' or 'I can't wait to move away from the Eastside.' It's like, no. If you have the ability to do so, you need to give back to the community that you were raised in," said Flowers.
RELATED: Black representation matters: Urban Beauty Supply
The Herron Academy
The Herron Academy is a beauty culture school that was created to raise the current standard of education in the beauty industry. The goal is to leave an impact on each student by developing their professionalism in an environment that promotes health of the mind, body and spirit.
The school currently offers cosmetology, manicuring and aesthetics courses under three instructors.
The academy's programs are designed with beginners in mind but also help experienced students prepare for their goals as licensed professionals.
"It's not just about teaching them a trade; it's about making sure that they as a person are ready to work in the industry or create their own business," said Flowers, who has been in the beauty industry for the last decade.
The school launched in January, and the first classes started in March.
Because the academy is a new beauty school, they are not yet accredited, which means they cannot accept federal funding.
"This means that people cannot get a student loan to come to the school. So, I wanted to make the tuition where people could put down whatever payment they could afford and then make monthly payments based off the rest," said Flowers.
That is part of the reason why Kaylin Hernandez Granger and Lauren Davis enrolled in the academy for its manicurist program.
Granger, who has been painting her nails since middle school, said she noticed that the tuition for many beauty schools near her starts at $10,000. However, she found Flowers promoting the academy on social media for a little over $3,000.
"It was so affordable, and it feels like Shante is doing something different. She has different plans set up for everybody, which is really cool. She is big on us having goals and being able to obtain them," said Granger.
Redefining beauty school
Davis said she had a bad experience with a nail salon that would not refund her after she said she was not satisfied with their work. This is when she decided to learn how to do her own nails.
"Then a lot of people asked me to do their nails, and I would tell them, 'I'm not licensed or anything,' but I got a lot of support because I saw, and they saw, that I was actually good," said Davis.
Flowers said that many local hairdressers or nail techs in the city are unlicensed and are usually offering services out of their homes.
"A lot of people go, 'Oh, it's just a piece of paper.' I have students in the program who were working without a license before they came to school, and there is so much value in the piece of paper."
Flowers said a license does not dictate talent, but it does mean that the foundations of beauty have been met.
"There's no reason why people are applying eyelashes but don't understand the anatomy of the eye or some don't know proper sanitation," said Flowers.
Learn more
She also said the state board is cracking down on beauty service providers who often advertise their unlicensed services on social media.
"I know some people who are more skilled than teachers at these beauty schools that cost $10,000-$25,000. I still think it's worth the investment because you're doing a disservice to your talent by not being licensed; imagine how much further you could go."
The academy is located at 1515 N. Post Rd, and its current promotional tuition rate is $3,500. This can be paid in a lump sum or divided into monthly payments. In the future, the academy will offer massage therapy and barbering courses in addition to the cosmetology, manicuring and aesthetics courses it currently offers.
Contact staff writer Jade Jackson at (317) 762-7853 or by email JadeJ@IndyRecorder.com. Follow her on Twitter @IAMJADEJACKSON