James Wilson remembers the first time he ever voted. He was standing in line shaking, but it was not from the cold chill of the weather outside. It was because he was nervous.
At the time, Wilson was 27 years old and newly released from Liberty Hall Prison – now permanently closed. Although he was physically free, his mind was still behind bars.
"I was scared because I was always told that we couldn't vote. In prison, they used to tell us we couldn't vote even though we could. I started learning more about my rights in prison," said Wilson.
RELATED: AACI in partnership with the Indianapolis Recorder Newspaper and Radio One will host the First Broadcast and live stream of the Mayoral debate focused on issues facing the Indianapolis Black community
Previously incarcerated people can vote
He was 17 years old when he was convicted of robbery, just a year before he could legally vote.
Wilson, who grew up in Martindale-Brightwood, saw his hardworking mother struggle to support his siblings. This drove him to lead a life of crime to bring in fast money to support himself and his family.
"This was in the 90s. I was breaking into other people's houses and trying to get dope and guns and sell them in the streets. Caught my first juvenile case, and I was in juvenile from ages 11 to 17 before they charged me as an adult," said Wilson.
"I had a bunkie named King, and we got into it. In my mind I said, 'We gotta fight. I needed his respect.' He was an older, big dude, and I was this scrawny thing. He called me stupid and said, 'Why do you think we are where we are?'"
King would hand Wilson the book, "Art of War" by Sun Tzu and encourage him to read it, however long it took, and come to him if he had any questions.
Every morning after this exchange, the pair, along with other inmates, would hold a roundtable discussion on readings.
"These brothers are intelligent with no degrees. It was like going back to school all over again, except I'm receiving the truth and reality of how things are. Including the fact that I had a right to vote," said Wilson.
In Indiana, one loses the right to vote while they are incarcerated.
If you were previously incarcerated, your voting rights are restored after serving your time.
Indiana laws on voting
People on parole or probation, at a home detention center, in jail awaiting trial and in a variety of community correction programs also reserve the right to register and vote.
"There are lot of people throughout Indiana's criminal legal system who don't know Indiana's laws. So, they spread misinformation often unknowingly," said ACLU of Indiana Executive Director Jane Henegar.
ACLU of Indiana has a voting campaign, Yes! You Can Vote!, that it has promoted for years.
However, Henegar said that even though laws in Indiana are more favorable in granting access to the ballot for Hoosiers, people are not voting because they do not know they can vote.
"In a time where we know that the criminal legal system is in bad shape and needs reform and change, people who were formally incarcerated have a unique insight into that system. So, their votes matter. Their voices matter," said Henegar.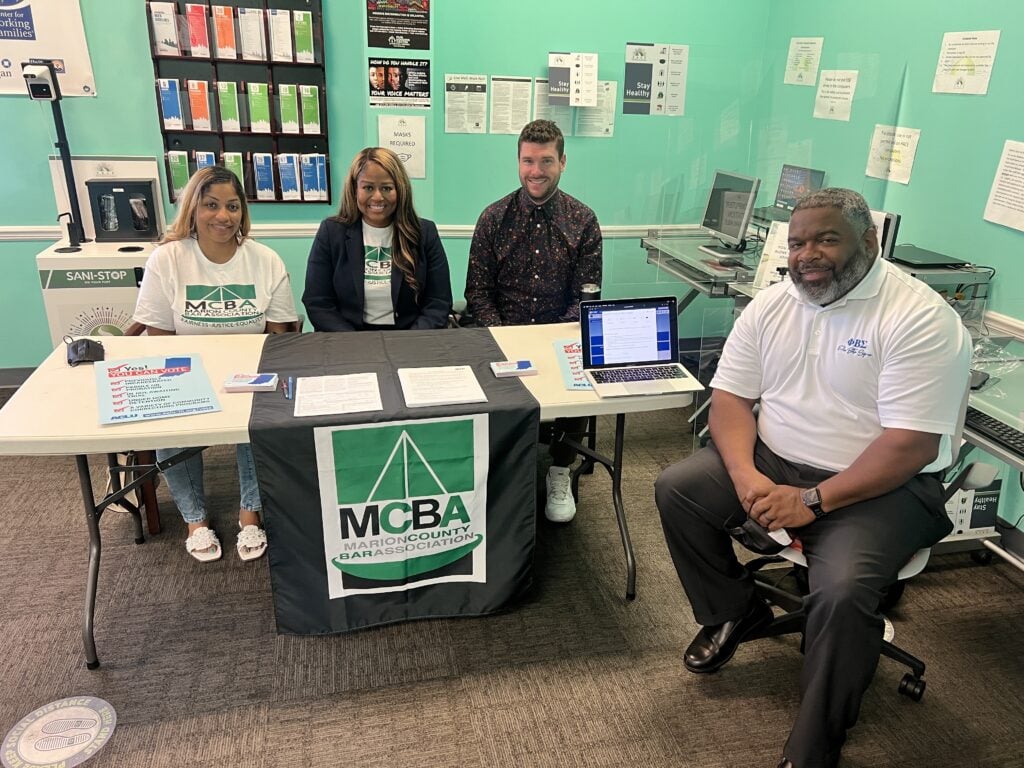 Public Advocates in Community Re-Entry (PACE) and the Marion County Bar Association joined forces to host a voter registration initiative Sept. 19, specifically targeting individuals who have been involved in the justice system.
Get registered to vote
Strategically held on National Voter Registration Day, the initiative welcomed all unregistered voters to participate.
"Indiana is among the 20 states that automatically restore voting rights to individuals with felony convictions immediately after their release from prison," said PACE Executive Director Rhiannon Edwards.
"However, this fact is often unknown, leading to many remaining unregistered. Our goal is to rectify this by hosting this registration drive at our offices, which provide support to justice-involved individuals."
Marion County Bar Association President Amber Finley emphasized the significance of voting.
"One of the most impactful ways Americans can contribute to society is through voting. The Marion County Bar Association and PACE are committed to simplifying the registration process and facilitating the exercise of this crucial right," said Finley.
Wilson said although it is important to know about your right to vote, knowing what you are voting for is equally as important.
"It wasn't just the fact that I could vote. It's the fact that for many years that I was incarcerated and, even coming, you have to look at where I came from. We didn't understand our rights," said Wilson.
"Data is showing a lot of younger individuals don't come out to vote unless it's a hot topic issue, but it shouldn't just be national hot topic issues; understand what's happening locally."
Contact staff writer Jade Jackson at (317) 762-7853or by email JadeJ@IndyRecorder.com. Follow her on Twitter @IAMJADEJACKSON