The Malcolm X Institute of Black Studies (MXIBS) at Wabash College hosted over 30 high school students last month. It is part of their Pathway to Your Future program.
The rising high school sophomores and juniors include Black and Latino male students who are eligible for Pell Grants. They would be first-generation college students. This summer students came from Arizona, Illinois, Indiana and Texas.
RELATED: My visit to Wabash College's Malcolm X Institute of Black Studies
"What we're really trying to do is help them to develop a sense of belonging in a couple of different ways. Even more broadly, we're thinking about resilience on campus and in terms of interacting with our communities," said Program Coordinator Kim King II.
King also serves as the assistant director of the Malcolm X Institute of Black Studies (MXIBS) at Wabash College.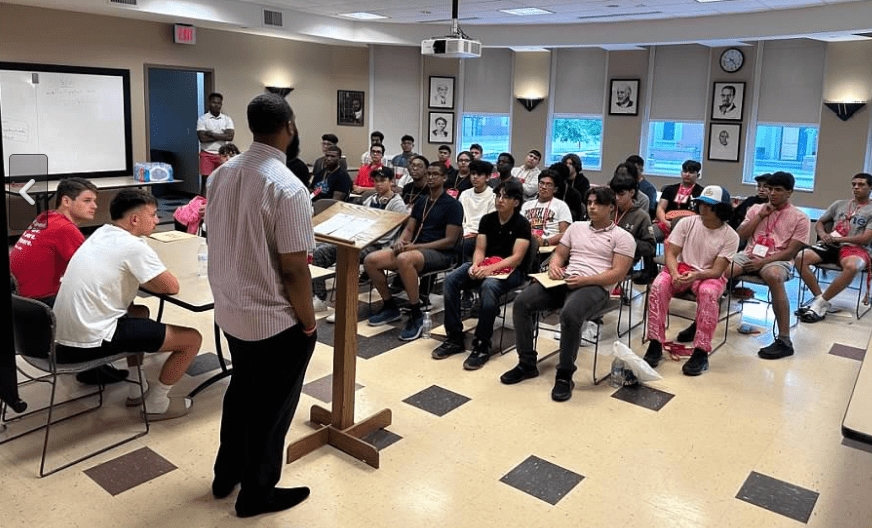 He said the goal is for the high school students to get familiar college campus operations. That way they can better navigate their own personal experiences if they attend college after graduation.
Students who participate have the potential to receive an annual scholarship of up to $25,000 upon completion of the program. That would be in addition to merit scholarships awarded upon admission to Wabash College.
15-year-old students Timothy Scates-Hoover, Crispus Attucks Medical Magnet High School, and Rian Hyde, Cardinal Ritter High School, are participating in the program.
Pathway to Your Future
"In the dorms, I like the main area. They have a TV there where you can watch a movie. There's a pool table, so we all have like tournaments that we play. They set us up with random roommates that you don't know. Getting to know your roommate has been fun," said Hyde.
He said the main takeaway for him was the camaraderie he saw at Wabash.
"We had one session with a coach. He spoke to us about coming from a low-income family and how he had options to coach at a bigger school, but he chose this school because of the brotherhood he felt," said Hyde.
"During our finance class, they helped us learn about FAFSA and other stuff like that. It helps us to bring it full circle for our pathways to our future," said Stotes-Hoover.
Participants get to engage with Wabash faculty and current students in hands-on learning experiences that include an immersion trip to Indianapolis, networking with successful alumni, and learning from civic and business leaders about the transferable skills needed to succeed in college and life.
"Pathway to Your Future is a week-long, in-residence program for rising high school sophomores and juniors that provides students with a taste of collegiate life. Being able to touch, feel and enjoy the experience is vital to selecting a college," said Dean Steve Jones.
The program aims to ensure that all students, regardless of background, graduate with the necessary skills to lead thoughtful conversations and to help build more inclusive communities.
Contact staff writer Jade Jackson at 317-607-5792 or by email jadej@indyrecorder.com. Follow her on Twitter @IAMJADEJACKSON