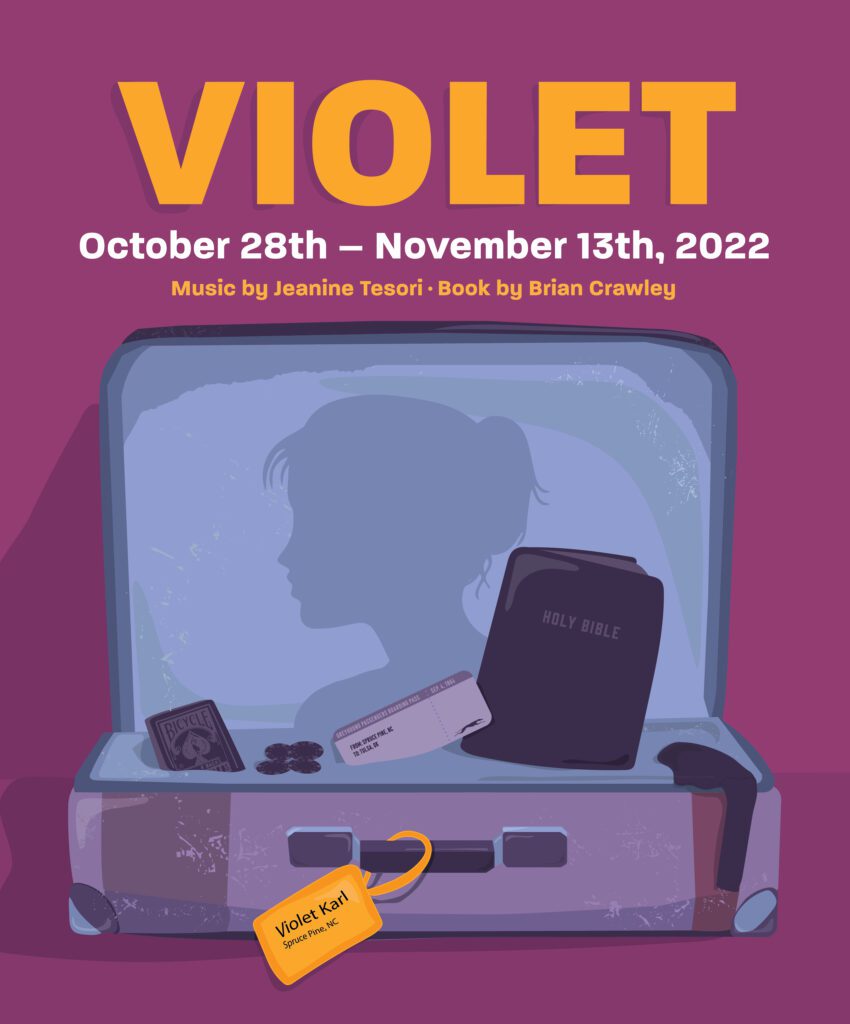 Preaching a lesson in self-love and courage, the cast of "Violet" will take the stage at The Studio Theater on Oct. 28.
The Actors Theatre of Indiana will present the Broadway musical "Violet" at The Studio Theater in Carmel as part of their 2023-23 season. With music by Jeanine Tesori and book by Brian Crawley, "Violet" is a Tony Award-winning show featuring bluegrass, R&B and country music.
"I think after people see it, it'll put them in a mood of gratitude so to speak," said Tiffanie Bridges, a local actress playing the role of Lula Buffington, the choir singer in "Violet." "Going into the holidays it kinda just gets people thinking about 'oh, I have so many reasons actually, to be thankful that I'm blessed.'"
"Violet" takes place in the Deep South in the early days of the Civil Rights Movement of the 1960s and follows the story of a young girl named Violet. Violet, whose face has been disfigured by a scar from an ax accident, embarks on a journey across state lines in search of a miracle to rid herself of it.
Violet's quest takes her from her hometown in North Carolina to Tulsa, Oklahoma, where she believes a TV evangelist can perform a miracle to "cure" her disfigured face. However, along the way, Violet meets a young Black soldier who teaches her about love, courage and what it means to be an outsider.
"She is on a quest to find beauty, but in, like, a superficial way; she wanted to be seen," Bridges said. "On this quest she finds that beauty really is in the eye of the beholder, and it comes from within."
"Violet" contains many themes within the lines and music — a few of which Bridges said she recently discussed with the rest of the cast — specifically, how the main character and her struggles are applicable to others in many ways.
"Now with Violet, there's this physical scar, but I think that a lot of us have scars even within where we're looking for some type of validation," she said. "We want that part removed because we think that will make us better."
At one point in the show, Bridges said the TV evangelist tells Violet something along the lines of "Well, your scar is already healed," in response to her request to be healed. Bridges said she hopes people will recognize the significance of that line within the context of the story and their own lives and walk away with a little bit of their own healing.
Opening night for "Violet" is Oct. 28 and the show will run Wednesday through Sunday until Nov. 13. Tickets start at $30 and can be purchased at Centers Fifth Third Bank Box Office at The Center for the Performing Arts, 1 Carter Green in Carmel, or by calling 317-843-3800 and visiting atiststage.org.
Contact staff writer Chloe McGowan at 317-924-5143 or chloegm@indyrecorder.com. Follow her on Twitter @chloe_mcgowanxx.