A vibrant sea of rainbow heavily decorated the fenced-in parking lot of the Indiana Youth Group building on Meridian Street where 160 LGBTQ+ youth attended the annual Youth Pride Carnival. 
Over two dozen adult volunteers with supportive colorful signs were in front of the building.
"We just wanted to be here to let our queer youth know that they are loved and supported by us. We all came together for this event. People that know people, that know people, just invited folks who said we were going to show up in solidarity," said volunteer Vanessa Quintana.  
RELATED: Indiana governor signs bills targeting LGBTQ students
The carnival comes after a recent legislative session where state lawmakers passed several bills impacting LGBTQ+ youth, especially trans youth. These laws go in to effect July 1.
House Bill 1608 requires teachers to inform at least one parent if their child asks them to use a different name or pronoun in school.
Senate Bill 480 bans doctors from prescribing puberty blockers and hormones to trans teens, even with parental consent.  
Youth Pride Carnival
Youth attendees were required to pre-register for the event and to show a form of ID at the door.
The only adults allowed at the carnival were Indiana Youth Group staff and volunteers who underwent background checks.
A block away at Trinity Episcopal Church, parents enjoyed their own event.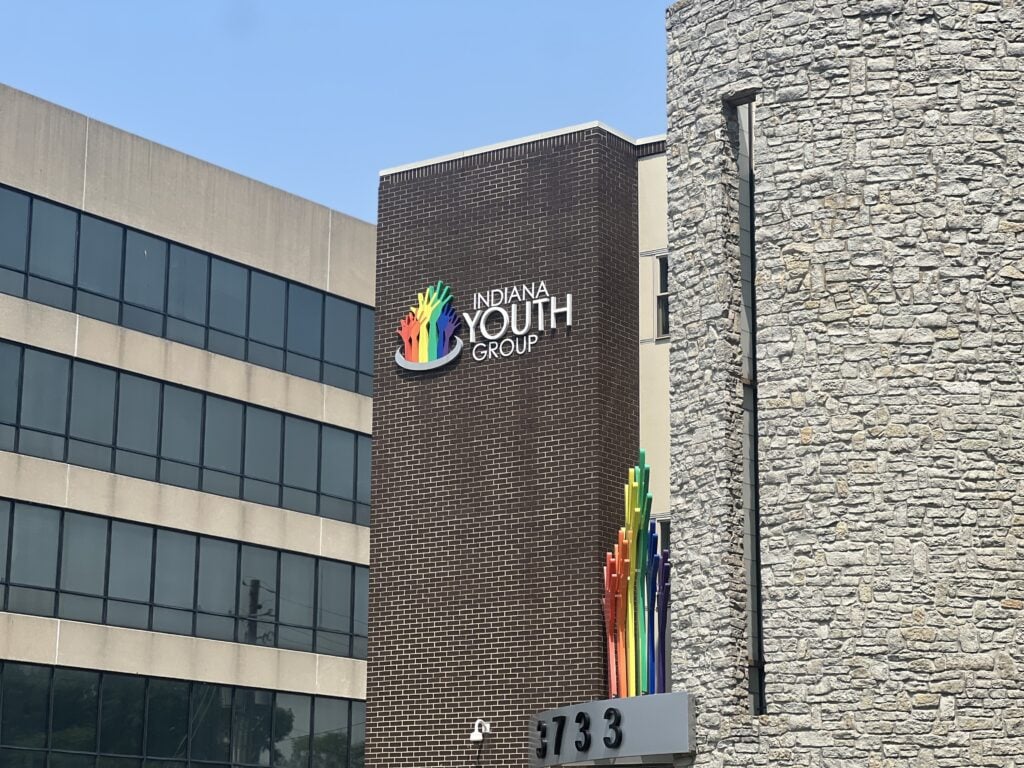 "We've actually gotten quite a bit of hate mail and phone calls. People have been threatening to come out and intimidate the kids. To try and scare them off and dissuade them from going to IYG," said Zoey O'Haillin-Berne, director of engagement for Indiana Youth Group. 
"Our volunteers came just in case they needed to create a barrier of love. If protesters were to show up, they would just create a wall. So they couldn't look or yell at the children or take their photos. Their safety and their privacy are important to us," said O'Haillin-Berne.  
Quintana said it is always frustrating that people cannot treat people with the love and equity that they deserve.
"It's a bummer, but I'm always happy to show up in those spaces. To use my privilege to help create protective spaces for queer youth any time I can," said Quintana.  
LGBTQ+ stats and data
Not having that space is one of the leading causes for suicide, depression and anxiety amongst LGBTQ+ youth. Quintana believes that the 25 supportive adults present at the event can show them that their lives matter.  
O'Haillin-Berne said that luckily there has not been anybody who has acted on their threats. However, this year they took them even more seriously than they normally do.  

"In this sociopolitical world we live in right now, we feel like people are emboldened. We feel like because there have been laws that have passed against queer people, they can lash out and attack the community," said O'Haillin-Berne.
"It's disheartening though. It's 2023. We're trying to move forward and be a more progressive welcoming world, but there's still people that want to hold on to that hate and knock us back 50 years."
The organization is appreciative that IMPD collaborated with them to keep everybody safe.
"The climate in Indiana has been really rough the last six years when it comes to queer youth. The legislation has been really rough on them. So, they are feeling very lost. They're feeling very alienated from the community. This is that safe space for them to find community," said O'Haillin-Berne.
Indiana Youth Group offers year-round support, discussions and interest groups for LGBTQ+ youth. They also offer mental health counseling, housing programs, and support to parents.
"It's your standard carnival. We've got games, inflatables, snow cones and all of that fun stuff. It's a safe place for them to come and be themselves without worrying about people throwing hate at them," said O'Haillin-Berne.
Contact staff writer Jade Jackson at 317-607-5792 or by email JadeJ@IndyRecorder.com. Follow her on Twitter @IAMJADEJACKSON