Indianapolis residents in certain ZIP codes can order free COVID-19 test kits through the Marion County Public Health Department.
The Say Yes! COVID Test At-Home Testing Challenge provides a total of eight rapid tests that can be self-administered. Target ZIP codes are based on high rates of COVID-19, lower than average rates of vaccination and concentration of essential workers.
ZIP codes: 46222, 46201, 46218, 46208, 46224, 46235, 46202, 46241, 46203, 46226, 46204, 46205, 46227, 46221, 46219, 46225, 46260, 46229, 46254, 46107, 46216, 46240 and 46268.
Order online.
Each package includes four kits, and each kit includes two tests.
Packages are also available for pickup at the following locations:
· MCPHD Northeast District Health Office: 6042 E. 21st St.
· MCPHD Action Health Center: 2868 Pennsylvania St.
· MCPHD Northwest District Health Office: 6940 N. Michigan Road
· MCPHD Hasbrook Building: 3838 N. Rural St.
Perform the test by swabbing the front of your nose, and you should get results within 10 minutes.
Martin University launches new department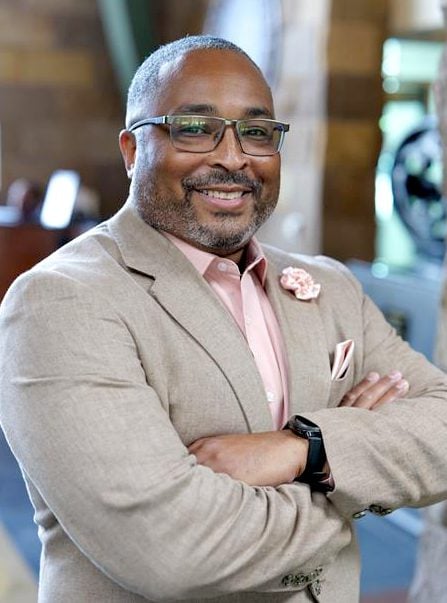 Martin University recently opened the new Career Development and Resource Department at Martin University. The director of the department is Tony Cunningham. Cunningham was previously assistant human resource director for Ivy Tech Community College and has more than 23 years of human resource management, employee relations, OSHA-based safety protocols training and development and project management experience.
The Future Career Resource Center and the new Martin WORKS Apprenticeship program are under the umbrella of the Career Development and Resource Department. Martin WORKS gives Martin University students the opportunity to be paid for their work experience, possibly leading to a permanent position. Martin WORKS has a job placement rate of 92%.
EMCC collecting winter clothing
The Edna Martin Christian Center is collecting socks, hats, gloves, scarves and other pieces of warm clothing to distribute through its food pantry. The goal is to collect at least 300 pairs of socks and other winter clothing by the end of October.
Donations can be dropped off or mailed to the Leadership & Legacy Center, 2259 Ralston Ave., Indianapolis, IN, 46218.