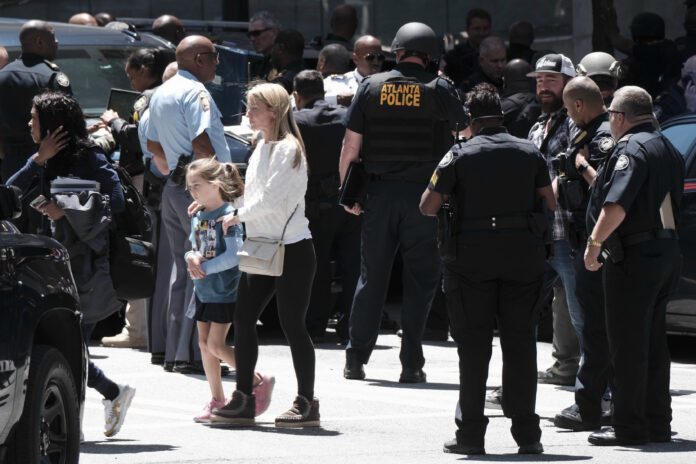 ATLANTA (AP) — One person was fatally shot and at least four others injured Wednesday in a shooting in a Midtown Atlanta building, police said.

Atlanta police said there had been no additional shots fired since the initial shooting unfolded inside a building on West Peachtree Street, between 12th and 13th Streets, a commercial area with many office towers and high-rise apartments. No suspect was in custody and police said in an email just after 1 p.m. that it was an "active, fluid situation."

Police said in an email that they were actively searching for the suspect and any additional victims. The four injured people were taken to a hospital for treatment and the fourth person was pronounced dead at the scene.

The shooting comes as cities around the U.S. have been wracked by gun violence and mass shootings in 2023.

Police sent out a photo of the person believed to be the shooter. The person was wearing dark pants and a light colored hoodie with the hood pulled up. They had a mask on their face and appeared to be wearing a bag across their front.

Authorities said the person is believed to be armed and dangerous and asked anyone with information on the person's whereabouts to call 911. Police urged anyone in the area to secure their building and shelter in place.

Dozens of police and fire vehicles were gathered along West Peachtree Street, as officers with assault-style rifles, helmets and vests continued to arrive more than an hour after the shooting.

Many officers clustered outside the front entrance of a Northside Medical building. Multiple helicopters hovered overhead while police tried to keep traffic moving on nearby streets. Construction workers watched from the nearest corner in the Midtown neighborhood where many new high-rises are being built.