If you live near Keystone south of 38th Street and you want to grab a bite to eat, your options are often slim. There is a Church's Chicken, a McDonald's and a serious lack of grocery stores with healthy or unique food options.
Enter Chef Oya. With a culinary degree under her belt and a passion for both food and people, she started serving seafood out of her home in May 2016. Oya says she was inspired to create Florida-style seafood after her friend posted a delicious-looking meal on social media.
"One day I saw my friend from Jacksonville, Florida, post a picture of some seafood online, and I was like, I' don't know what I'm going to do, but I need to get some of that.' It was not something I had ever seen here in Indianapolis, so I tried to re-create it and started selling it. It's been amazing."
Her creations are a twist on Florida-style seafood. She uses 'Trap Buttah,' a unique and tasty garlic butter, and a handmade specialty seasoning. She also uses local, fresh ingredients. Oya has recently opened a restaurant near 34th and Keystone. While the establishment might look unassuming from the outside, the quality of the food speaks for itself.
In addition to selling deliciously dope seafood, Chef Oya is committed to bringing more healthy food options to the community.
"I literally live down the street, three minutes away from here. This area was one of the largest food deserts in the nation before the Save-A-Lot opened (last week)," said Oya. "I wanted to give the community a new food option. I did fresh, locally grown green beans. Now it's broccoli until green beans come back in season. When it gets a little warmer outside, I am going to offer fresh fruits and vegetables and start a fruit and veggie co-op."
When I tasted Chef Oya's food, I was hesitant due to my aversion to seafood, but her flavorful creations made me re-evaluate my bias. Oya says her most popular dish is the crab legs. I ordered the salmon and shrimp, which came loaded with steamed potatoes, broccoli and sweet corn. It was delicious and quite different from anything I have tasted at any local seafood restaurants. I will definitely be coming back for more.
Chef Oya's The Trap
3355 N. Keystone Ave.
Indianapolis, IN 46218 
(317) 762-6172
chefoya.com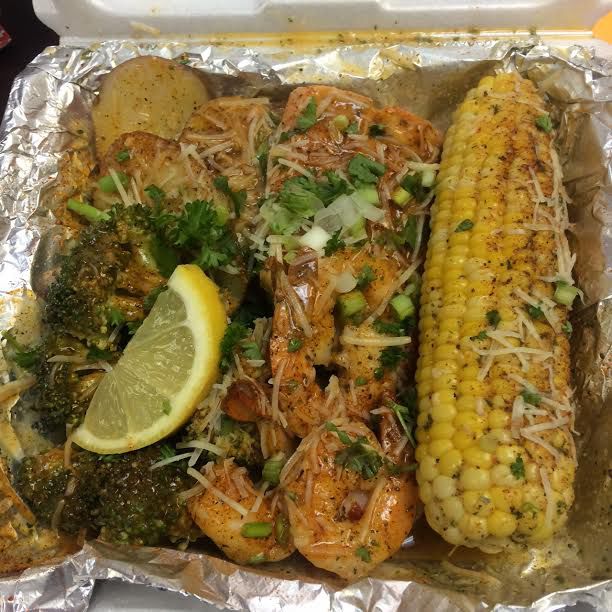 Chef Oya's The Trap