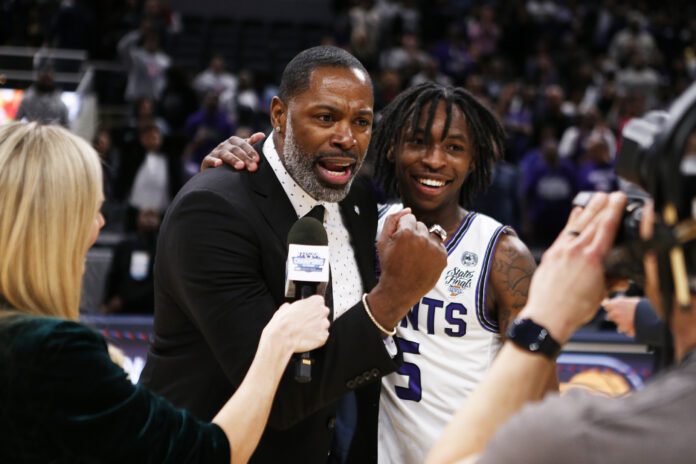 Last week, the Indiana Fever and Indiana Pacers presented the Indiana High School Sports Awards show. Clowes Memorial Hall at Butler University was packed with many Indiana high school greats, including coaches Jeff Allen and Kati Weir. Despite the close race, Ben Davis coach Don Carlisle beat out his competition to win Coach of the Year.
This season was Carlisle's fifth season coaching the Ben Davis boy's basketball team. Carlisle led the team to a perfect 33-0 record in the 4A division. Also, the Indiana All-Stars game selected Carlisle as the Varsity Coach.
Carlisle has been a varsity basketball coach for nearly 12 years. Many remember Carlisle as the coach who led Arlington High School to a sectional championship. Carlisle's coaching led Arlington to a championship that they had not competed in for fourteen years. Tenured basketball fans remember Don Carlisle as the star forward for Ben Davis High School in the 1990s.
As a player, Carlisle led Ben Davis to a championship in 1995 and 1996. During this campaign, Carlisle averaged 12 points and nine rebounds per game. Carlisle also received City-County All-Star, All-Sectional, Semi-State, Regional, and All-Metro honors. Carlisle also played professionally, with most of his time spent playing in leagues overseas.
Before serving as the head coach for Ben Davis, Carlisle served as the assistant head coach for the men's basketball team at IUPUI. The institution ended that season with a stellar 26-7 record thanks to Don Carlisle's coaching.
The Junior-Senior All-Star Game will take place on Wednesday, June 7. Expect Coach Carlisle to display his superior basketball acumen this summer.
Contact multi-media staff writer Noral Parham at 317-762-7846 or email at NoralP@IndyRecorder.com. Follow him on Twitter @NoralParham.