The IndyPL Board of Trustees appointed Greg Hill CEO of the Indianapolis Public Library in a private conference room as community members protested on the other side of locked doors, banging on the walls.
Out of concern for "everyone's safety," Board President Hope Tribble called a recess to the April 24 meeting after community members began protesting Dr. Eugene White's proposal to appoint Hill as CEO. The meeting was then relocated to a private conference room where Hill was appointed CEO in a 4-1 vote.
In anticipation of a larger crowd, the meeting was moved from the Michigan Road Branch to the Library Services Center. During public comments, dozens packed into the room, including former mayoral candidate Cliff Marsiglio, to express both hope and skepticism for newly appointed member Dr. Luis A. Palacio's position on the board and disdain for the armed police presence — which according to the finance committee, costs $65 per hour through a private security company.
Jesse Brown, a District 13 City-County Council candidate, spoke out against the board after White first introduced the proposal to appoint Hill. Although Tribble asked for Brown's removal, Dr. Patricia Payne and Stephen Lane stood with him, preventing security from intervening.
"You do not get to have nine months of public comment, you do not get to have two separate executive searches," Brown said. "This is incredibly disrespectful to me and to everybody else in this room … every single comment supported Nichelle Hayes for CEO."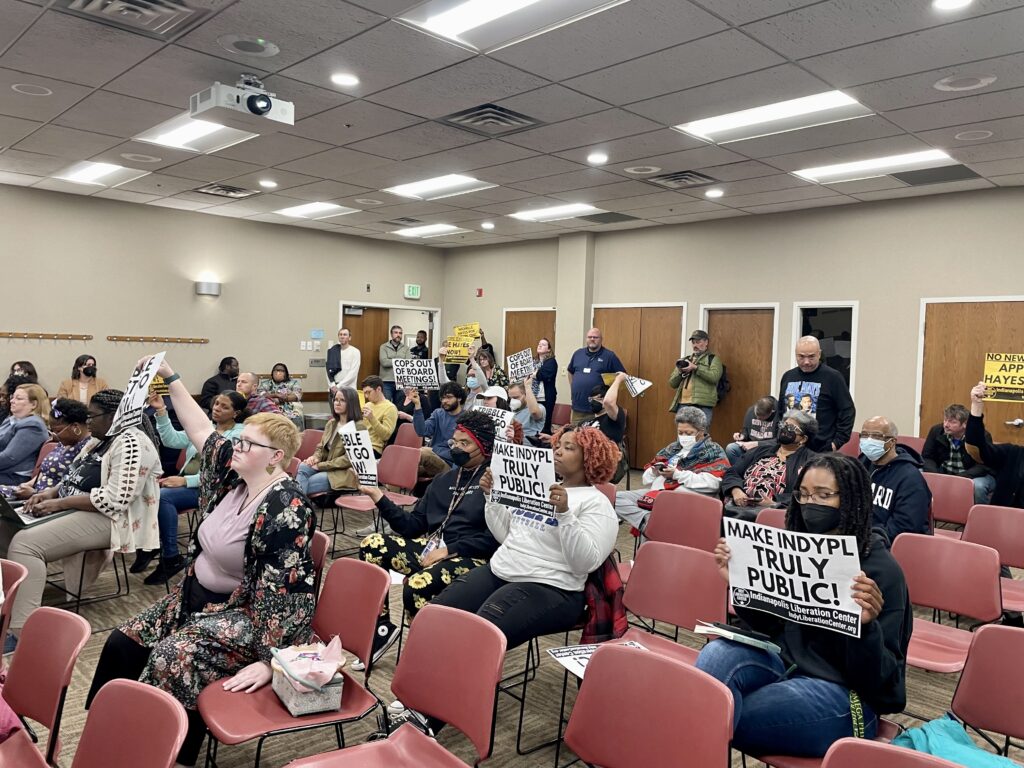 Once behind closed doors, Tribble, White, Raymond Biederman and Palacio voted in support of Hill while community members gathered outside the room, banging against the walls so hard the paintings had to be taken down and chanting, "appoint Hayes now" and "Tribble's got to go."
Lane, the only board member who voted against the resolution, voiced his concern for Hill's selection. He said it was too soon to vote on this, given it was Palacio's first meeting, and he is still "getting his footing."
"I think this resolution further erodes the trust of this board and erodes the legitimacy of this board," Lane said. "I think it's a sham, and I think it's very disrespectful to the community and the library workers."
Payne and Dr. Khaula Murtadha were not in attendance for the vote but voiced opposition to the resolution before leaving the meeting.
Hill, who became CEO effective immediately, was appointed acting CEO of the library in December 2022 following the failed nationwide CEO search that resulted in Dr. Gabriel Morley being offered the position over former interim CEO and founding Director of the Center for Black Literature and Culture Nichelle M. Hayes.
Morley declined the job, but the board still refused to offer Hayes the position, citing concerns for her "interpersonal relations with others."
Hayes garnered community support as a Black woman who has "come up the ranks" of the library and has strong personal ties to the community and a dedication to employees and DEI work.
Hill, has worked with the library since 2011 in various roles, including a clerk at the Warren Branch, adult reference librarian at Central Library, manager at the Decatur Branch and most recently, as acting CEO and chief public services officer. Although he did not apply to the CEO position during the search, Tribble said she was confident his leadership was the right choice for the library. He is the first Black CEO to hold the position permanently.
"We are a long way from where we were in December," Tribble said. "We had concerns about making sure there was an executive presence to help run the library, and, in that time, Greg Hill emerged as a leader."
Over the last six months, the board — which has seen two resignations and three new members since December — refused to offer Hayes the position, even after endless cries from the community and a letter from the City-County Council requesting they do so.
As new members Lane and White took seats on the board, flickers of hope rose from the community that Hayes might be appointed. However, in a shocking revelation during the March meeting, White — who initially supported Hayes — announced he had changed his mind after "learning all the facts."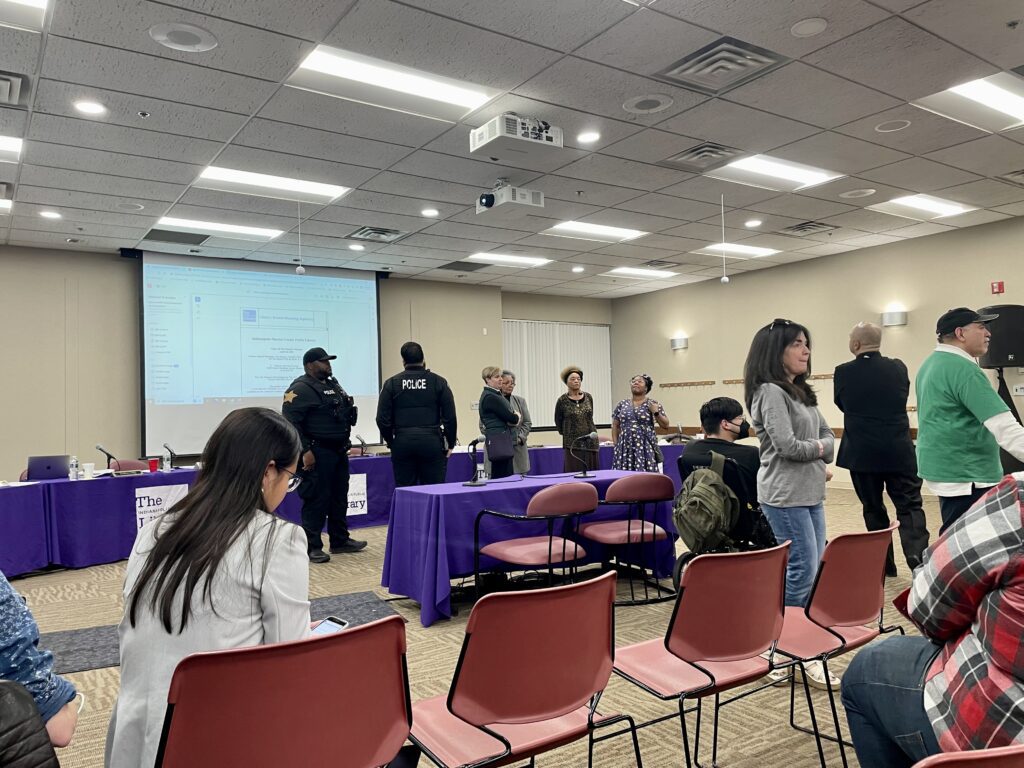 In an email he sent to Hayes March 21, which was published by the Indianapolis Star, White explained how the board never intended to offer Hayes the position and gave his reasoning behind supporting Hill for the position instead.
"They played the game of keeping you in the process because they just knew the lady from California or the guy from Atlanta [Dr. Gabriel Morley] would beat you out," White wrote. "They never thought that you would be the last candidate standing, and when you were, they didn't have the courage to tell the community why they didn't give you the job."
According to Hill, Hayes is still employed with the library as the manager of the CBLC.
"I worked with her when she was the interim and I was the chief Public Services Officer," Hill told the Recorder. "I have a very good working relationship with her, and I would expect that to continue."
Lane said the resolution to appoint Hill was "sprung on them" during an executive session April 21, and members of the board had only been given 10 minutes to interview Hill before voting to offer him the position Monday night.
"I was put on this board to build bridges, but you can't build bridges when there's a wall put up," Lane told the Recorder. "There's all this stuff we're being blindsided with and left out of; we [Payne and Murtadha] don't know what's going on as board members."
Going forward
Although Tribble said the night did not go how she expected it to, Hill's appointment was "absolutely a good thing" that she believes will help the library move forward. Moving forward, Tribble said her expectations for the library are focused on healing.
"We have to reconcile, and we have to heal," she said. "We have to do that as a board, we have to do that in and with the community, and then we have to give some space for the good work that's about to happen."
However, Lane told the Recorder the events of the night have placed "a huge stain on the institution," but he will continue to fight for the public library as a cornerstone of democracy.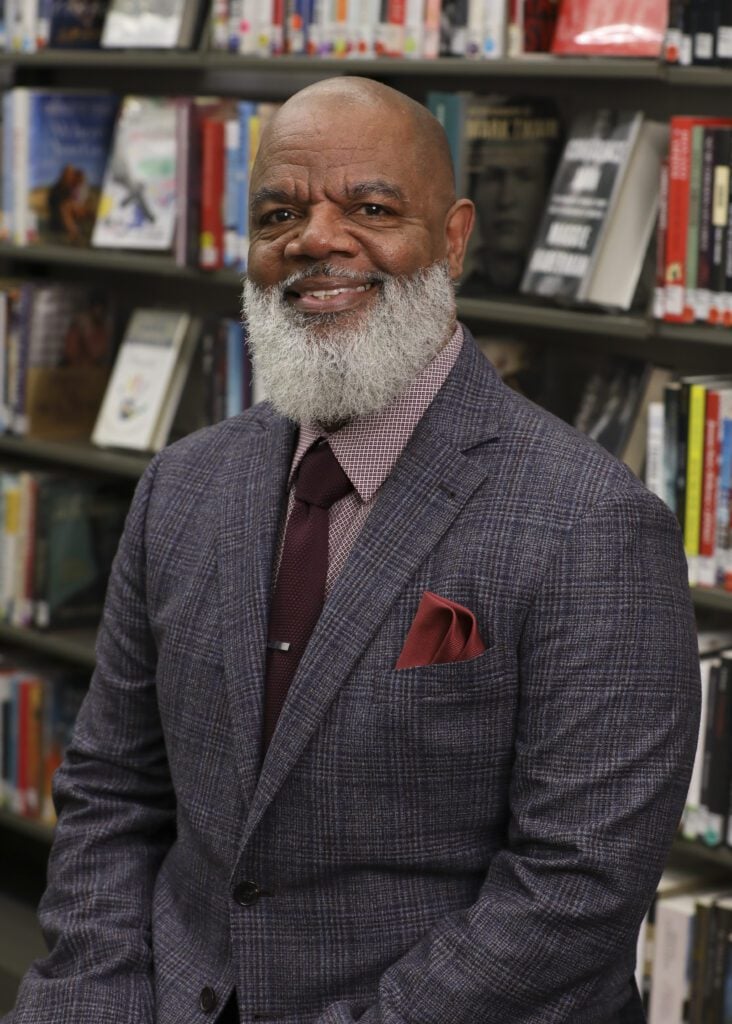 In a separate interview with the Recorder, Hill said although he didn't expect the meeting to play out the way it did, he did anticipate it to be "a little contentious."
However, his plans for the library are to continue building connections with the community and healing the rift, accommodating patrons and launching new programing.
"Hopefully, going in the direction that we're going that there will be healing again and not much discomfort. I've been in this role since December," he said. "I think that since I've been in this role, we've made progress, so I think progress will continue."
Hill also confirmed HIV testing had resumed at IndyPL locations April 6 thanks to a new partnership with Step Pp and Shalom Health Care Center.
As for the chief administrative officer, Hill said Anita J. Harden may not be in that position for much longer, but there may be plans to hire someone new in that position down the road.
"I choose to do this for several reasons," Hill said. "One of them is contribution, service, kindness, trustworthiness and meaningful work. I thought about all those different personal core values as this was going on, and that's why I choose to lead."
This story has been updated.
This story has been updated to reflect the correct spelling of Luis A. Palacio. We apologize for the error. The Recorder makes every attempt to correct its mistakes.
Contact staff writer Chloe McGowan at 317-762-7848 or chloegm@indyrecorder.com. Follow her on Twitter @chloe_mcgowanxx.