Yolanda Lamar was visiting with her grandchildren in Indianapolis when she noticed a prominent nail salon in the Keystone Plaza was closed.
The salon, located off of East 53rd Street, had been one of the longest running nail salons in the city.
"It was last summer, and I couldn't believe it was closed. This salon is one of the oldest nail tech station facilities here. I was like, 'Wow, let me find out what's going on,' and I found out it was available," said Lamar, an Indianapolis native who was living in Florida at the time.
RELATED: Black representation matters: Urban Beauty Supply
Doing some research, she learned that most local nail techs in the city showcase their work on social media and usually offer services in their homes.
Feeling that Black nail techs need an opportunity to build their skills by having a professional salon, Lamar moved back to Indianapolis last October and opened Pretty Hands Paris Nails in the same location of the shop that closed.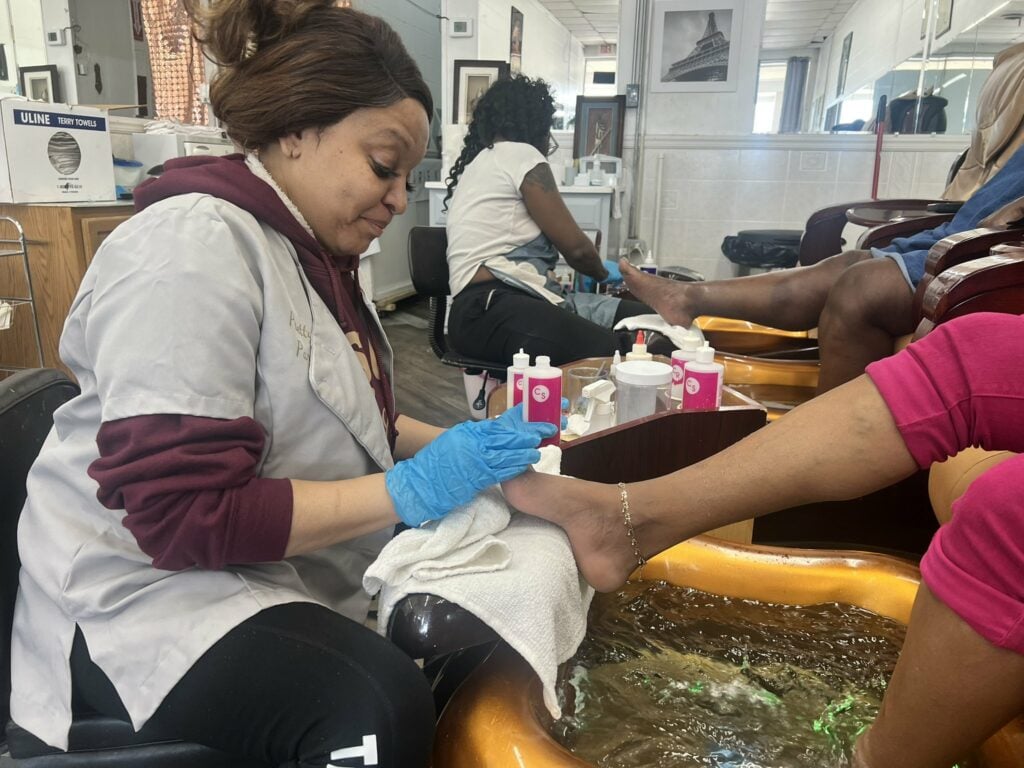 The goal was to have nail techs promote their own brands within the salon at their individual stations.
A marketing guru, Lamar wants to teach young nail techs how to market their brands and eventually be able to run their own minority-owned nail salons in the city.
Giving nail techs an opportunity
"I want this to be the one stop hub where you can say, 'I started here, and the owner gave me an opportunity to get my business off the ground.' It's a start that not many will give to those coming right out of cosmetology school," said Lamar.
Quinetta High has been a nail tech for less than a year, but her skill set is advanced.
"I do a lot of junk nails and rhinestones. Pretty much any shape, any size and any color.
Ms. Yolanda asked me to work for her when I came in one day to get my feet done and she saw my nails," said High.
High does her own nails and travels back and forth from Louisville to Indianapolis to dedicate time to Lamar's shop.
"I'm here on weekends. I'm usually in here with my head down grinding it out. This is a good shop cause the walk-in traffic is perfect," said High.
Tynisa Toran was the first nail tech to come to work for Lamar.
She has been a nail artist for 14 years.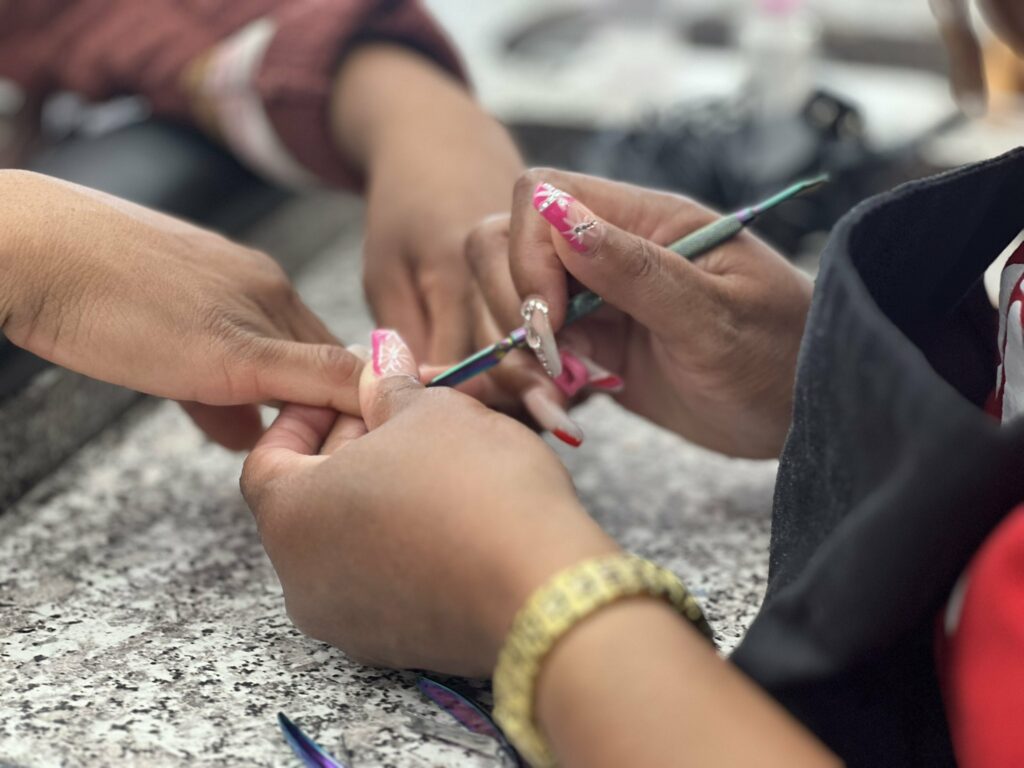 A professional hub for nail artists
"I love it here just because I'm self-employed. I can make my own hours. Everyone here is great. The area is great. I've worked with just about everybody, but I wanted to work here because it's Black owned," said Toran.
LaManda English is another nail tech inside the shop.
She is the owner of PamperingByManda and donates 10% of her sales to Indy Hittaz Youth Sports.
"My grandsons play for them, and it's to help when parents don't have the money for extra things" said English.
She said doing nails is her therapy.
"It makes me relaxed, and I pass off the energy to clients. You learn them and you learn what they like, and I'm always continuing education classes to get better," said English.
14-year-old Shamya Curry is Lamar's granddaughter. She frequents the shop and learn firsthand about the daily challenges of running a business.
Seeking nail techs
"I think it's pretty cool because you don't see like a lot of Black people owning nail salon. I was happy with my grandmother's success when she got her nail salon. I'm proud of her," said Curry.
Lamar said it is imperative to have a physical location with people who look like her to offer unique nail designs that people want.
Not only that, but she said her salon makes sure that clients have healthy nails as well as pretty ones.
"Servicing people is a serious business. Customer service is a serious business. We have booths for anybody interested in coming in. Keystone Plaza is one of the busiest plazas that is still open. We get great walk-ins, and we need nail techs," said Lamar.
Contact staff writer Jade Jackson at 317-607-5792 or by email JadeJ@IndyRecorder.com. Follow her on Twitter @IAMJADEJACKSON