On Jan. 16, nearly 40 years since the establishment of Martin Luther King Jr. Day in the U.S., the nation will honor King's accomplishments and resilience. As the holiday approaches, local Black pastors reflect on the impact King not only had on the world but also the influences he had on their lives and careers.
Whether it be his speaking capabilities, his legacy as one of the most influential pastors in the nation or his strong stance on nonviolent activism, there are many aspects about King that pastors find inspiring.
Josh Riddick was exposed to King at an early age. He found King's "powerful and unique" voice captivating, so in kindergarten, he brought a cassette tape of the "I Have a Dream" speech to school and memorized it.
Today, as an organizer for Faith in Indiana, Riddick continues to find inspiration from King.
"The thing about King that I think is more pronounced from other revolutionary thinkers was that King never stepped away from a theological frame of radical love and hospitality as the baseline for why revolutionary activism has to happen," he said.
Riddick works to improve social justice issues locally and statewide. He's currently working with the mayor's office to create a clinician-led crisis response team for mental health calls around the city.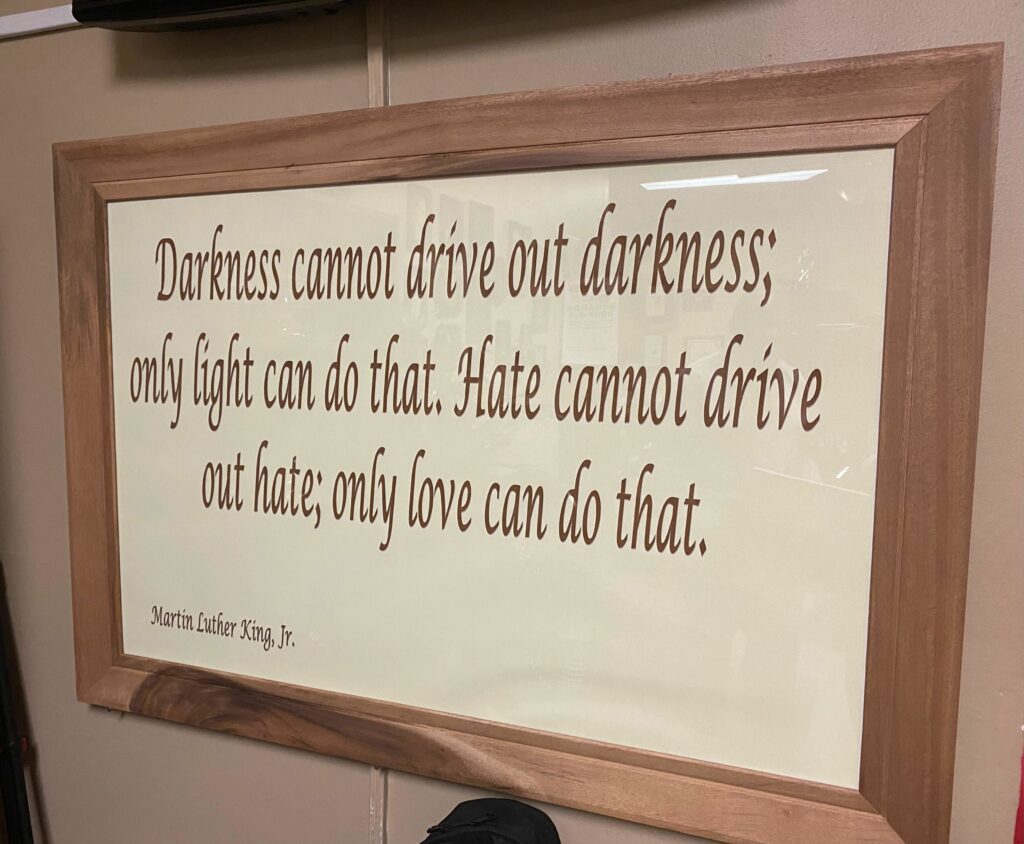 One of King's famous quotes hangs on the wall of Rev. Mario Elcock's church office, serving as a reminder to always choose love in a world of injustice. The pastor of Mount Nebo Missionary Baptist Church does find inspiration in King, but he knows that he and King are different. They both have different audiences with different needs.
"I have learned that I have to be me," Elcock said. "I cannot preach like Martin Luther King. I cannot deliver a sermon like Martin Luther King. Great preacher, but I have to rely on the holy spirit to give this particular audience what it needs. Dr. Martin Luther King had a different audience, and he was the man for that time."
One aspect many admire about King is his thought-provoking speeches. However, Rev. David Greene, the pastor at Purpose of Life Ministries, said there was more to King than just the words he spoke.
"He was greater than the 'I Have a Dream' speech," said Greene, who is also the leader of the Concerned Clergy of Indianapolis. "We wouldn't be where we are without his work and his commitment."
The pastor of Antioch Missionary Baptist Church, Dr. Clyde Posley Jr., shared a similar sentiment.
"King was a gift to us from God," Posley said. "We can never say that we have not seen any progress because of the work of King."
Posley studied King's theology during his doctoral studies, and while he acknowledged that King wasn't perfect, he was still "a blessing" for the betterment of Black people in America.
Many local faith leaders are inspired by King, but Riddick said he is also challenged.
"His voice continues to be an influence and a challenge for me," Riddick said.
"The challenge for me as an organizer is that we need to continue to agitate, push and organize around the state and the city to provide resources for our people and also recognize that those institutions, those entities are going to be unwilling to really lean into liberation fully," he said. "It's going to be on us to create those circumstances. I mean, there's nobody else coming to save us."
King's work has changed the landscape of racial issues in America. However, these pastors agree that the work is not finished yet. For true equality to be achieved, many other changes will need to come to fruition, and for Dr. Winterbourne Harrison-Jones, MLK Day helps pastors remember that mission.
"I think King's Day is a constant reminder that the work is not done," Harrison-Jones, the pastor of Witherspoon Presbyterian Church, said. "It's an annual reminder that our work is not done, and we must continue in his spirit."
Contact religion reporter Abriana Herron at 317-924-5243. Follow her on Twitter @Abri_onyai. Herron is a Report for America corps member and writes about the role of Black churches in the community.