Walking into historic Witherspoon Presbyterian Church for the first time, Pastor Winterbourne Harrison-Jones said he sensed the "pain and lament" lingering within the church and the congregation. Once installed as a pastor, he began investigating and working with the church to heal it from within, and that healing process included Witherspoon merging with the only other Black Presbyterian church in the city, Immanuel Presbyterian church.
"After several years of mission and ministry as two separate congregations, the leaders of both congregations seized the opportunity to combine their resources, love for God and commitment to the common good as one strong congregation," Harrison-Jones said.
Witherspoon, which was established in 1907, and Immanuel, which was established in 1958, celebrated their unification two months ago — now under one name, Witherspoon Presbyterian Church — and plan to move to a newer, bigger location this summer.
Learning about the history of Witherspoon being displaced from its original Indiana Avenue community, along with dealing with other internal and external disruptions, such as the pandemic, there was a lot of healing needed. It has been six years since he first stepped foot in the church, and he believes that Witherspoon is the best it has been in three decades.
"The future is bright," Harrison-Jones said. "We are so excited about what God is doing."
The merger between the city's only two Black Presbyterian churches was discussed even before Harrison-Jones became pastor of the church, but he said the idea needed "time to mature" and to come to fruition.
Lauren I. Peterson, who formerly belonged to Immanuel, supports the merger. Her ties to church go a long way back. Her dad, LaMar Peterson Jr., was one of the founding members of the congregation and she joined the church as a child.
"For me it was like coming home," she said.
However, in more recent years, Immanuel struggled, going the last 20 years without a permanent pastor. So, when she learned about the potential merger, she didn't hesitate because she knew the legacy of Immanuel would live on.
"While the churches came together as one, the history of either church will not be lost," she said.
But the idea of joining took some time to germinate for some. People are afraid of change, she said, and attributes that to why members of both churches were so slow to unify.
Many other members of the combined church are excited about what's to come next.
"Although this is a merger of two different congregations with different ideas, perspectives and backgrounds, what unifies us supersedes any aforementioned challenge that we may encounter," said 47-year-old Luther Montgomery, a lifelong Witherspoon member. "Christ is that common denominator that will carry us into the future."
Patricia Payne, the director of the racial equity office for Indianapolis Public Schools, has been a long-time member of Witherspoon Presbyterian church. She started attending the church at age seven in 1948.
"It was not only a spiritual experience, it was fun," she said while recalling her past worship experience at Witherspoon. "Nothing but beautiful experiences."
With more people sitting in the pews and others showcasing their gifts and abilities, Montgomery said the church's worship of God is better than before.
"I believe the merger has only enhanced our worship experience," he said. "Again, these are two churches filled with gifted and talented individuals sharing their gifts and creating new ways to praise the Lord."
Fashion is also a way the congregation honors God.
During a Sunday morning service earlier this month, Harrison-Jones wore a white robe embroidered with Kente cloth as he gave a sermon about "A Living Faith." The choir was dressed in red outfits, some members wearing intricate red headdresses and hats to complete their outfits. As the band played, the choir's harmonious sound bounced around the sanctuary. The sanctuary was filled with different paintings, tapestries and sculptures created by Black artists recent worship service. The church also has an art gallery and a library for members.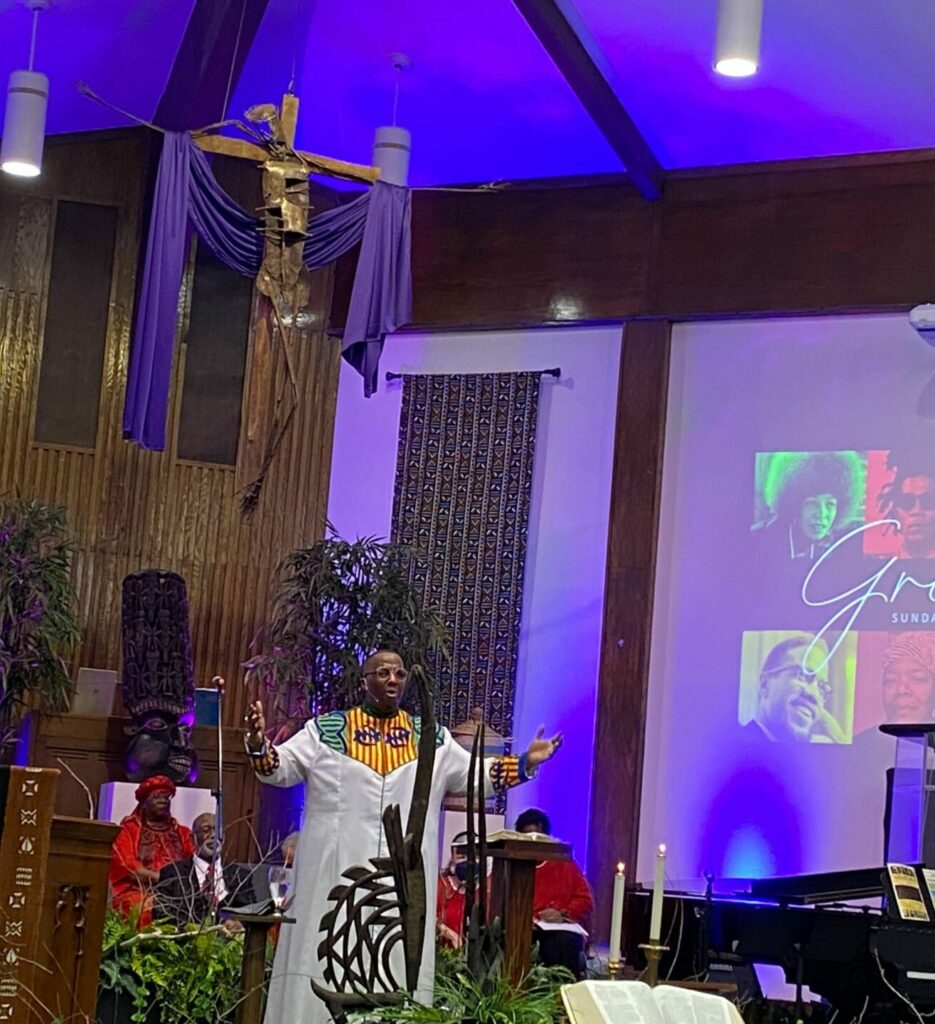 The Afrocentric approach Harrison-Jones takes to the weekly sermons and the interior design of the church is an aspect that church members appreciate.
"I think my pastor is an amazing pastor," Peterson said. "He continues to bring the old in with the new. He tries to incorporate something for everyone."
This summer, the church plans to move to The Imani Campus of Witherspoon Presbyterian Church located at 3535 Kessler Blvd. When asked what will happen to the old campus on Michigan Road, Harrison-Jones said, "it is the hope of the congregation that the current campus will continue to be used in ways that will offer peace and solace for many more generations of residents and community members alike."
While the congregations are mostly unified, there are still a few members tied to Immanuel Presbyterian Church in order to finish the merging process.
"We welcome our brothers and sisters from Immanuel with open arms," Montgomery said. "Whatever existed prior to the merger that does not embrace the love and mission of Christ must be removed."
Contact religion reporter Abriana Herron at 317-924-5243 or abrianah@indyrecorder.com. Follow her on Twitter @Abri_onyai. Herron is a Report for America corps member and writes about the role of Black churches in the community.