When 28-year-old Jama Matthews left one hospital against medical advice to seek advice from another. She traveled to Community Hospital North, where she gave birth to her first child eight months prior.
Matthews changed hospitals after she visited one on the northwest side that confirmed that she was pregnant again. She feels staff had mistreated her partly because of her race.
The ER at Community North was very busy when she initially arrived. When a doctor came to speak to her, they let her know that she was going to need an ultrasound.
"They told me that even the ultrasound results were a little weird because they saw the same thing (as the previous hospital): 'We think that it's a possibility of an ectopic pregnancy. However, you don't have the additional symptoms that a woman experiencing this would have,'" Matthews recalled.
RELATED: How have Indiana hospital leaders fostered health equity over the past year?
According to Matthews, she was smiling. The doctor told her a woman experiencing an ectopic pregnancy — a pregnancy that occurs when a fertilized egg attaches outside of the uterus — would be miserable and in a lot of pain.
"They told me, 'I'm almost willing to let you go home for the night because you've been through a lot today, but if your hCG levels have risen, that means you have a very active live pregnancy that is growing,'" Matthews recollected. As a pregnancy progresses over time, hCG levels rise.
She was advised to stay there for the night.
Matthews claimed the doctor promised her that medical staff would check her levels first thing in the morning. Her boyfriend came to the hospital to be with her while family members watched their infant.
Black patients & white coats: The next morning
Around 10:30 a.m. the next day, a nurse came into her room to check her IV and to see if she needed anything.
Matthews asked if they were there to check her hCG levels.
"They tell me, 'We won't be needing to do that. That's not necessary anymore.' So, I say, 'Well, that's strange because the doctor made it very clear that I am to spend the night only because they want to recheck my levels and determine the next steps from there,'" said Matthews.
She claimed the nurse said they did not know about that but would check.
Matthews noted that this experience made her feel similar to how the medical resident at the previous hospital made her feel: As if her request for information was an inconvenience.
"I'm not a nurse. I have no medical background or anything, and don't know if they're overwhelmed. I don't know if they're overworked. I'm just expecting to be cared for," said Matthews.
Community North is under the Community Health Network umbrella.
"Ranked among the nation's most integrated healthcare systems, (the nonprofit) Indianapolis-based Community Health Network is central Indiana's leader in providing convenient access to exceptional healthcare services," according to their website.
The Indiana State Health Department found that there have been three complaints in 2021 under the Community Health Network umbrella.
Two investigations concluded that the complaints were unsubstantiated with a lack of evidence. One was substantiated with no deficiencies related to allegations cited.
Black patients & white coats: Community Hospital North
In a statement to the Recorder, Community Health Network said:
"At Community Health Network, our mission is to enhance health and well-being across the communities we serve. We strive to become a network where all patients and caregivers feel empowered, respected, valued, and recognized.

To that end, our organization has deepened its commitment to diversity, equity, and inclusion (DEI). We have undertaken wide-ranging DEI initiatives, including the development of cultural competency skills so our caregivers can better relate to patients and each other.

Our team of healthcare safety advocates ensure patient concerns are heard and resolved. While we still have work to do, we feel our focus in areas of education and learning, community outreach, recruitment and retention and belonging and inclusion will help us create a positive and inclusive environment wherever we provide care."
Around 11:45 a.m., Matthews said another nurse came into her room to check her blood levels.
"They find another doctor, and they say, 'We'll get someone else in here to talk to you, but we really do need to draw your blood if we want to keep this process moving,'" Matthews said.
Her blood is drawn.
After another 45 minutes, Matthews said a new doctor arrives and attempts to explain why they need to perform surgery. It was likely an ectopic pregnancy, but they could not clearly confirm.
She signed a consent form approving the surgery and waited a few hours before going to pre-op.
Black patients & white coats: The surgery
During her pre-op, a different doctor came in to explain that this would be an outpatient procedure, and after the anesthesia wore off, she would be free to go. She would also be given crackers and juice.
"She then says, 'Alright, we need to have you sign a consent to surgery,' and I said, 'That's interesting; I've already signed one.' Turns out, they misplaced it, and they initially tried to say like, 'Are you sure you signed something?'" said Matthews.
"I know this doesn't seem like that big of a deal, but with my circumstances, for them to essentially blame me and question my memory over something they misplaced, that's kind of a big deal."
Matthews said they suggested she sign another one, so she did, and the procedure was performed.
Since it was late at night, she stayed overnight to rest; however, she did not consume crackers or juice after her surgery because she was sleepy.
She claimed her boyfriend was told the surgery was a success and that her right fallopian tube was removed once it was confirmed that it was an ectopic pregnancy.
Around 6:00 a.m., she was hungry and asked a nurse for food.
"They were like, 'Oh no, they have you on a liquid diet.' I asked why, and they said, 'I don't know.' I then asked, 'Well, does this mean that the surgery was unsuccessful?' They then again tell me, 'I don't know,'" said Matthews.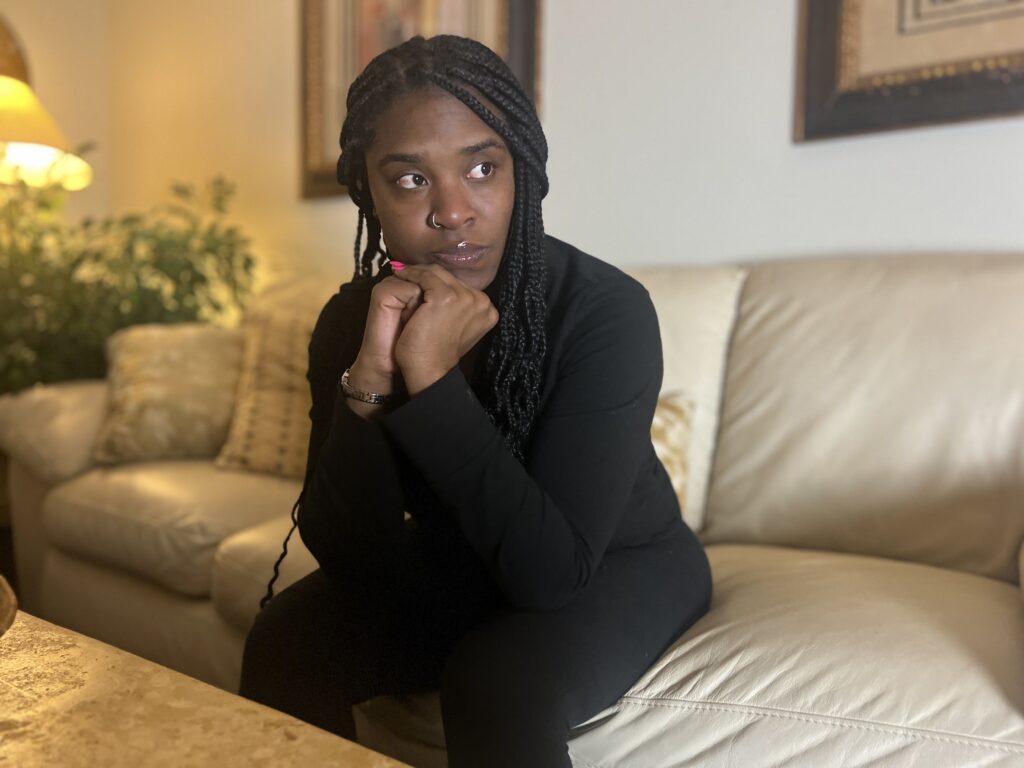 Reflecting on her experience with the two different hospitals has driven her to feel traumatized about receiving any type of medical help in the future (Photo/Jade Jackson)
Black patients & white coats: The next morning
Frustrated, Matthews asks to be discharged because she is walking, coherent and feels fine.
The nurse informs her that she has to be discharged by a doctor and will go look for one.
Around noon, she pages a nurse.
"A whole new nurse comes in, and they tell me they don't know anything either. They sensed my frustration, and they said, 'Well, I've written to the doctor twice. The doctor just keeps reading my messages,'" said Matthews.
That nurse came back 45 minutes later to tell her that she was free to go.
"I still had no information on why I was on a liquid diet. If they could have just explained to me or answered my questions, I would sit back (and) relax because I feel safe and be the best patient ever," said Matthews.
"But when you're telling me you don't know, I'm scared. I'm panicking. I also have a baby at home."
Matthews would leave. However, reflecting on her experience with the two different hospitals has driven her to feel traumatized about receiving any type of medical help in the future.
Community Health Network's Office of Patient Experience encourages any patient to share their stories with staff.
Contact staff writer Jade Jackson at 317-607-5792 or by email JadeJ@IndyRecorder.com. Follow her on Twitter @IAMJADEJACKSON