It doesn't matter who you are or where you are from, Broadway United Methodist Church welcomes you with open arms.
The historic church off of Fall Creek Parkway was originally founded in 1873 and has undergone many changes and relocations but has been intentional in welcoming all members of its community since the late 1950s, early 1960s, said Senior Associate Pastor Rev. Shonda Nicole Gladden. In fact, church member Alan Hargrave spoke about it at the beginning of the service on June 11, recounting the story of the first same-gender-loving couple to renew their vows at the church in July 1993.
"The entire service was an opportunity to celebrate their love and commitment to one another; it was also a radical and audacious act of God's wildly inclusive love to all in His creation," Hargrave said. "While hundreds of couples had come down the aisle of Broadway, this was different, it was two men. At the conclusion of the five sermonettes, the couple exchanged rings without comment or vows. The joy and the love in this place was abundant and palpable."
To this day, Broadway continues to not only be a multicultural church but also one that welcomes everyone through their doors, regardless of race, ethnicity, age, gender identity or sexual orientation, Gladden said.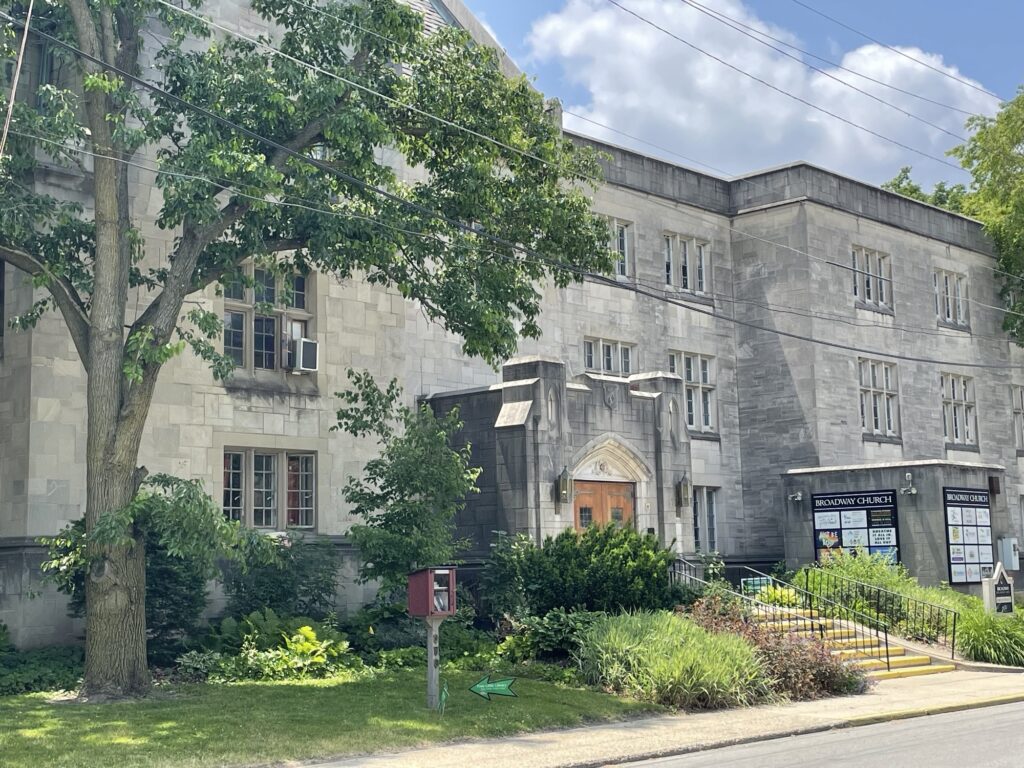 Diversity is evident, not only in their congregation but also in church leadership. Gladden, who is African American, is rooted in the Black church tradition in the African Methodist Episcopal Church, while her colleague, Senior Pastor Rev. Aaron Hobbs, who is white, is a United Methodist, multi-generational pastor. The church also hosts two resident artist interns from Duke Divinity Schools.
Broadway takes every opportunity to stand with and affirm their LBGTQ+ brothers and sisters, including walking and driving a float in the Pride Parade each year, hosting the Pride of Indy Band, holding space for the Indy Gay Men's Chorus and officiating same-gender-loving couples' weddings. Gladden said the church is intentional about being a safe space for everyone, which does not stop at the building, it also extends to their ministries.
The church also partners with community organizations to fight for various issues, such as reproductive justice, voting rights and dismantling racism, supporting compassionate immigration policies, environmental stewardship and HIV/AIDS awareness.
Harold Brown, a former professor of sociology at NYU and IUPUI and 46-year HIV survivor, has been a member of Broadway United Methodist Church since 1968. He took a 19-year hiatus from the church while he was living in New York but returned home upon receiving an HIV diagnosis during the height of the AIDS Epidemic. However, as an openly gay Black man, Brown said many of the local churches closed their doors to him.
"The experience of my faith personally and believing in God and Jesus Christ was interrupted by the church nationwide," Brown said. "Particularly churches here in Indianapolis and the Black church especially, shut the doors to me as a gay man and particularly, as a Black gay man."
Brown said it was Broadway United Methodist, All Saints Episcopal Church and Allen Chapel AME Church Indianapolis that were the most welcoming churches in the community to those who were AIDS conscious. Broadway offered LGBTQ+ people compassion in the form of a sanctuary where they could worship and be included, he said.
Reengaging in the sanctuary offered him a sense of love by the Christian community. At the time, Brown said the fear was rampant, and the fate of gay men was often neglect, suicide or other detrimental actions, but the importance of the Holy Spirit in their lives and worship of Christ left them with a great deal of hope.
"The important of the social relationships of belonging was … we began to reengage in the church," Brown said. "This offered a great comfort, help and embracing that had been torn in our lives as gay persons here in Indianapolis and across the nation."
As part of the church's HIV/AIDS awareness outreach and ministries, Brown said Broadway partners with BU Wellness Network — a women-led African-American AIDS service organization (ASO) — the Marion County Public Health Department, Shalom Health Care Center, StepUp, and Hoosier International AIDS Conference Scholarship Fund to provide HIV education for youth and adults, HIV testing, and peer support for people living with HIV.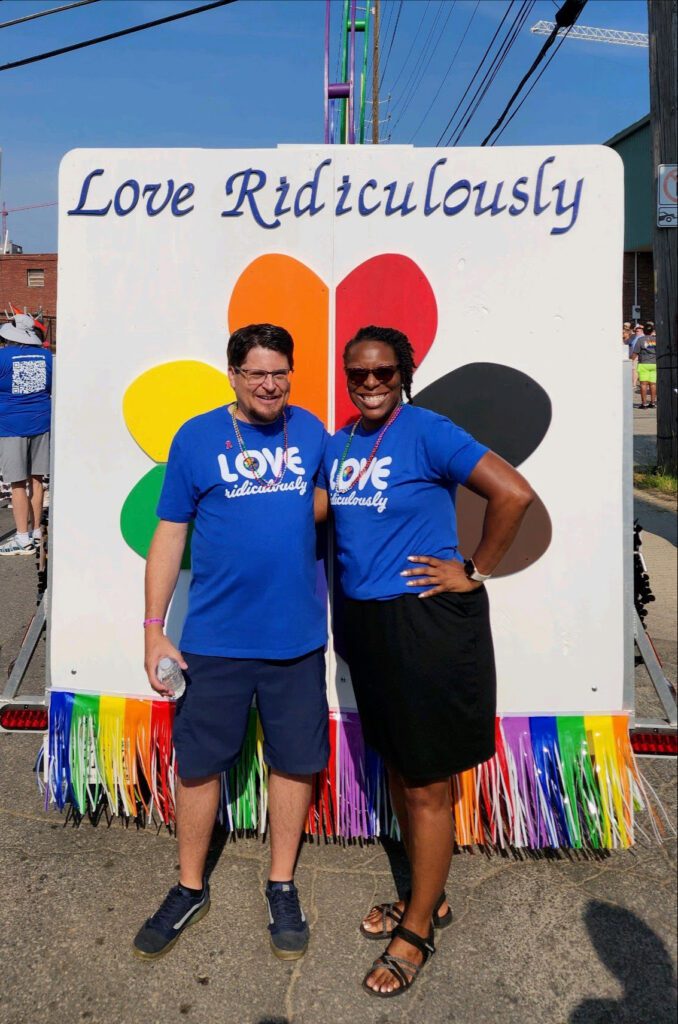 Last year, the church sponsored the HIV Long-Term Survivors Awareness Day Program, and each year he attends the International Aids Conference with Rev. Hobbs and plans to attend this year's conference in Munich, Germany, in October.
The church's slogan is "Love ridiculously," and Gladden said that is exactly what they aim to do, and not just during Pride Month. Gladden said herself, Hobbs and several members of clergy and congregation spent time down at the Statehouse with protestors, praying over the bills dubbed the "Slate of Hate" that would negatively impact members of the LGBTQ+ community.
Although they do not do anything to legislate or to influence legislation — because she said they understand the separation of church and state — Gladden said "there is no legislation against prayer, which is what we do." She said they will sign their names on prayers that advocate for the dignity of all.
Gladden also knows church can be a touchy subject for those who have been hurt or turned away in the past. Even with their support at Indy Pride, Gladden said other people of faith turned up to share harmful language with festivalgoers.
"Perhaps Jesus is coming back on a rainbow, and He wants to see you are all the beloved children of God," she told them. Afterward, she said a mother came up to her as they were walking to the festival to hug and thank her because their family had experienced so much hurt, and to have a pastor affirm the dignity of their child was something meaningful to them.
"We've searched Scripture, we sit in prayer and conversation with the God of Scripture and in conversation with the Holy Spirit, and we just believe that this is a season for loving all people," Gladden said. "There's too much hatred; our God is not concerned with the way that love gets spelled out … but God is a God who seeks, welcomes and values all people, and we try to be that kind of church."
Contact staff writer Chloe McGowan at 317-762-7848 or chloegm@indyrecorder.com. Follow her on Twitter @chloe_mcgowanxx.