Peyton Manning is in line for a big payday from the Indianapolis Colts.
The four-time league MVP received an exclusive franchise tag Tuesday, a move announced by team owner Jim Irsay that could cost the Colts $23 million next season. Irsay wrote on Twitter that the team will continue to negotiate a long-term deal with Manning.
He was one of a handful of players who had franchise tags placed on them Tuesday, which means a team must pay a player the average of the top five salaries at his position.
Like Manning, Philadelphia quarterback Michael Vick also received the exclusive label, the team's website reported, so no other team can negotiate with him.
Also receiving franchise tags – all believed to be non-exclusive – were: San Diego wide receiver Vincent Jackson, Baltimore defensive tackle Haloti Ngata, New York Jets linebacker David Harris and New England offensive lineman Logan Mankins. All can negotiate with other teams and if they receive an offer, their current team can either match the other club's offer or receive two first-round draft choices as compensation.
Teams were able to start using the franchise label on Feb. 10, but it is still uncertain whether the tag will stand because of the NFL's unsettled labor situation. Jeff Pash, the NFL's lead labor negotiator, recently said he expected the franchise tag to continue to operate as it has previously. But NFL Players Association executive director DeMaurice Smith said the 2011 season doesn't fall under the current collective bargaining agreement that expires March 3.
Last year, Irsay promised to make Manning the NFL's highest-paid player. The Colts' current offer to the record-breaking quarterback is believed to be richer than the four-year, $72 million contract that New England quarterback Tom Brady signed in September. Brady's contract also included $48.5 million in guaranteed money, and Irsay has called that deal the standard.
Indianapolis used the franchise tag on Manning in 2004 before eventually agreeing to a seven-year, $98 million deal and pulling the designation. Manning is the only player in NFL history to win four league MVP awards. He also has won two AFC championships, one Super Bowl and a Super Bowl MVP, and has broken all the Colts' career records for quarterbacks.
Vick led the Eagles to a 10-6 record and the NFC East title after replacing an injured Kevin Kolb in Week 1. Vick had his best season statistically despite missing three games with an injury, and was voted the AP Comeback Player of the Year after sitting out two seasons while serving a prison sentence and playing sparingly in 2009.
He set career highs in yards passing (3,018), touchdowns passing (21), touchdowns rushing (nine), completion percentage (62.6) and passer rating (100.2).
The Eagles also placed the transition tag on Pro Bowl kicker David Akers.
"We're happy to take this step to ensure that they'll be back in Philadelphia next season," coach Andy Reid said.
Jackson, a Pro Bowl selection in 2009, missed the first 10 games for the Chargers last season in a nasty contract dispute. His original five-year contract expired after the 2009 season. But because 2010 was an uncapped year, he would have needed six seasons to become an unrestricted free agent.
Unhappy that he didn't get a long-term deal, Jackson refused to sign a $3,268,000, one-year tender as a restricted free agent. He sat out the first seven games and then reported in time to serve a three-game suspension on the roster exempt list – he was placed there in a hardball move by general manager A.J. Smith. He was on the active roster for the final six games to accrue a season toward unrestricted free agency.
When Jackson hadn't signed the tender by June 15, the Chargers slashed their offer to 110 percent of his 2009 salary, or $583,000. Due to the games he missed, he made less than $300,000 in 2010.
"We wanted him to be here last year and we want him to be here next year," Smith said.
Ngata was drafted by Baltimore in 2006 with the 12th overall pick, and had a career-high 5 1/2 sacks this season in making the Pro Bowl for a second straight year. If the franchise tag continues to exist, Ngata will make the average of the top salaries at his position, which could be in the vicinity of $12 million.
After the Ravens were eliminated from the playoffs by Pittsburgh last month, coach John Harbaugh said keeping Ngata was "priority No. 1" during the offseason.
"The tender allows us to secure Haloti as a Raven right now," general manager Ozzie Newsome said. "As we have said, our intention is to enter into a long-term contract with him. We want him to be a Raven."
The Jets used the franchise label for the first time since 2006, wanting to keep the playmaking Harris in the middle of Rex Ryan's aggressive defense.
Harris, who made a base salary of $550,000 in the final year of his rookie deal, was voted the team MVP by his teammates. Last year, Harris' position was worth about $9.6 million, meaning he could be in for a payday of $10 million or slightly higher.
Mankins, who held out the first seven games of the 2010 season in a contract fight, was the first player to receive with the franchise tag.
He would earn about $10 million under the current terms of the collective bargaining agreement. Despite his holdout, Mankins was selected to the Pro Bowl for the third time.
AP Sports Writers David Ginsburg in Owings Mills, Md., Michael Marot in Indianapolis, Dennis Waszak Jr. in New York and Bernie Wilson in San Diego contributed to this report.
Copyright © 2011 The Associated Press. All rights reserved.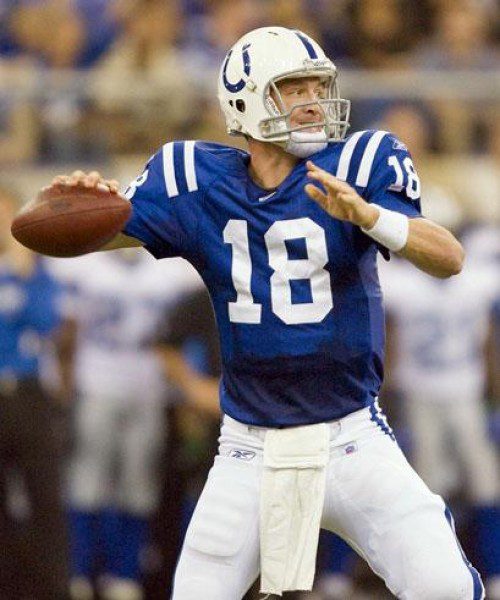 Peyton Manning