When Kristin Shelby attended her first "Breakfast Club" outing — a Purdue University tradition during which students drink in costume before home football games — her only goal was to have fun with friends. She didn't know the event would ignite within her a passion for costume fashion and makeup. Shelby has been creating new looks for the past five years now. She shares many of her costumes online, complete with tutorials, at indyhipchic.com, a local fashion and lifestyle blog she co-founded with friends. 
The Recorder recently met with Shelby to learn more about her creations. 
Indianapolis Recorder Newspaper: How long have you been crafting costumes and doing costume makeup, and how did you gain an interest in it?
Kristin Shelby: I've been doing costumes consistently for about five-and-a-half years now. I started doing more involved costume makeup about three years ago. I started being interested in costumes my senior year at Purdue University. My first costume was a box of Sour Patch Kids for Breakfast Club.
It looks like you make a lot of the costumes yourself. Is that true?
 Yes! I'm a huge fan of dressing in costumes, and it feels so much more rewarding when I'm able to put the look together myself. I love a good do-it-yourself project, and costumes are a great way to express some creativity. Making my own costumes gives me the freedom to be as creative as I want and put my own unique touch on each costume. It's much more rewarding to see my vision come to life piece by piece. It's also easier for me to get exactly what I want by making it myself. I'm a curvy lady, so unfortunately my options out of the bag are limited. I'd rather spend the time and effort than settle for something less than awesome.
What is your favorite costume that you have made?
 Most of them have a special place in my heart, but if I had to pick just one, it'd be "Sadness" from Disney's "Inside Out." I'd wanted to be Sadness for probably close to a year. It took a lot of effort and some trial and error, but it turned out amazing. My best friend, Krystal, partnered with me and dressed up as "Disgust." We were definitely a crowd favorite.
Where do you typically get supplies to bring your vision to life?
 Most times, my outfits are actually regular clothes that you can find at your local department store or online. Most of them have some fun DIY aspects that I make with fabrics and materials from a craft store such as Jo-Ann or Hobby Lobby. Most of the makeup I use is intended for beauty as opposed to costumes. I have a pretty substantial collection of makeup, so I can usually find all the colors I need within that. For full faces of color for animated characters, I'd recommend Mehron Paradise Paints. You can find them on Amazon. They're water-based and give great results.
What has been the best reaction that a costume has gotten you?
 The best reactions were definitely when I dressed as a shadow. I got the idea from some little kids on Pinterest. They looked super adorable, but apparently the adult version is pretty scary. I was dressed in black from head to toe, face covered and all, and people couldn't take it. I wasn't necessarily trying to scare most people, but everyone, from Breakfast Clubbers to small children on the street, was taken off guard. Their reactions were hilarious.
Do you have any advice for people who want to try their hand at costume makeup? 
Start now! Start with what you have at hand! There are tons of costume makeup tutorials online to give you some guidance.
Learn more at Indy Hip Chick.

dots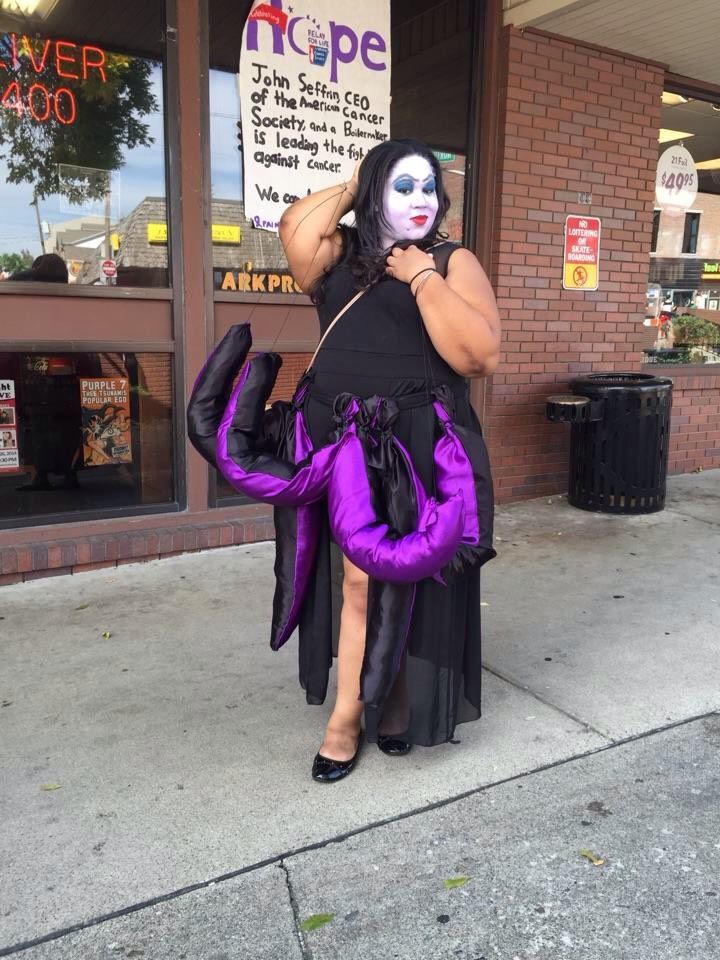 dress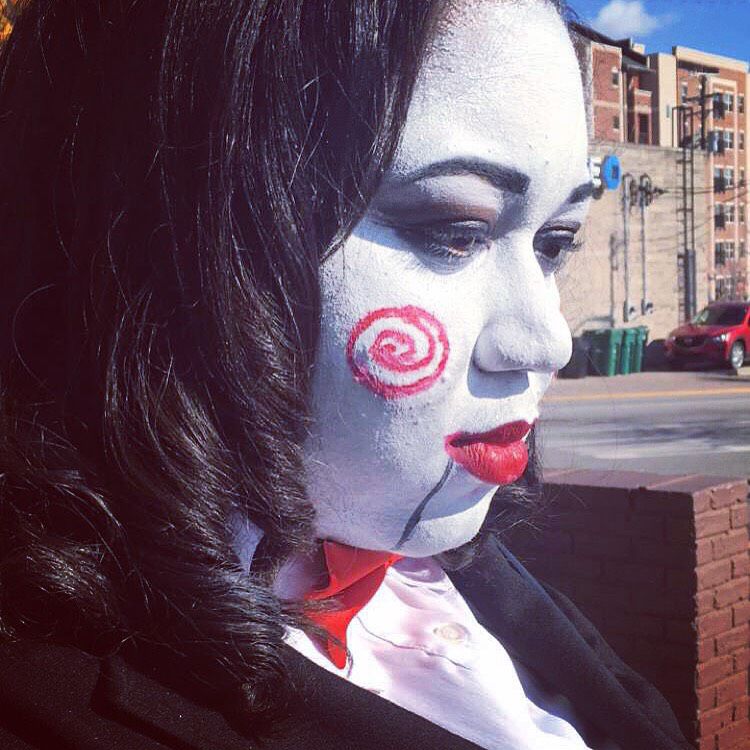 saw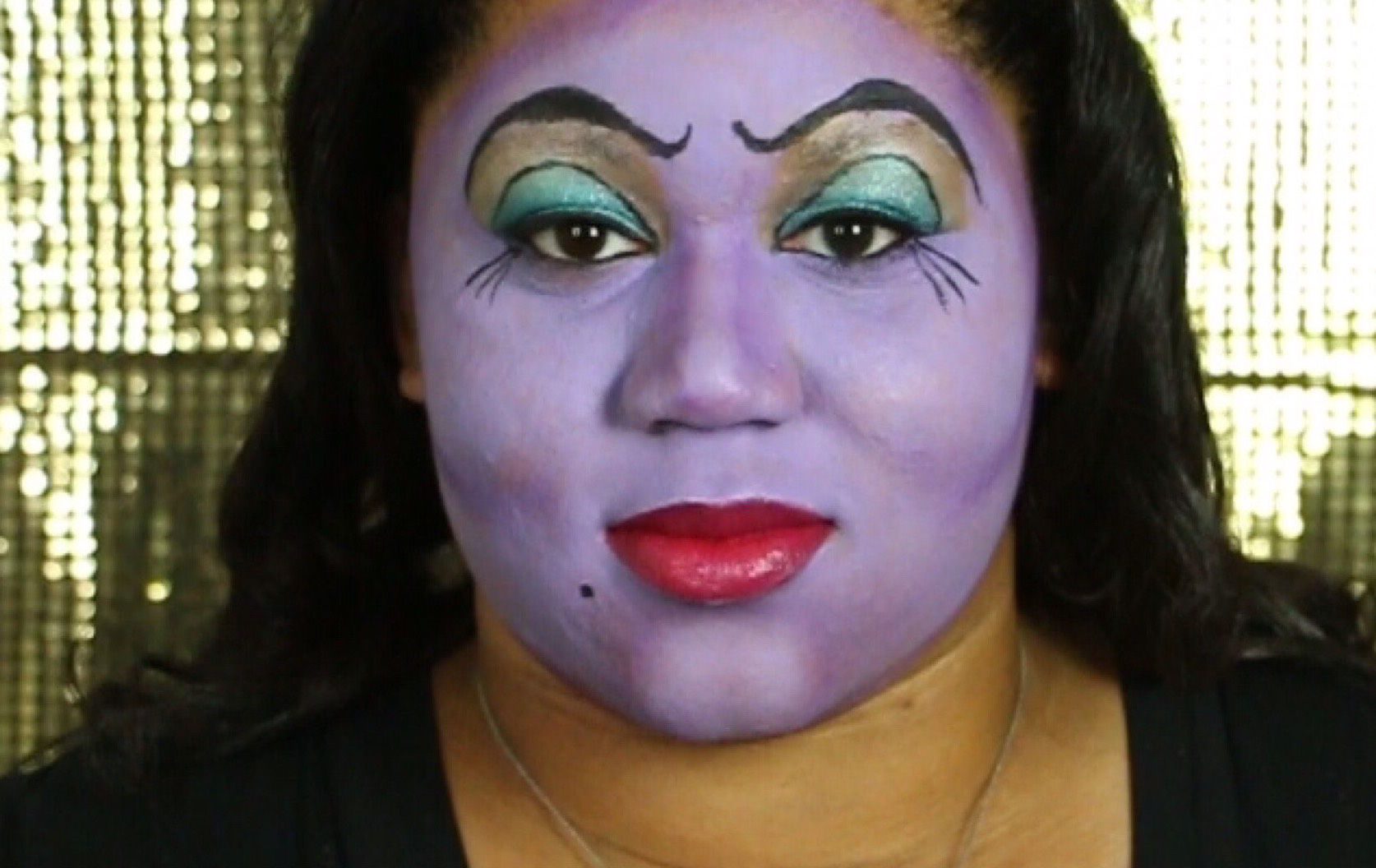 Kristian Shelby's costume creations