The American Institute of Graphic Arts Indianapolis Chapter aims to provide BIPOC creatives a more visible platform through a new speaker series, "Creatives in Color."
Justin Muse, director of diversity and inclusion for AIGA Indianapolis, said speakers were selected with many layers of diversity in mind.
"I wanted the lineup to be as diverse as possible," Muse said. "Diverse in people of color and their career and so forth. … I really wanted people who were in positions of leadership or leading things and been doing it for x amount of years or some time."
On Sept. 14, Sharmin Kent, manager and strategy lead at Studio Science, spoke about her journey as a creative professional and how her experience as a Black woman influenced her narrative process.
Kent said she worked her way through graduate school at various tech startups in Indianapolis before transitioning into academia, teaching digital marketing at Kenzie Academy and Kelley School of Business at IUPUI.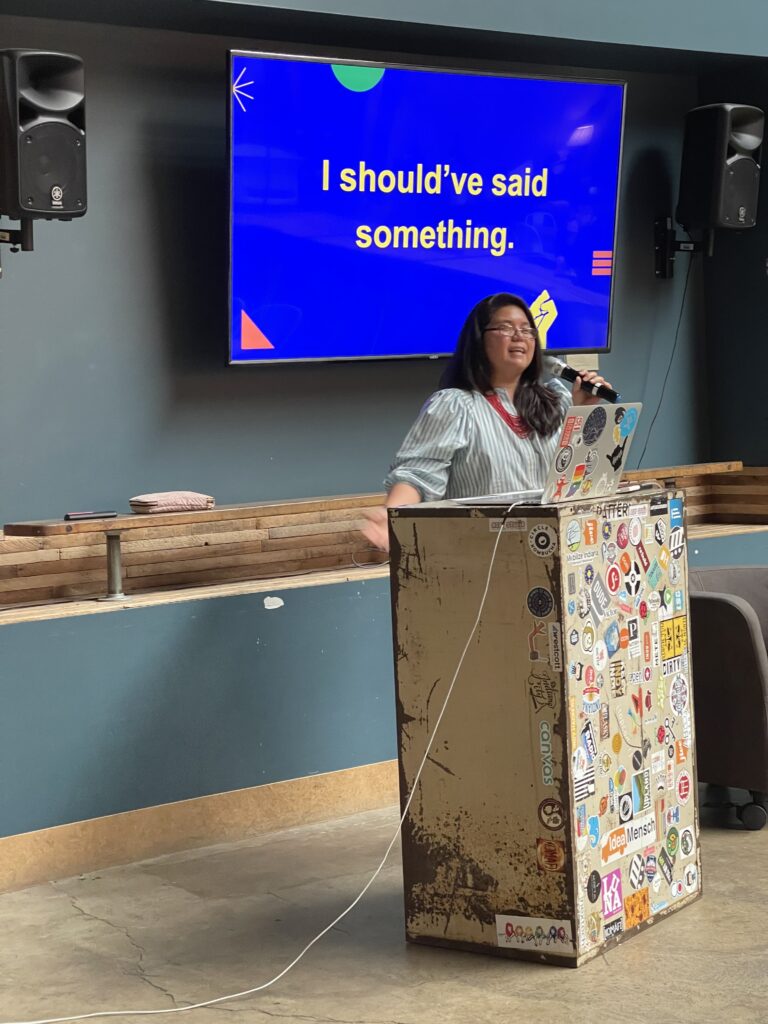 "To understand how someone like me moves through the world, it's important to acknowledge that stories like mine are not unique," Kent said. "They're just ignored."
As a Black woman in tech and creative spaces, as well as academia, Muse said Kent's career as a writer made her a standout for the series.
"I wanted people to see people in these levels and say 'wow, she made it,' and talk about how she got where she got," Muse said. "It wasn't an easy road, obviously, but at the end of the day she got there."
Kent also touched on the topic of Black excellence and how the idea that people of color must work twice as hard to get half of their white counterparts is frustrating, exhausting and often leads to burnout in the workplace.
"Sometimes there's this idea that Black excellence — simply being the best — will save you," she said, "and that's simply not true."
Previous speakers in the series were Byron Elliot, an illustrator who talked about navigating the design industry and other predominantly white spaces as a Black man, and Terri Wada, who co-founded a design company and spoke about her experience as a Japanese American woman in a field dominated by white men.
"A lot of BIPOC creatives are just trying to survive; the element of speaking up or saying something isn't really an option sometimes," Muse said. "I wanted it to be an option, a platform to speak on those things, to be transparent and open as possible."
The "Creatives in Color" series will feature Eduardo S. Luna, a staff artist at Big Car and founder of Arte Mexicano en Indiana, on Oct. 5, and Ashley C. Ford, author of the New York Times Bestselling memoir, "Somebody's Daughter," on Nov. 30.
Both talks are from 6-8 p.m. and will take place at The Speakeasy, 5255 Winthrop Ave. #110. Tickets for the talks are $20 for non-AIGA members and $10 for AIGA members and can be purchased here.
Contact staff writer Chloe McGowan at 317-924-5143 or chloegm@indyrecorder.com. Follow her Twitter @chloe_mcgowanxx.