Niko Harbosky shares his journey from real estate broker to his current position as a commercial banking analyst at JPMorgan Chase. He is chair of Business Organization for Leadership Development (BOLD).
Indianapolis Recorder: Explain your journey to your current position at JPMorgan Chase.
Niko Harbosky: After years as a real estate broker, I discovered a genuine passion for helping others while gaining a deeper appreciation for owning a deal from beginning to end.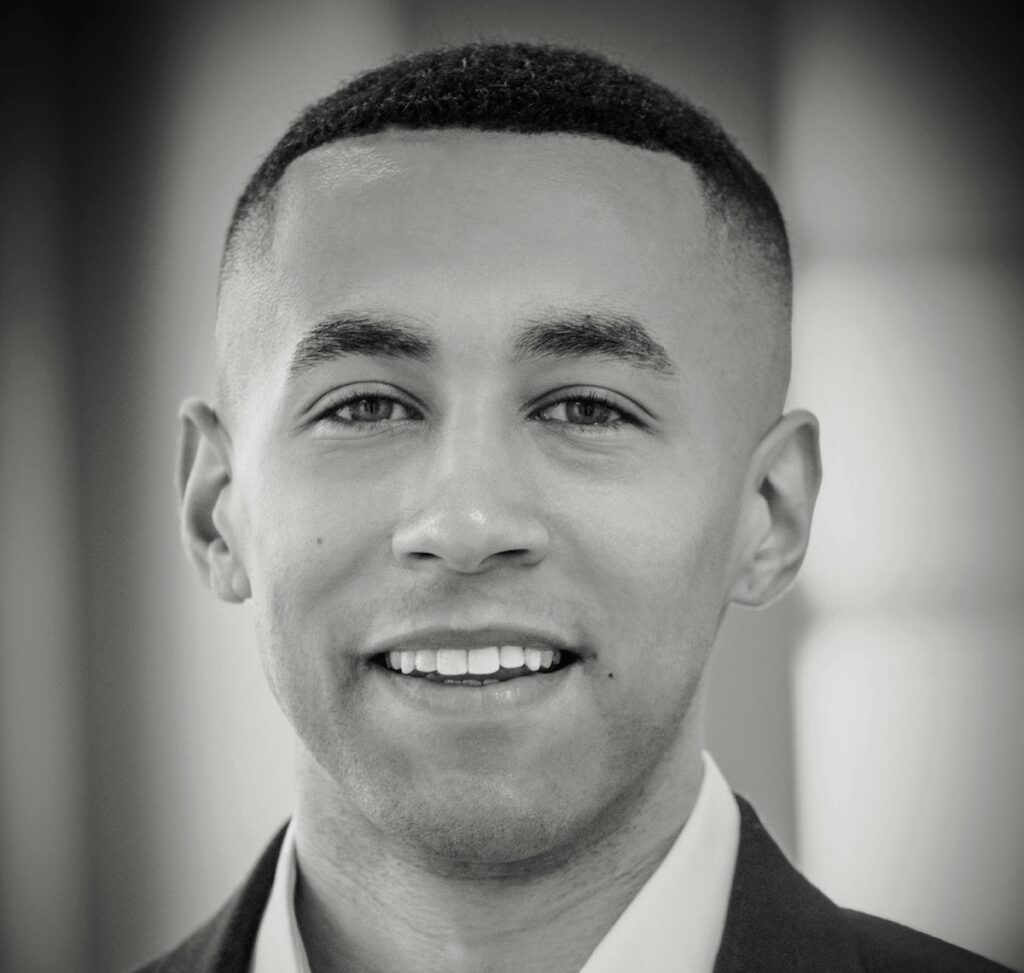 After joining the firm in March of 2018, I was excited to learn more about our firm's existing footprint within Indianapolis and still recall my first experience with Black Organization for Leadership Development (BOLD).
The organization put together a speaking event, "Celebrating Black Leaders." The keynote speaker reaffirmed the importance of the occasion and openly reflected on his career and journey. It was an impactful moment for me at the onset of my career with JPMorgan Chase.
Soon thereafter, I set a goal to join the firm's Middle Market team, while obtaining my MBA. In May 2020, I submitted my Kelley Evening MBA application. The acceptance to the program was dampened as I and the rest of the world watched the unruly reality my Black brothers and sisters lived through, most notably the death of George Floyd. For this reason, and so many others, I'm proud to work for a firm that is dedicated to leading with diversity, equity and inclusion. I'm proud to say I currently serve the Middle Market group in Indianapolis, bringing JPMorgan Chase's global capabilities to local business communities.
IR: What impact does a higher level of diversity in banking benefit the greater community?
Harbosky: Throughout my life, I have been a part of many charitable organizations that seek to empower the lives of urban minorities, particularly the Black community. I am fortunate to work for a global firm that demonstrates a continued belief in diversity for its people and culture and have immersed myself in the many opportunities offered through the firm. Each experience has given me a host of unique perspectives and observations I continue to use both personally and professionally.
IR: Careers in banking/finance often aren't as well known in the Black community as other careers. How do you increase visibility and help young people realize opportunities in banking?
Harbosky: A few years ago, our firm launched Advancing Black Pathways (ABP). This initiative focuses on four key areas where there are racial and economic disparities that create barriers to long-term financial success: careers and skill building, business growth and entrepreneurship, financial health and wealth creation, and community development.
I proudly served as a mentor during the 2021 ABP Fellowship Program and had the opportunity to coach five exceptional young men. The ABP Fellowship Program is a six-week paid, full-time fellowship held during the summer months in select JPMorgan Chase & Co. offices for Black undergraduate sophomores to build early professional development skills and positively impact the future of people's lives, our firm and our industry.
IR: How has the APB program helped the participants grow professionally and personally?
Harbosky: This opportunity exposes students to a hands-on experience, mentorship and project-based curriculum, designed to help build a pathway to future opportunities. The ABP Fellowship Program is committed to providing early professional development to students from communities underrepresented in the financial industry.
IR: Are there organizations in your field to support Black people once they embark on a career in banking/finance?
Harbosky: The JPMorgan Chase's Commercial Bank Black Leadership Forum was created to support the advancement, recruitment and engagement of all Black employees across Commercial Banking.
The goal of the Asset Wealth Management's Black Leadership Forum is to engage and empower Asset & Wealth Management professionals to attract Black talent, develop the skill set of existing Black talent and to retain and advance high-performing Black talent.
ABP was launched in 2019 as a part of JPMorgan Chase & Co.'s ongoing global efforts to strengthen the economic foundation of Black communities and close the racial wealth gap brought on by historic systemic racism and disparities. Through ABP, the firm is hiring Black talent, developing Black leaders, investing in Black businesses, and improving the financial health of Black communities around the world.
The firmwide Black Executive Forum is a global consortium of senior leaders who self-ID as Black. This groups serves as ambassadors and thought leaders for firmwide initiatives.
IR: How has BOLD helped you in your role?
Harbosky: As I continue in my professional career, I recognize that many of my successes were a result of committing to something larger than myself. BOLD gave me an opportunity to exercise my leadership capabilities. Additionally, BOLD offers amazing professional opportunities as internal and external partnerships across all lines of business come together in the state of Indiana for the greater purpose of advancing Black communities and leaders. As co-chair, I'm honored to help steer the regional business plan which focuses on professional development, acquiring and retaining diverse talent, promoting diversity and maintaining financial and physical wellness.
IR: How has the pandemic impacted your job?
Harbosky: Looking back, I see many positive outcomes as a result of how my life has changed over the past two years. Working in a virtual environment afforded me some added time in my schedule which allowed me to successfully study for and pursue my MBA. I also believe the pandemic gave me more of a reason to be intentional with my relationships both professionally and personally, which positioned me well to proudly serve my community in a purposeful way.