With each step along the royal purple carpet at Christ Church Apostolic Inc., you can feel and hear the vibrations from the band's music and the shouts of "Amen" throughout the sanctuary.
Filling every other wooden bench are people in colorful hats and outfits, and in the middle of the congregation sits member Barbara Bowers.
Bowers wears a matching grass-green blazer, skirt and shoes. Silver rhinestones are embroidered on the blazer. Glistening in the sunlight is a silver hat with a matching face mask. She has on a silver necklace and two silver rings on the ring finger of her left hand. In the same hand she holds a clutch purse covered in photographs of Michelle Obama.
While members sway to the distinct sound of the organ piano, others dance, clap and run throughout the church in praise of God. Bowers said she worships God by attending church, listening to the sermon and wearing her Sunday best fashion.
"I like to honor God in every way," Bowers said.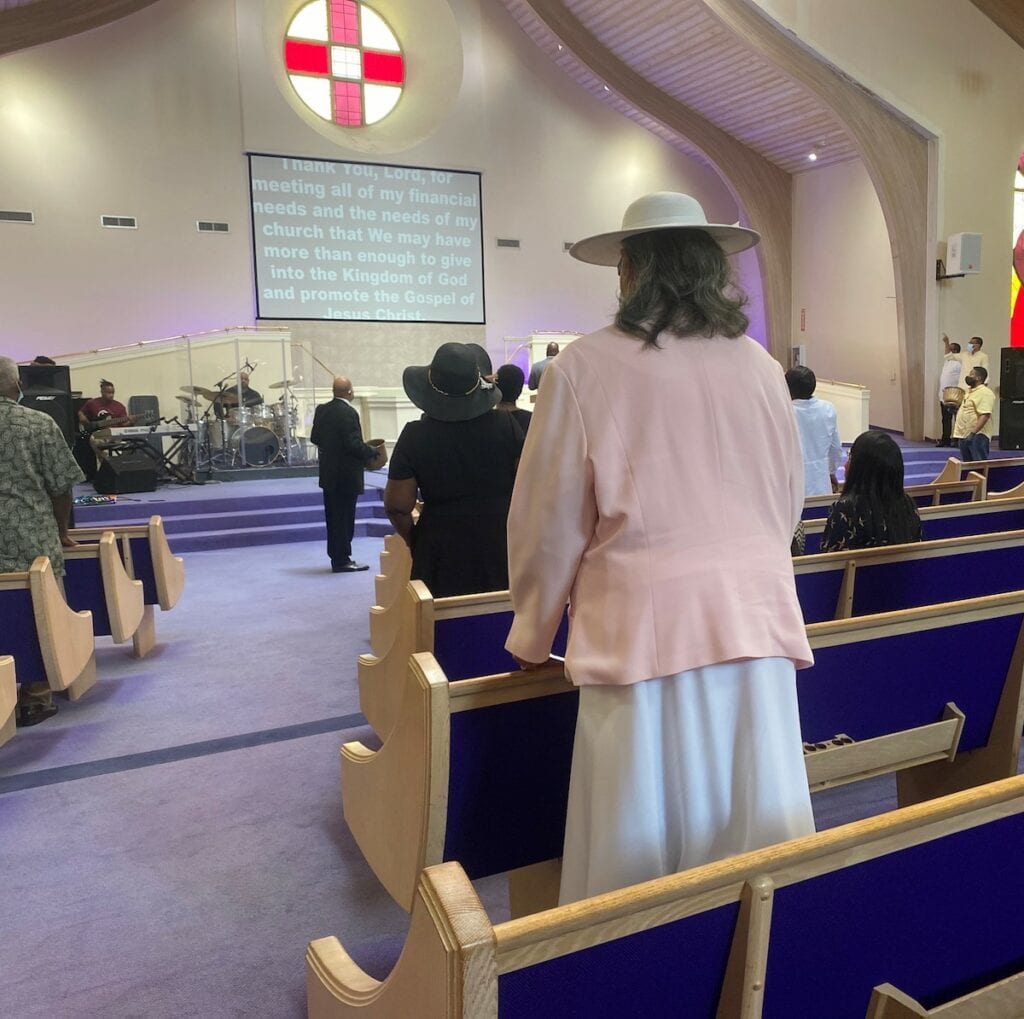 The pandemic halted many in-person worship services, but with vaccines being administered and restrictions lifted, many churches are opening their doors for Sunday worship. This not only allows members to be able to worship God in person again, but also to show off their style.
In the Black church community, dressing up for Sunday church service is not just an important depiction of one's love and devotion toward God; it has historical significance.
The tradition dates back to the Jim Crow era. Domestic workers were usually allowed one day off a week, and for many that day was Sunday. They would use their hats and clothing to express themselves as individuals at Sunday church service. This tradition is seen today through people, especially women, continuing to dress up for church.
Christ Church started in-person service April 4, which was Easter Sunday. Since then, there have been online and in-person services for members like Katherine Brown, who has been a member since 1974.
"It's a blessing to put on your clothes and look good," said Brown, who had COVID-19 in December 2020.
She leaves the church in an all-Black dress suit, a matching hat, mask and shoes. Holding a travel-size oxygen machine, Brown catches up with old church friends as they compliment each other on their outfits.
There's also a social component as to why people, especially older women, enjoy dressing up for church. Not only does wearing bright and flashy clothing express individuality, but it allows people to connect with one another and talk about their style.
Yvonne Milton stands alone with her hand pointed toward heaven. She wears a blush-pink blazer, a white skirt and a white hat. She has been a member of Christ Church for over 40 years.
Although she believes dressing up for church is important, she said the intent behind why people dress up holds more significance.
"It's about your heart more than your clothes," Milton said.
Contact staff writer Abriana Herron at (317) 924-5143. Follow her on Twitter @abri_onyai.