History was made in Lawrence recently when traditional mail was delivered to the world's first smart mailbox. That delivery was followed up by a McDonald's Big Mac and french fries drop to that same mailbox via drone to Schneider Geospatial.
The postal delivery is part of a pilot project involving other Dronedek mailboxes, which are powered by Oracle, throughout the city and are climate controlled.
"We're showcasing how this mailbox is ready right now for traditional delivery and what it can do in the near future when federal regulations are relaxed to enable autonomous delivery," said Dan O'Toole, founder and CEO of Dronedek. "We're also marking the start of secure autonomous package delivery. It's historic."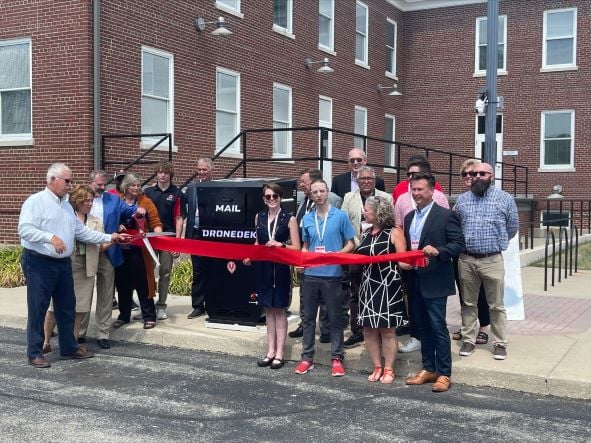 O'Toole said his company is in talks with major national delivery services, including UberEats, DoorDash and other major retail delivery companies.
Mayor Steve Collier said it makes sense that Dronedek chose Lawrence for its global headquarters and first launch site. The Fort Ben Tech Campus and city of Lawrence won TechPoint's Rising Tech City Mira Award in 2020. Bloomerang is a current TechPoint Mira Awards nominee, and Schneider Geospatial is a two-time Mira Award winner.
"Dronedek chose to grow with us because we are rapidly becoming known as a city that encourages tech innovation," he said. "We'd be happy to add 'birthplace of the smart mailbox' to our claims to fame."
Ross Hendrickson, CEO of Bloomerang, said his team is just as thrilled to be among the first to see their lunch arrive from the sky. "The pandemic got us used to delivery, but this is next level," said Hendrickson. "We're a tech company, so we're early adopters. We're also serious about delivering to our customers and to our team."
Jeff Corns, CEO of Schneider Geospatial, said it won't be long before Dronedek mailboxes will be routinely used. He said he was drawn to the idea because his company sometimes gets items like laptops delivered on weekends when no one is at the office, and they are left outside the building. Sometimes those items are stolen before they can be retrieved. A secure mailbox would stop that loss, he said.
"Robotic delivery at Purdue University was a novelty when that began, and now, no one even thinks about sharing the sidewalk with those devices," said Corns. "The pandemic really increased consumer demand for delivery, and consumers want faster, more secure ways of getting their products. Dronedek solves for that in a cool way."
Industry experts project double-digit growth in the drone delivery sector in the next few years if regulations ease and guidelines are established. Companies like Amazon and Alphabet say drone delivery is the future of e-commerce fulfillment.
In addition to providing a secure place for deliveries where porch pirates can't reach them, the Dronedek mailboxes can provide flashing lights and an alarm to police or fire officials, can help boost signals in areas with poor internet connectivity, repower drones and may eventually provide more precise data related to things like humidity, wind speeds and temperature.
The company is also in talks with national food delivery services like UberEats and DoorDash to enhance the efficiency of food delivery.
Rupal Thanawala is managing director at Trident Systems, a leading business and technology consulting practice, and tech editor for Indianapolis Recorder. Contact her at rupalt@indyrecorder.com.