When I was invited to a venue that allows visitors to hurl hatchets across a room for fun, I felt a mixture of intrigue and terror. If my bowling or pool scores were any indication of my ability to hit intended targets, I could picture a variety of ways this endeavor could end badly. However, when I arrived at Bad Axe Throwing, the new ax-throwing club that recently opened in Indianapolis, the coaches made me feel right at home as they taught me the ins and outs of this novel sport.
With 11 locations in Canada and the U.S., Bad Axe Throwing touts itself as the biggest urban ax-throwing club in the world. It recently made its Indianapolis debut with a weekend full of free ax-throwing lessons. With an assortment of axes and hatchets of various sizes and helpful staff members ready to train visitors on the proper way to hold and throw hatchets, there was hope even for me.
At Bad Axe Throwing, a woman by the name of Amanda Falikowski coached my husband and I on the rules of the game before we squared off against each other. We stood across from wooden targets, lifted our axes above our heads and chucked them at the bull's eyes — or rather, what we hoped would be the bull's eyes. It ended up being the floor, over and over again. The axes seemed to bounce off of the target instead of sinking in, presumably because we were not able to hit the target blade-first, but it made us both even more determined.  After many misses, it was extremely satisfying to watch my ax sink into the wood for the first time. As I continued to play, I understood how this game could be addictive. I felt like a legitimate bad ax after hitting my target three times in a row.
After our game, Falikowski told us more about what she hopes the new venue would bring to Indianapolis. 
"Basically, what we are trying to do is keep the tradition of ax throwing alive by bringing it to urban communities around the globe. We want to give everyone the opportunity to enjoy the thrill of throwing an ax," she said.
Bad Axe Throwing is now accepting private bookings in Indianapolis. The rate is $35 per person for a private party with an eight-person minimum. Walk-ins are welcome for $20 per person, and participants can bring food and nonalcoholic drinks inside the venue. For more information, visit badaxethrowing.com.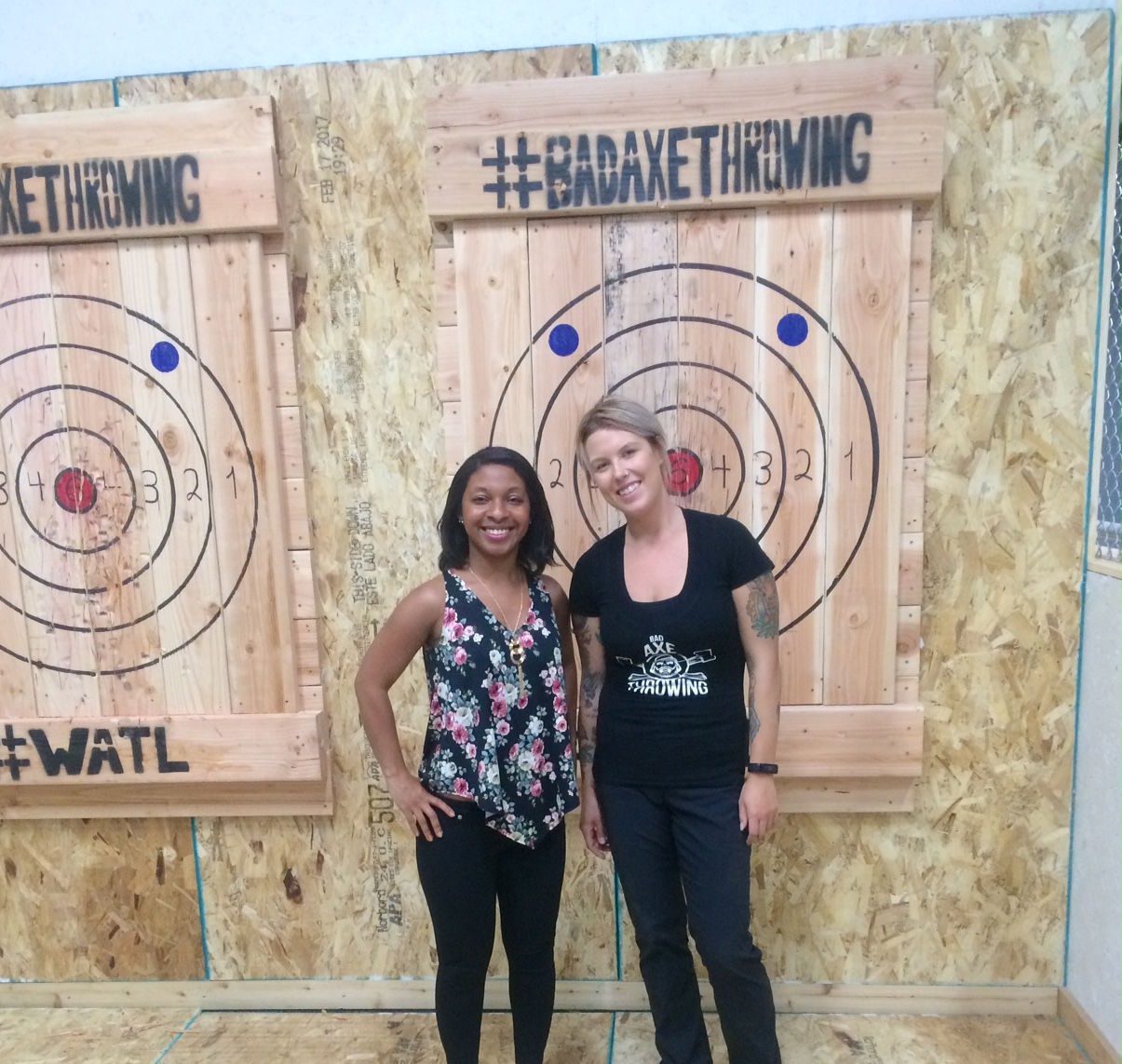 Amanda Falikowski poses with Keshia McEntire.