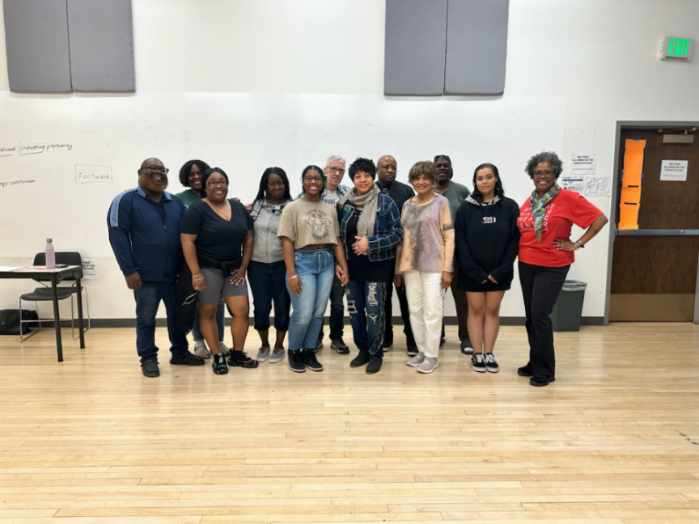 Local jazz icon Sandy Lomax will take the stage as "the First Lady of Song" in Genesis Theatre Company's musical "Simply Ella."
Written by Sherri Brown-Webster, "Simply Ella" is a theatrical retelling of Ella Fitzgerald's early life and rise to stardom. Returning by popular demand, the show is running for four performances at Footlight Musicals, May 25-27. The show aims to tell Fitzgerald's rise to fame through three acts: song, dance and music, Brown-Webster said.
"It's a fascinating, rhythmic show that tells the life story — tells the good, the bad and the interesting," Brown-Webster said. "I can say we take her humble beginnings, and we show, like, her climb to stardom, you know, we go all the way up to when she was at the Apollo Theater, and we go a little bit past there, which was when she meets Chick Webb."
Brown-Webster, who is also the founding and creative director for Genesis Theatre Company, said the company began presenting plays out of a rented church space in 2005. Although they do not yet have their own home theater, the troupe's main specialty is performing biblical plays, Brown-Webster said.
"Our theater company's just a little different in that regard, we do cater to the faith-based community," Brown-Webster said. "We like good, wholesome, clean entertainment … every now and again, a great story will come along that we like to tell, and 'Simply Ella' is telling the Ella Fitzgerald story."
However, when a story is as good and wholesome as Ms. Ella Fitzgerald's, Brown-Webster said they make an effort to tell these stories to local audiences.
Genesis first premiered "Simply Ella" back in 2019 and planned on reprising the show in 2020, but the pandemic threw a wrench in those plans, Brown-Webster said. However, she said they are excited to finally be able to bring the show back for local audiences.
In "Simply Ella," the curtain opens with Fitzgerald's humble beginnings, going back as early as her father walking out on her mother and her and their decision to move in with her aunt in New York City, Brown-Webster said. From there, the story tackles the hardships Ella endured — from her mother passing away to her running numbers for gangsters, ending up homeless and suffering abuses — leading up to her breakout moment at the Apollo.
"She won the first amateur nights at the Apollo in 1934 when she was 17 years old," she said. "There was a $25 cash prize, (but) because of the way she looked and the way she was dressed, they didn't give her the money. Because she was basically homeless and living on the streets."
For Indy-based jazz singer Sandy Lomax, the role of Ella Fitzgerald is a "dream come true." Lomax was cast as Ella in the 2019 production and said reprising the role once again was a once-in-a-lifetime opportunity she could not pass up.
"I'm just grateful for the opportunity to embody Ella one more time," Lomax said. "I've been studying her, her style, and … our vocal stylings are similar, and just to bring forth the scatting."
Lomax has been lovingly dubbed "Indy's Queen of Scat" by local jazz musician Bill Myers and said she has been working her craft and practicing Ella's scatting rudiment since she was in her 20s.
"The writings and the songs we're doing in the show really depicts some of Ella's all-around features, as far as her singing ballads, and her dance music, as far as swing dance and Lindy Hop, you know, scatting and just the way she does her phrasing and music," Lomax said. "I'm just thrilled to be able to bring Ella to life because I've been working on my craft like Ella for a lifetime."
Although "Simply Ella" covers a large portion, Brown-Webster said there simply is not enough time to cover Ella's entire life. However, throughout the duration of the performance, she said it feels as if Ella's presence can truly be seen and felt in the music, drama and dancing.
The collaboration of various performers — including a live band featuring pianist Ken Ferry and upright bassist Blakely Berger — capture the jazz element for the show. Narration and drama step up in both Lomax's and Seraphim Holmes' renditions of Ella Fitzgerald, and then the ballroom, swing and lindy hop dancing bring everything together, "culminating into a fabulous piece," Brown-Webster said.
Brown-Webster said audiences can look forward to seeing local talent and "hidden gems" shine onstage in this show, as she said she believes local theater is the backbone to the theater world and the arts here in Indiana — or any major city.
"I hope the audience will take away that there is some great talent here in the city of Indianapolis," Brown-Webster said. "We look for unknown, hidden talent — jewel, if you will — throughout the city … So, I hope People will take away that there is really fine talent, great talent here in the city of Indianapolis, and that's why it's so important for our community to support local theater."
"Simply Ella" takes the stage at Footlite Musicals, located at 1847 N. Alabama St., May 25 and 26 at 7 p.m. and May 27 at 2 p.m. and 7 p.m. Tickets are $25 and can be purchased at genesistheatreco.com. For more information, call (317) 778-6707.
Contact staff writer Chloe McGowan at 317-762-7848. Follow her on Twitter @chloe_mcgowanxx.