Life is a collection of experiences that shape who we are and inform the way we see the world around us. For Ro and Earl Townsend, their challenging childhoods affected them in ways that would render many debilitated. The pair instead used those stumbling blocks as stepping-stones on a path to a new life, based on service to their fellow man. 
Ro, a 37-year-old Indianapolis native, grew up in — what would be considered from the outside looking in — a fairytale household. Both parents were there, and finances were no issue. Earl, 36, grew up similarly, but things for the both of them were far from ideal. 
They each experienced isolation, neglect, sexual molestation and other things that drove them down dangerous paths to drugs and gang activity.
"I remember always being by myself, and me being alone is what led me to doing things I shouldn't have been doing," said Earl. "That's not necessarily the person I was, but I finally had a set group of friends, and in order to be with them, I had to go where they were. I just kind of fell into that niche." 
"There are definitely a lot of parallels — the drug selling, gang activity, being bullied at home," remarked Ro. "We were just looking for somewhere to belong." 
As serendipity would have it, they came into each other's lives at a divine moment and discovered they shared a joint purpose. 
"It was definitely a God move to put us in each other's life," said Earl. 
The Townsends got married in 2014 and moved their newly blended family to the Rader Clifton neighborhood on the city's northwest side. Though they had issues of their own (one of which was the fact that they spent their first month as newlyweds homeless, sleeping on a friend's floor), this move was, for them, an opportunity waiting to be realized. 
"There's no way you can tell us that we weren't sent to this neighborhood. It's a place that holds a lot of trauma for her and for me; it was always off limits. I was not allowed to be over there," said Earl, referring to his past gang affiliation. 
Ro, who lived in the area more than a decade ago, shared that she had been the victim of a violent home invasion where she was beaten and raped. "I would drive all around the area to avoid the neighborhood. I was terrified. It's interesting how our friend's house was the only place we could go. It was like God saying, 'Get over it, because I've got work to do.'" 
The work began almost immediately. A home came up for rent directly next door to where they were staying, and on the first night in their new home, the Townsends held an open mic event on their porch.
"We're a part of a collective of artists, musicians, poets, community activists," shared Earl. "We would sit on our porch and have jam sessions, spoken word and people would rap. It drew the community. A guy came from across the street and saw Ro playing and mentioned it was the very first time he saw a violin in real life."
Soon thereafter, they opened a convenience store, The Roedega, in the building on the other side of their home where they sold snacks and small food items.
"It gave the neighborhood a chance to get to know us and understand what we were about, and immediately, kids were showing up. That's who most of our patrons were," said Ro. "What we realized is that a lot of the kids were coming in late. We closed at 9 p.m. then, and a lot of them would come in and buy like two, three walking tacos, and that was dinner. And we were like, 'What?'" 
Ro recalled one evening when a group of children came in with a little over $1.50. They were attempting to purchase candy and chips that she soon realized would serve as their dinner for the evening. 
"I said no, we have to do something," she said, and in the spring of last year, their nonprofit organization Groe Inc. (an amalgamation of the Townsends' names and an acronym that stands for "gather resources, offer to everyone") was born. 
Prior to this, the couple did catering under the name Roe Creations, and their love of food and service trickled into this venture, as well. 
In an area greatly affected by food insecurity due to the lack of grocery stores, for the duo it was only natural to try and meet this most immediate need. Twice a week, from 6-7 p.m., a group of neighborhood children meet Ro and Earl in front of their home, where they hand out bags full of organic fruit and snacks.
"We didn't have the money or the backing," said Earl. "All we had was the passion and a necessity."
As soon as their initiative began, the Townsends received a lot of community support and also gained a stronger rapport with the children they served, as many would confide in them about issues they were having at home. 
"We both know what it feels like to be rejected, to not have anywhere soft to land," shared Earl, who remarked that he feels his past has equipped him to be more understanding. 
"I always tell people I wasn't a street dude per se, I just happened to be in the streets. Now approaching kids, sometimes I know when they're putting up a front, when they're doing something to fit in, something to get attention. There's nothing I can't see through. I had to shed all that stuff to be where I am now. Now I know when they are doing something because they're scared, or hungry."
Ro added: "It has equipped us to have a great level of patience. People are so quick to judge smart aleck kids or bad kids. There's always a reason. They're not just rebelling for no reason. There's always a root to things.
"(So we say,) more than this bag, what do you need from us? Do you need someone to tutor you, someone to listen, someone to be an advocate? There's so much more."
Currently, they are awaiting state funding to expand their program to three more neighborhoods and to six schools that are anticipating their arrival. In the meantime, they are meeting the need out of their own pockets and through donations from strangers, friends and family. Beyond the after-school food program, Groe Inc. has held a winter coat drive and an Open Bite Night, where local artisans, musicians and foodies showcased their wares. In the future, the pair plans to open a community resource center.
"We're literally trying to love on the community around us," said Ro. 
"It is definitely a faith walk," shared Earl. "I find it deplorable that we can spend billions of dollars just to elect a president but there are people starving. It's irresponsible to just look at it and not do anything. It's like … what can I do? Anything, anything within your means. Even if it's only helping one child."
Groe Inc. is currently is accepting donations of food, clothing, school supplies and monetary contributions. For more information, visit facebook.com/groethelatterhouse.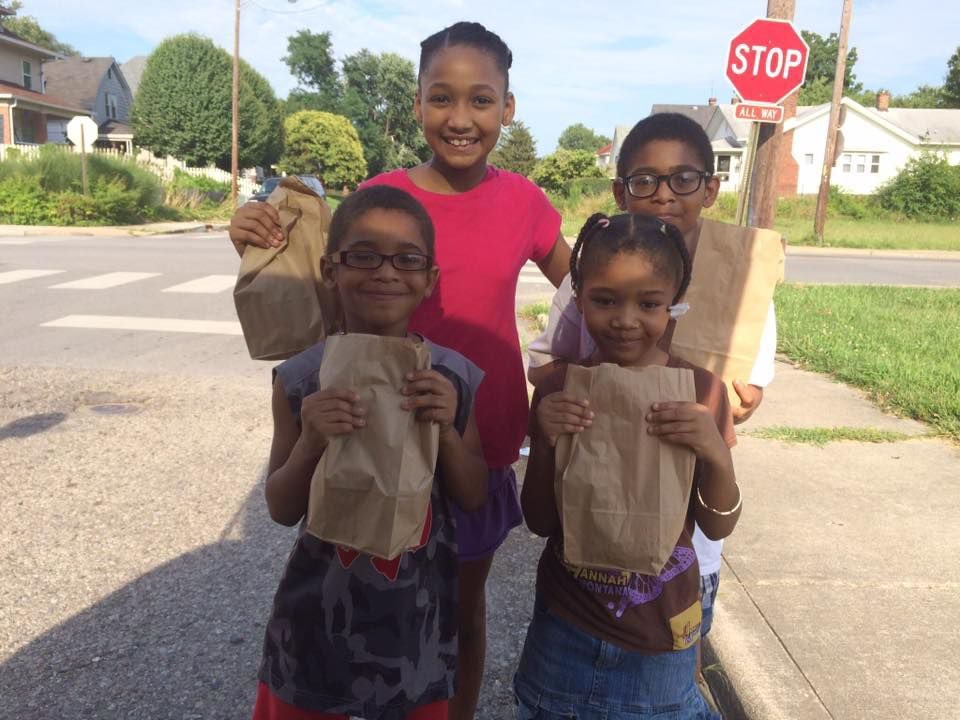 Neighborhood kids descend upon the Townsends', founders of Groe Inc., home twice a week to receive bags filled with organic snacks and treats.