Every Wednesday inside the Christamore House in Haughville you can find Tiffianie King hosting free yoga classes for youth and families. Meditation music filled the air with the sounds of calming melodies last Wednesday.
King speaks to her class openly and honestly about dealing with the grief of losing loved ones recently.
"Because I know you all are with me every Wednesday, that means that you know me pretty well. So, it would be remiss of me to act like 'Oh, I'm fine.' I'm usually like 'Let's get back to work and get over it,' but I have decided to get some professional grief counseling," said King.
RELATED: Wellness programing in schools is positively impacting students
Her business, 3Bfit Body, Beauty and Brains LLC provides safe spaces where individuals are able to express and promote positive self-awareness.
King, a certified meditation and yoga instructor, created the 3-tier prevention-focused program that provides evidence-based mindfulness tools.
Free yoga classes
"As a former educator I saw a lot of anxiety. They're not bad children. It's just that nobody teaches children how to self-regulate or consciously self-discipline yourself. It's not a skill that is taught even at home because we're in survival mode," said King.
When applied, mindfulness can enhance the quality of everyday living, help relieve anxiety and stress, and help increase grades in school and lower behavioral issues.
She turns the lights low in the room and instructs her class to lie in any position that makes them feel the most relaxed.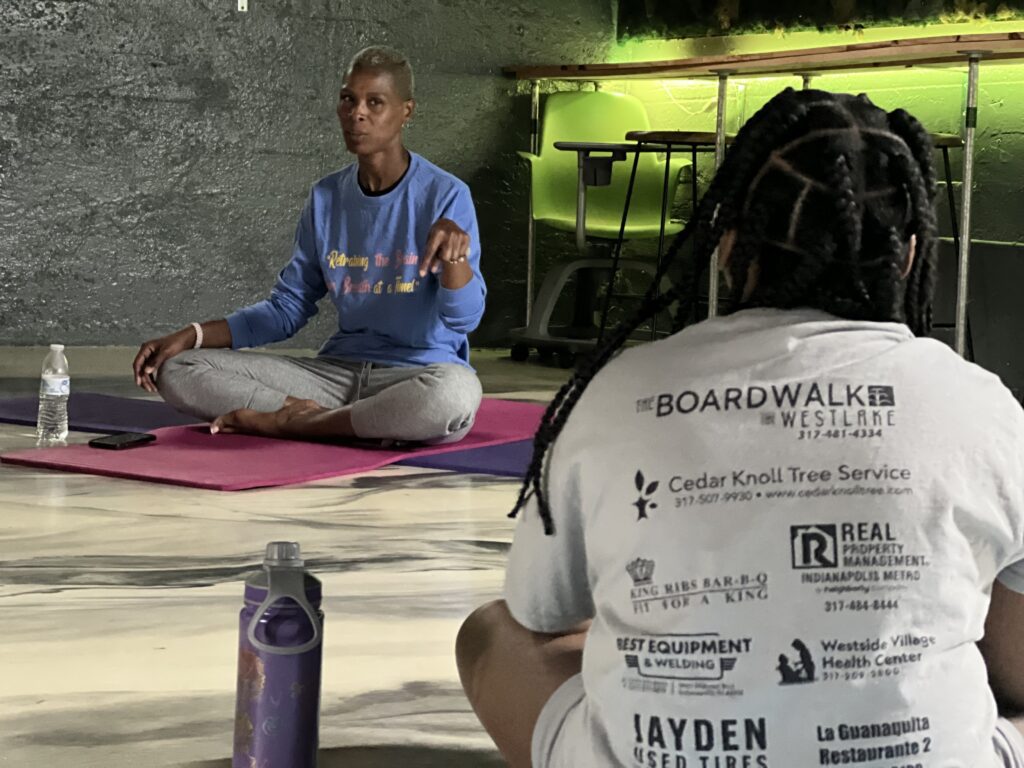 "When we close our eyes, the brain's activity begins to get still and slow down. We block outside sensors. We will begin to take deep breaths. Imagine your belly is a balloon that you're going to fill with air," said King to her class.
She continuously chants "inhale and exhale" over melodic music.
"Now, I want you to imagine that you are in a beautiful flower garden. It's filled with butterflies in all different shapes and colors. You're melting. Becoming a part of the Earth. You are awake and you are aware. Inhale and exhale," said King to her class.
Meditation and affirmations
She gives words of affirmation over the music encouraging her class to be bold and strong in how they control their energy regardless of their environment.
"Allow any thought that comes without judgement or criticism. Then, return to your breathing. Feel how safe and how secure and how supported and how loved and how belonged the mind and body feel. Inhale and exhale," said King.
Amongst the crowd in the yoga class is 9-year-old Kali'ae Taylor.
She has been doing King's free yoga class for the last three weeks.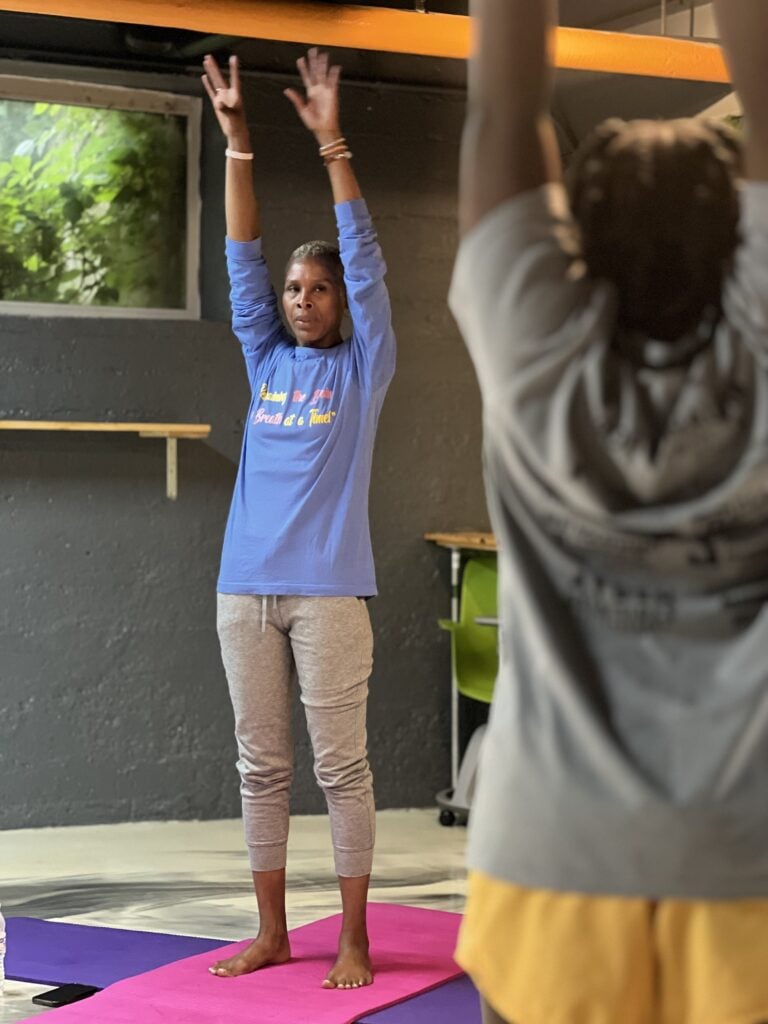 Taylor feels more relaxed, and she said it feels good to be able to control her thoughts and feelings through yoga poses.
"When I was in school it was these two boys that were being mean to me. Then they were being mean to another girl who said something to them. They told her to be quiet, but I told them they can only control themselves," said Taylor.
Since King was transparent about her grief before classes, Taylor shared with King that she learned that she is in complete control of herself no matter the environment around her.
During the class, Taylor got a bit too relaxed and fell asleep on her mat while King still spoke positive confirmations over meditation music.
"You're going to let go of anything that no longer serves your wellbeing. Feel how well balanced your thoughts and emotions flow when you're inhaling clean new energy and exhaling to let go," said King.
Free weekly sessions:
Family Community Yoga
Wednesdays from 6-7:00 PM
Christamore House
502 Tremont St.,
Indianapolis, IN
Sunday Sunset Meditation
First Sunday of the month from 6-7:00 PM
Myriad Yoga
914 Capitol St.,
Indianapolis, IN
Sound Healing and Meditation
3rd & 4th Saturday of the month
Ujamaa Community Bookstore
2424 Dr. MLK Jr. St.
Contact staff writer Jade Jackson at 317-607-5792 or by email JadeJ@IndyRecorder.com. Follow her on Twitter @IAMJADEJACKSON