Pamela Grant attended a funeral at Oasis of Hope Baptist Church to support her son, Alan Jermaine Turman, and his new wife, Shannon Turman, not knowing this would be the last time she would see her son alive.
Grant was there when Alan Turman was shot in the church parking lot Nov. 5. In fact, she was standing right next to him.
"He got shot right in front of me, and he died right in front of me," Grant said in an interview with the Recorder a month after the incident. "I will probably never get over this."
A fight started outside of the church between Alan Turman and Stefen Lowe, Shannon Turman's ex-husband. After people helped stop the fight, Lowe got in his car, drove up to Alan and shot him.
Grant wondered why and how this could happen, especially outside of a church.
From the killing of James Dixon III outside of his funeral home in August to shootings in church parking lots, violent incidents on spiritual grounds seem to be happening more throughout the city. According to Indianapolis Metropolitan Police Department, criminal homicides are down about 14% as of Dec. 6 compared to the same time last year, yet people like Grant are still witnessing violence in the city and on spiritual grounds.
Grant held up some of her son's paintings, pointing out new details and trying to remember her son for the good and creative things he did in his life. Grant has lost a child before — one of her daughters was killed in a hit-and-run in 2015 — but she knows her son's death is different because she observed it firsthand.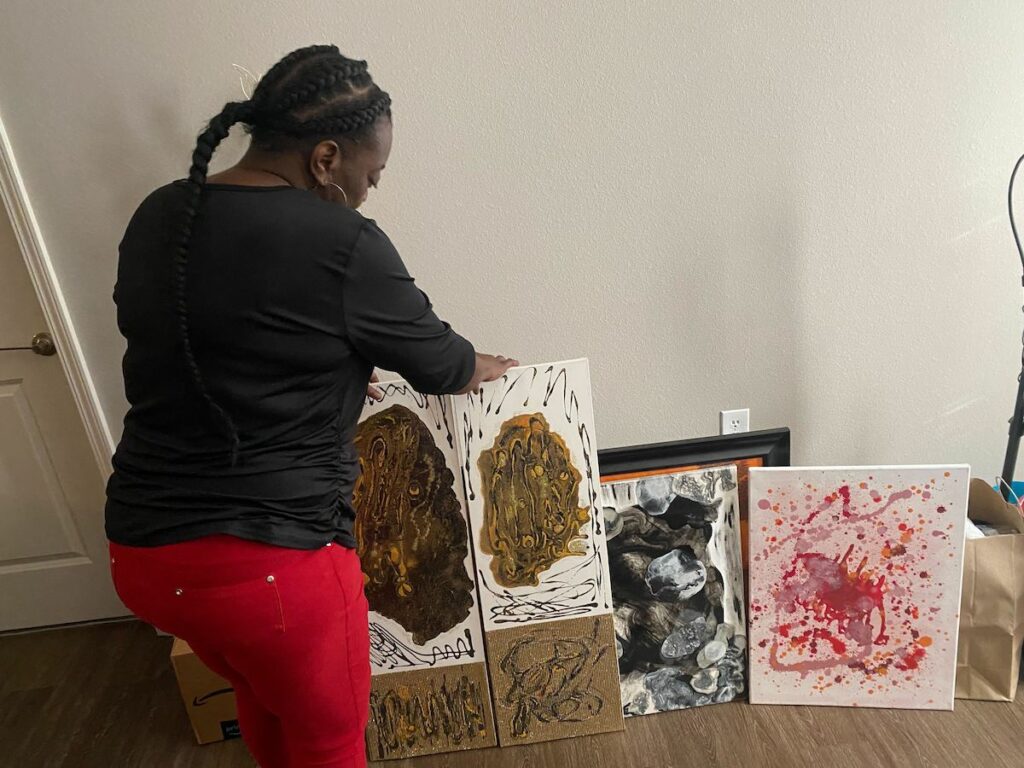 She struggles with sleeping, and images of her son lying dead in the church parking lot are displayed in her mind throughout the day. As she re-watched some of Turman's videos he posted on Facebook, she questioned how she would move on. Her answer: her faith in God.
"If I just keep on walking with God, I will see them again one day," Grant said. "Until then, I don't know, I'll just have to take it day by day."
A history of violence in the church
From arsonists to gunmen, there is a long history of violence against or on Black church campuses. Some of the more well-known violent acts that happened in Black churches around the country are:
• 16th Street Baptist Church bombing — The killing of four young girls Sept. 15, 1963, at 16th Street Baptist Church in Birmingham, Alabama. The Ku Klux Klan set off a bomb at the church, killing the girls and injuring more than 20 other members of the church.
• Charleston church shooting — The killing of nine people at Emanuel African Methodist Episcopal Church in Charleston, South Carolina, on June 17, 2015. The shooter was a 21-year-old white man named Dylann Roof.
• Macedonia Church of God in Christ — The church was set on fire Nov. 5, 2008, hours after the election of President Barack Obama in Springfield, Massachusetts. Three white men were charged in connection to the fire.
There is also a history of violence against Indianapolis' oldest church, Bethel African Methodist Episcopal (AME) Church. In July 1862, the church was destroyed by a fire, according to a timeline of local religion in Indianapolis Public Library's Encyclopedia of Indianapolis. It was most likely by pro-slavery arsonists because of the church's involvement with the Underground Railroad, but members raised money to rebuild the church in 1867.
Second Baptist Church — now Purpose of Life Ministries — was established in 1846, and five years later, the church became a target for arson when racially charged violence broke out during the 1851 Indiana Constitutional Convention. The congregation rebuilt the church at the same location in 1853.
Violence transformed over the years
While Rev. Shonda Gladden sat in her car and ate her lunch one day this fall, she witnessed a shooting outside of Broadway United Methodist Church that killed 61-year-old Walter Goodloe and injured two others.
"Sept. 22 was a lot," said Gladden, the senior associate pastor of Broadway UMC. "It was hard for me to sleep and talk and be present for the weeks following the shooting … because it just felt so surreal that this type of violence could come so close to the place where we are dispensing hope and help and we were helpless in that moment to do anything."
There is a difference between the past violent acts on church grounds and the current violence happening at Indianapolis churches. The shootings at Broadway UMC and Oasis of Hope were personal, where two or more people knew each other, while other violent acts at churches, such as the 16th Street Church bombing, was a hate crime, targeting the church because of racial prejudices.
Gladden said she does see more violence happening in places of worship and believes it is because churches are community hubs. If there are a lot of people frequenting certain areas, she said violence is bound to break out.
"It's not an anomaly that this is happening at the church," Gladden said. "These things happen. I don't want us to be desensitized to it, though."
Some churches and religious organizations are still targeted because of racism, and Gladden said it's important to note the difference between racially targeted church violence and the broader violence that just happened to be at or outside of a church.
Healing a wounded community
The Sunday following the shooting at Broadway UMC, Gladden preached about the importance of everyone's life and how the community needs to come together to stop violence.
In an interview, she said providing help and resources to meet the needs of the community — such as access to affordable health care, job security, mental health services and food security — will decrease not only the violence that happens at churches, but also the all-around violence in Indianapolis.
"It's not going to be one thing," she said. "It's going to be interlocking, intersecting responses to those human unmet needs that will then impact the ways that crime and violence are overtaking our city."
A study conducted by the American Sociological Association suggests Black churches can "help mobilize other churches, community organizations, police departments, and neighborhood residents in a coordinated effort to address urban youth violence."
That is what local churches, ministries and religious organizations do.
"We exist to be a place that meets needs, but at the same time," Gladden said, "one church can't do it all and not everybody is coming into the church."
As a board member for Faith in Indiana — an interdenominational group of the state's religious leaders who work together for racial and economic equity — she highlighted the work the organization is doing to help create a clinician-led crisis response team for local mental health calls. The city's 2023 budget includes $2 million to pilot a response team entirely made up of clinical professionals, which the city expects to launch in early 2023.
"We are working every day of the week," Gladden said about the city's pastors and ministers. "We are in this to make an impact, and it's a daily job."
The senior pastor of Oasis of Hope, Dr. Myron Duff Jr., agrees.
Duff, who witnessed the aftermath of the shooting at his church Nov. 5, said systemic changes are needed for violence to decrease in the city. Solving issues of unemployment and low income, he said, will lower the number of local criminal homicides. However, Duff also believes meeting the spiritual needs of the community is another important resource.
"The only thing that can change any of this is the salvation of the heart," he said.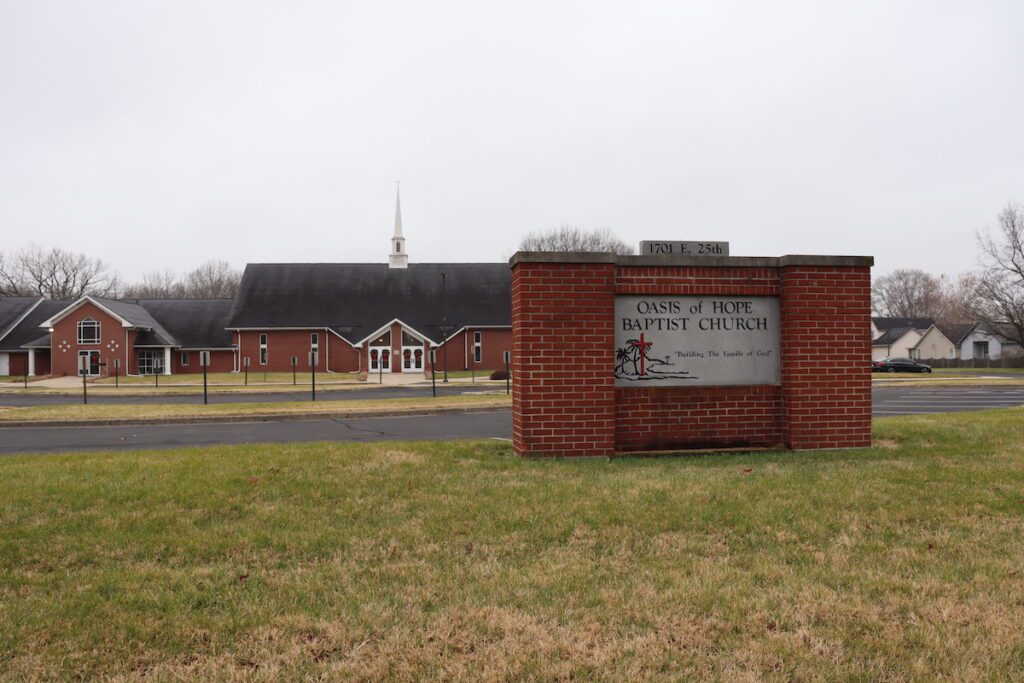 Duff thinks mentoring groups of people is another great way to do community outreach, but he said it is like putting "a Band-Aid" over the situation. He said the true solution is through systemic change and spiritual salvation.
"All of us need Jesus," he said. "Not only do we need him so we can get to heaven, but we need him to guide us in some of these ways we operate in life in general."
Contact religion reporter Abriana Herron at 317-924-5243. Follow her on Twitter @Abri_onyai. Herron is a Report for America corps member and writes about the role of Black churches in the community.