There's this little thing called adolescence, a crucial stage in a woman's life when she's searching for her identity. Sonya Cook, as a teen mom, didn't have the guidance she was looking for during that time but vowed to provide that for girls someday.
In 2016, she created the program of her dreams, Girl Talk Inc., a nonprofit organization that mentors and empowers girls ages 10 to 18.
"We share our day-to-day experiences," Cook said.
The program has three eight-week sessions each year. For the cost of $25 per session, they learn life skills such as conflict resolution, financial literacy, sex education, post-graduation planning and self-love.
One tool Girl Talk utilizes to teach self-love is affirmations. Every girl is given a card stock to take home and recite to themselves each morning and night. The former Big Brothers Big Sisters mentor believes positive affirmations can eliminate self-doubt and provide some motivation to achieve their goals.
Girl Talk hosts a graduation ceremony on the last Saturday of each session, where every girl receives a certificate and a gift bag. The mentoring does not stop at the doors of the building on East Washington Street. Cook stays in contact with the girls, whether by attending their school events or taking them out to lunch to catch up.
She recognizes many girls who participate in her program come from challenging backgrounds and environments. She said it would be naive to think Girl Talk alone could change their lives. But the program exists to make sure each girl has the tools to become successful young women.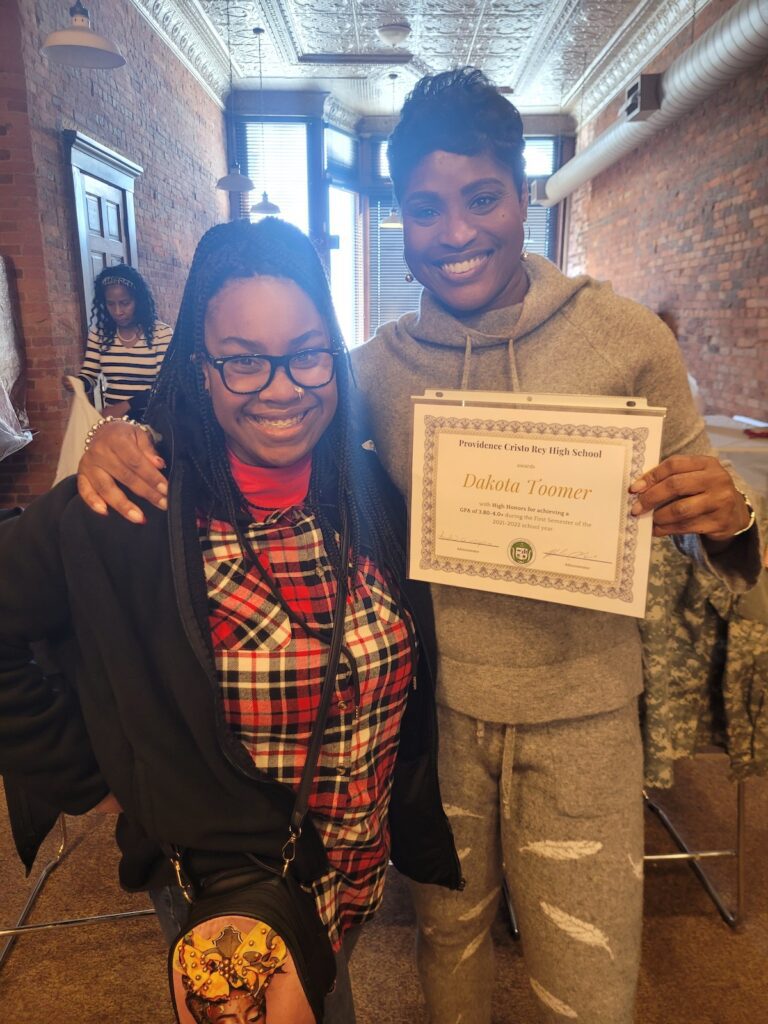 Dakota Toomer, 15, attended one Girl Talk session because her grandmother wanted her to have something to do on the weekends but said her grandmother didn't expect her to actually join. Still, she continued to go on her own as she gained an appreciation for the program.
Girl Talk boosted Toomer's self-confidence. She said she is more comfortable with who she is on the inside and outside.
"I'm more open to speak up about things that are important to me," Toomer said.
As a junior mentor, her main responsibility is to assist Cook in answering questions from her peers. The high school junior said she finds ways to communicate the message of session topics.
Girl Talk will host a resume building workshop for six weeks every Friday starting July 1 through Aug. 5 for the girls. The workshop is also available for adult women as the organization tries to expand its reach.
Participants will learn job interview skills and how to draft resumes from human resources managers. After the workshop, the girls will receive business cards to take to networking events such as college fairs.
Now in its sixth year, the next step for Girl Talk is to move to a bigger location. Cook hopes the organization can one day operate as a center. This would allow for a separate health and wellness space and offer more opportunities such as SAT/ACT prep and cooking classes.
"I want the girls to understand the sky's the limit," Cook said.
Contact intern Mesgana Waiss at 317-762-7848 or email at adjwouw@indyrecorder.com. Follow her on Twitter @theavgjourn.