College can open a world of opportunity, but one thing getting in the way is equitable access to higher education. Since 1990, Indiana's 21st Century Scholars program has tried to fix this.
Former state Rep. Stan Jones is considered the architect of the scholarship program, and former Gov. Evan Bayh championed it as a model for early college promise programs to emulate across the country.
The scholarship awards students with free tuition to any eligible public two- or four-year institution. Those whose families meet the income requirements and want to participate must apply in seventh grade and or before June 30 of their eighth grade year.
One of the goals for the program is to bridge the higher education achievement gap between low-income and high-income students. To ensure students' success at four-year institutions, the state's Commission for Higher Education, which manages 21st Century Scholars, has programs in place to help students.
In 2011, the Scholar Success Program was created to help students prepare for college and graduate on time. It is a series of required activities that students must complete each high school year, such as creating a graduation plan. Also, the GPA requirement was raised from 2.0 to 2.5, and students must take 30 credit hours each calendar year.
"The program has been very well supported since its creation," said Allison Kuehr, the commission's communications and public relations manager.
According to the 2021 Indiana Scholars Report, more than 45,000 students have earned a credential or degree. Asian and white students enroll in the program at a higher percentage. Currently, Black students only represent 17% of 21st Century Scholars students.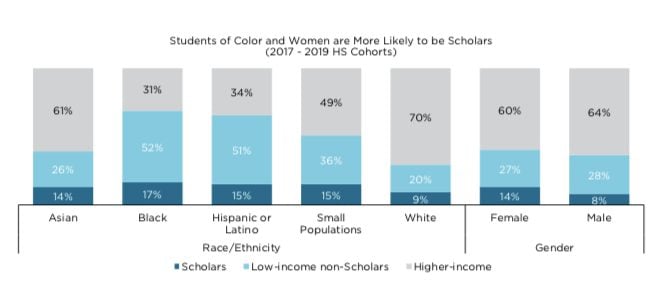 The commission's 2022 College Readiness Report found scholars are almost 28 percentage points more likely to go to college than the statewide average and three times more likely than their low-income peers.
Ten percent of Indiana high school graduates are in the program, while approximately half are eligible. Kuehr recognizes the scholarship data reflects the program's success but also has room to include more students. She said the commission thinks auto-enrollment for all eligible Indiana seventh graders can eliminate this barrier.
There are more than 100,000 students ranging from seventh grade to college seniors enrolled in the program. That includes Deja Bush, who is a senior at Indiana University in Bloomington.
"It is a motivator for people to go to college," Bush said of the program.
Bush originally wanted to attend Central State University, an HBCU in Ohio, but said she could not pass up free tuition. This led her to instead choose IU and its Groups Scholars Program. According to the program's website, 60% of Groups Scholars are also 21st Century Scholars.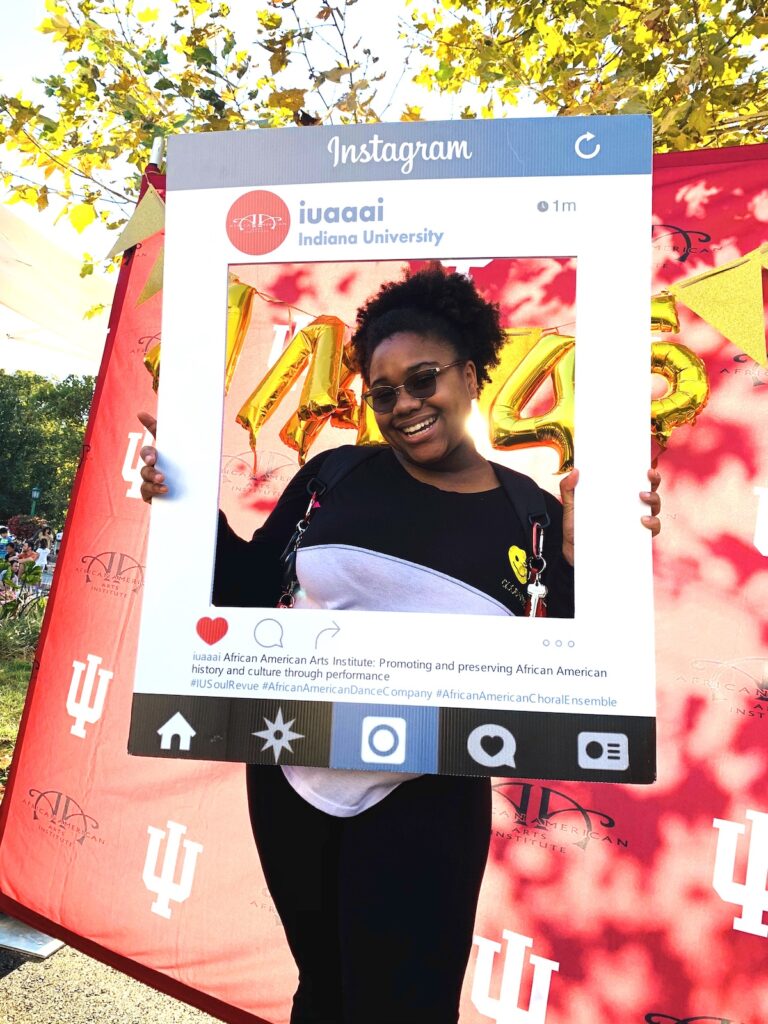 Her college journey has had many ups and downs as a first-generation student. She has worked a job every semester to save and pay extra room and board costs.
"My junior year took a toll on me," she said. "That's why I'm doing another semester."
It was a combination of the COVID-19 pandemic and switching her major. On top of that, she needed to complete the Scholar Success Program tasks to retain her scholarship.
She said the only drawback about the 21st Century Scholars program is communication, such as student recognition and task completion reminders.
Kuehr said the commission delayed task completion deadlines for students because of the pandemic.
Bush will graduate with a bachelor's degree in human development and family studies this fall.
Contact intern Mesgana Waiss at 317-762-7848 or email at adjwouw@indyrecorder.com. Follow her on Twitter @theavgjourn.