Indiana's legislative and congressional district maps are poised to be among the most gerrymandered in the country now that the redistricting process is nearing the end.
Allegations of gerrymandering — or manipulating district boundaries to favor one political party over another — are often leveled against Republicans, especially in red states such as Indiana, though Democrats have been accused of doing the same in states such as Maryland.
Either way, in Indiana, where Republicans have supermajorities in the House of Representatives and Senate, redistricting is a one-sided affair that leaves Democrats and their voters clamoring for fairness.
The Senate will vote on redistricting legislation Oct. 1, and Gov. Eric Holcomb is expected to sign the bill into law shortly after. The House approved the legislation earlier.
Here's what each proposed map looks like.
Congressional
Indiana's congressional makeup will very likely remain at a 7-2 advantage for Republicans, with Democrats winning seats in the districts that house Indianapolis and Gary. The 5th District, which was becoming more competitive, would shift north and no longer include parts of northern Indianapolis, making the seat safer for Republicans.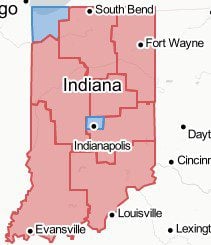 Christopher Warshaw, a political science professor at George Washington University, said the proposed congressional map represents "one of the most extreme gerrymanders in history." Warshaw's analysis shows Republicans would win 77% of congressional seats in the average election despite getting only about 56% of the statewide vote.
Using the efficiency gap metric, which measures the number of votes each party "wastes" in an election, Warshaw said the congressional plan is more biased toward Republicans than 97% of the same 50-year set of plans in all 50 states.
An analysis from PlanScore, a free mapping project from the nonpartisan Campaign Legal Center, shows Democrats wouldn't have better than a 6% chance to win a district outside of two that are already safe.
State Senate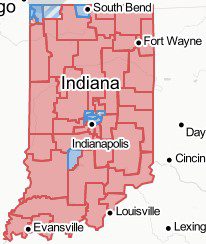 In the average election, Republicans would win 75% of Senate seats, Warshaw's analysis shows. The analysis does not account for slight changes in Marion County districts that the Senate Elections Committee approved Sept. 28.
An up-to-date PlanScore analysis shows only three of the 50 Senate districts would be competitive — one around Indianapolis and two around Gary. The efficiency gap would be 12.1% in favor of Republicans.
State House of Representatives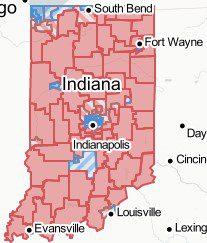 The House map, Warshaw said, revolves "artfully" around Indianapolis, where Democratic voters are packed into a smaller number of districts. His analysis shows Republicans would win 69% of House seats, and the plan is more pro-Republican than 91% of the state legislative plans over the past 50 years.
PlanScore shows an efficiency gap of 6.9% in favor of Republicans.
Contact staff writer Tyler Fenwick at 317-762-7853. Follow him on Twitter @Ty_Fenwick.