People continued to criticize Republican lawmakers during another public hearing to discuss proposed district maps, this time in a Senate Elections Committee meeting Sept. 27 at the Statehouse.
Aside from generally being annoyed at a redistricting process many feel has moved too quickly, those who spoke at the committee meeting focused on what Republicans' proposed Senate map would mean for urban areas, especially Fort Wayne, Evansville and Tippecanoe County, home to Lafayette and West Lafayette.
Communities of interest in those cities would be cracked under the proposed map, many said, meaning voters who share similar legislative concerns are spread out over multiple districts. Indianapolis was not mentioned as often, though a commonly cited example of cracking is District 28, which mostly includes Hancock County to the west but also juts into part of Warren Township.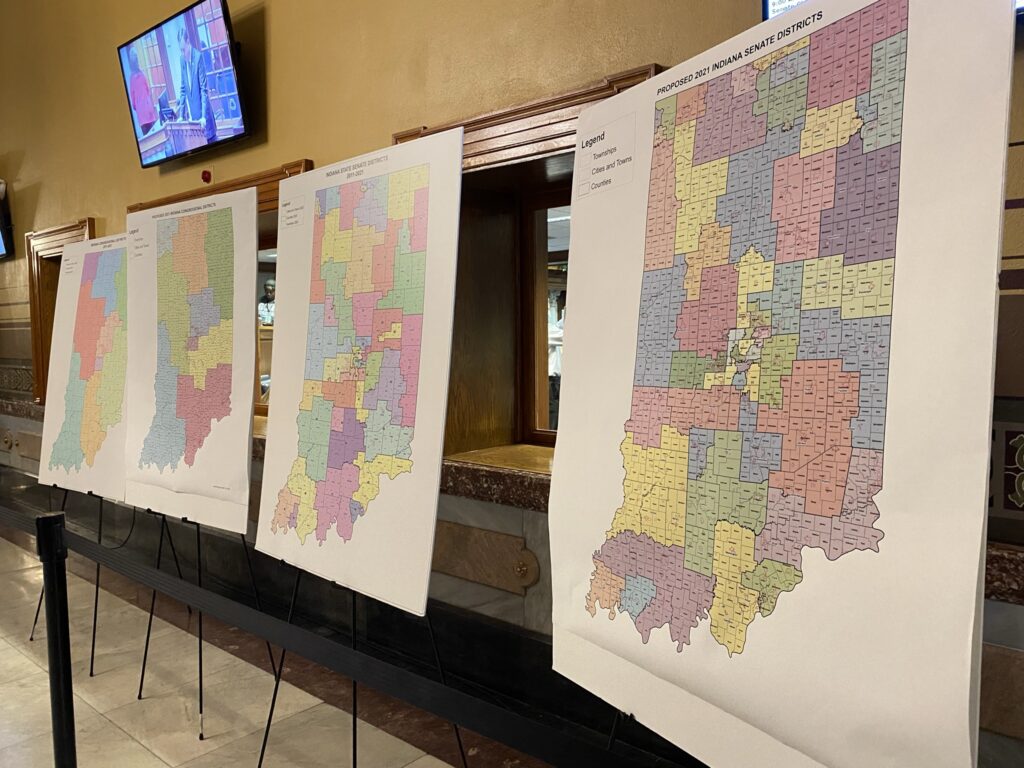 Ami Gandhi, representing the state chapter of the NAACP, said the legislature risks violating the federal Voting Rights Act, which says redistricting plans can't be discriminatory on the basis of race and other protected classes.
"It's clear to Hoosiers of color that this redistricting process has been extremely flawed," she said.
Related: Competition, compactness and communities of interest: Weighing priorities in redistricting
Some people from Fort Wayne brought attention to District 19, which would lump part of the city's south side in a primarily rural district that stretches as far down as Jay County. The map would split Fort Wayne into four districts (it currently has three). There are similar concerns for Evansville and Tippecanoe County.
"Look inside yourselves," Fort Wayne resident Jorge Fernandez said. "Is this what you want your legacies to be?"
Fernandez was one of many people who represented the Indiana Citizens Redistricting Commission, created by Common Cause Indiana to represent what a more independent redistricting process could look like. Fernandez's map won in the House of Representatives category.
Other speakers talked about their frustration with the redistricting timeline. House Republicans released House and congressional maps earlier in September, followed by two public hearings starting the next day. The House then added the Senate map into the legislation and passed all three maps Sept. 23.
Sept. 27 was the only day for public hearing in the Senate. The committee will consider amendments and vote Sept. 28, and the full Senate is expected to vote by Oct. 1.
Sen. Eric Koch, R-Bedford, one of the bill's sponsors, said Republicans' goals in redistricting were to be transparent, maintain communities of interest, keep districts compact and have low population deviation across districts. Republicans have said they've followed all state and federal laws.
Koch and other Republicans have talked about hearings hosted around the state as part of the ramp-up to drawing maps, but Democrats and redistricting reform advocates pointed out those meetings happened before there were maps to debate.
If passed, Indiana's maps would be among the most gerrymandered in the country, according to political science professor Christopher Warshaw.
In the average election, they would win 75% of Senate seats despite only winning 56% of the statewide vote, Warshaw said. Indiana's Senate plan is more pro-Republican than 98% of the state legislative plans over the past 50 years. Warshaw previously found similar disparities for the House and congressional maps.
Most people who spoke at the three public hearings talked in part about the lack of competitiveness in Indiana's districts. The proposed Senate map, for example, only has three competitive districts — one in Central Indiana and two around Gary — according to PlanScore, a free mapping project from the nonpartisan Campaign Legal Center.
"Competitiveness is not a legal requirement," Koch said.
Contact staff writer Tyler Fenwick at 317-762-7853 or tylerf@indyrecorder.com. Follow him on Twitter @Ty_Fenwick.