Joe Hogsett will seek a third and final term as mayor of Indianapolis, he announced during a campaign event Nov. 15. He joins state Rep. Robin Shackleford as the only candidates so far going for the Democratic nomination next year.
In a 22-minute speech on the second floor of City Market, Hogsett talked about infrastructure funding, a three-year anti-violence plan and safeguarding local politics from the partisanship of state and federal government.
Mostly, though, Hogsett talked about unfinished business. It wasn't long after he was reelected in 2019 that focus had to shift to the COVID-19 pandemic, and despite saying in 2015 he would step down after two terms, he said during his announcement he's focused on "things left undone."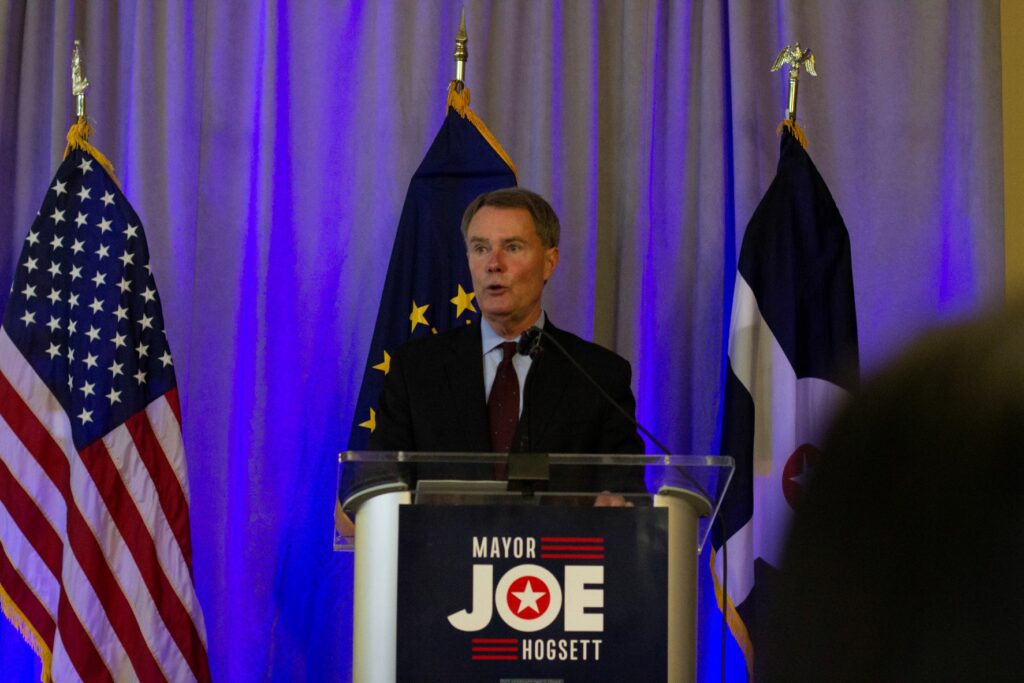 "We are going to finish what we have started," Hogsett told supporters.
That includes funding for anti-violence programs and establishing a clinician-led crisis response team, something the city plans to pilot in early 2023, along with development plans throughout downtown.
Hogsett's announcement sets up a showdown with Shackleford, who is chair of the Indiana Black Legislative Caucus and has been a state legislator since 2012, representing District 98 on Indianapolis' east side.
In a statement, Shackleford said she welcomes the "exchange of ideas" over the coming months leading up to the primary election in May 2023.
"As I said when I announced my candidacy," Shackleford said, "I am running for mayor because I am the right person to address the issues facing Indianapolis that have not been solved in the past eight years – issues such as tackling root causes of crime; creating a world class workforce; prioritizing diversity, equity and inclusion; and increasing transportation connectivity and infrastructure."
Marion County Republican Central Committee Chairman Joe Elsener used Shackleford's campaign announcement to take a jab at Hogsett, who emphasized multiple times that his third term would be his last.
"Even Democrat Rep. Robin Shackleford described Joe Hogsett's Indianapolis as a city with '…pothole-ridden streets where residents struggle to get enough to eat and worry that at any moment a stray bullet will travel through their wall and strike their child,'" he said in a statement.
In his quest for a third term, Hogsett will also have to contend with the fact that Shackleford would be the first Black and woman mayor of Indianapolis. Hogsett attended a private fundraiser after the campaign event and did not take questions from media.
Hogsett used a significant portion of his time at the podium to talk about the challenge the city faces with crime and violence. His approved 2023 budget will allocate a little more than $300 million to public safety agencies and programs. Still, Indianapolis continues to regularly set new homicide records, with 249 murders in 2022, which surpassed the previous record of 214 murders in 2020.
But Hogsett said he wasn't announcing his candidacy to talk about the past.
"All I can see as I stand here tonight is tomorrow," he said to applause.
It isn't clear if others will also seek the Democratic nomination. City-County Council President Vop Osili is thought to be an eventual candidate for mayor. Osili couldn't be reached for comment after Hogsett's announcement.
Contact senior staff writer Tyler Fenwick at 317-762-7853 or email tylerf@indyrecorder.com. Follow him on Twitter @Ty_Fenwick.